A comprehensive review of Garmin Vivoactive 4/4S, Pulse Ox tracking, top quality fitness tracking, GPS running tracker and always on display.
I'm really excited to share my in depth review of the Garmin Vivoactive 4S. Is this the smartwatch that we've been searching for all life? Does it have all the necessary features at the right price point?
Well, let's find out in this review. Now, this is a very comprehensive Garmin Vivoactive 4S review. If you're interested in a specific section, say for example music. I've added chapter links in the article.
Built quality and the design of Garmin Vivoactive 4S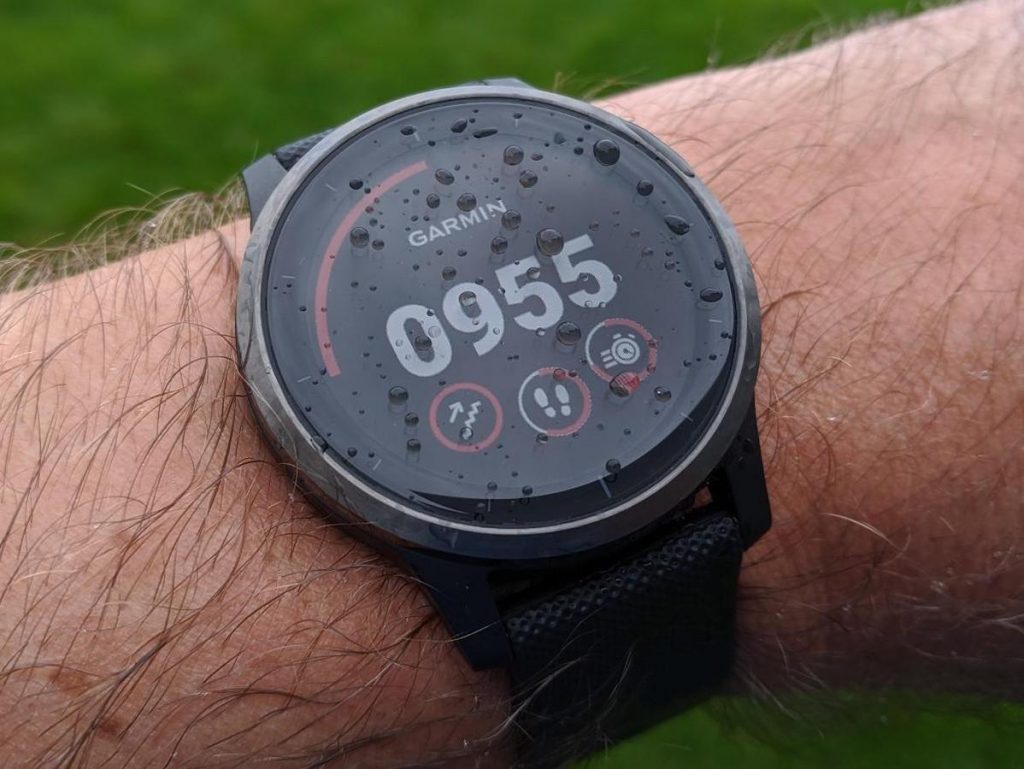 I unboxed this Garmin Vivoactive 4S, I was really impressed with the premium type of feel it has. And that's attributed to the gunmetal type of stainless steel bezel it has on the smart watch.
It just looks very classy in that sense, and less sporty than other watches, like the 41 or 245 Garmin watches, now the color I got is black or gunmetal, and there are plenty of other colors like Rose gold and pink and kind of a grayish color. There are definitely lots of options for you depending on your taste.
Now the bezel looks very premium in design and that's what you're paying for. If you look on the side, it's actually made of a fiber reinforced polymer. On the backside where the plate is on the case, it's just regular polymer. It seems like it's very rigid. It seems like Garmin put a lot of attention to detail on the case on the sides, so that if you fall, it doesn't break, if you crash it.
---
Read: How to Become More Sexually Active with Apple Watch?
---
On the backside it uses a basic kind of polymer.  Garmin Vivoactive 4S needs to be protected and it helps retain its light 40 gram weight. Another nice bonus is that it uses a strong glass on the display. It's using gorilla glass 3, the type of materials Garmin has chosen on Garmin Vivoactive 4S makes it very rugged, but still very stylish.
One thing I noticed is that when I was walking around with the watch, I was digging in on walls and I noticed that there were no scratches or dings on the screen, so I'm very thankful of the rugged design Garmin Vivoactive 4S has.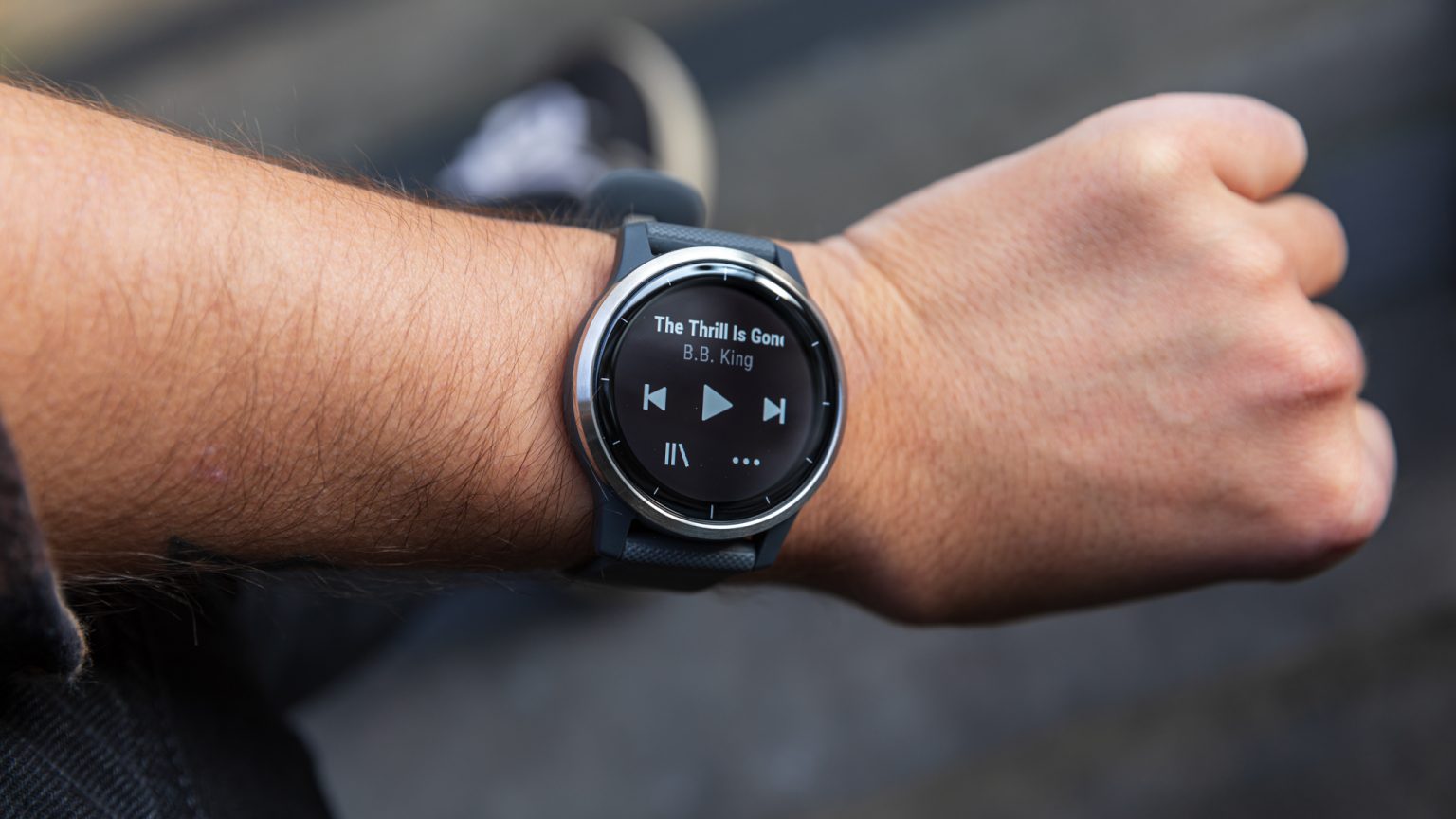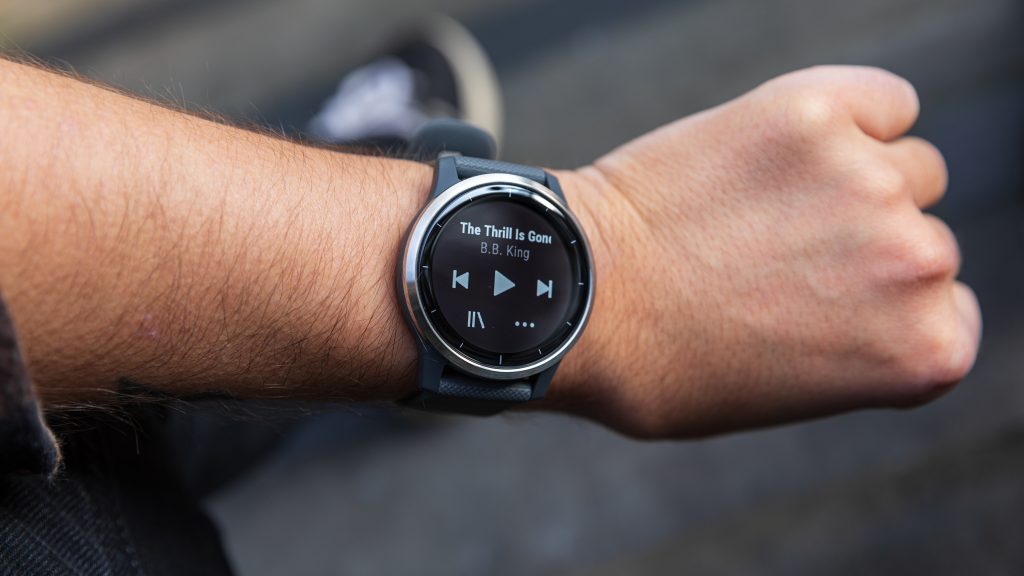 Now, you might be wondering why a 6' 2", 220 pound guy chose the smaller version. Well, I really think that lightness and the small form factor is paramount for our type of fitness tracker I want to wear 24/7 especially when I'm doing my workouts or going to sleep.
I noticed with bigger types of smartwatches that I wear less such as my Vivo watch 2, is that my wrist kind of gets fatigued and I kind of get annoyed when I wear that during sleep, the Garmin Vivoactive 4, which is about 10 grams heavier, about 50.5 grams.
Garmin Vivoactive 4 is also five millimetres bigger. It's 40 versus 45 millimetres in terms of the diameter, and the wrist strap is 22 millimetres on the Vivoactive 4 whereas the 4S uses an 18 millimeter . I much prefer a smaller design.
I personally really enjoy it, so I don't care if you guys think it's kinda smaller or feminine or whatever. I really liked the design.
Now if you prefer the larger Vivoactive 4 then that's a really big bonus for you because you basically get a bigger screen, much bigger, and you get a higher resolution display so there's more information and it looks less pixelated.
Now, like all other Garmin watches, it uses a standard type of band, which is really nice because you can go out and buy a third party type of band and customize your watch to your liking. This comes with an 18 millimetre band and it kinda has like a matte finish.
There are little dimples. It looks really nice on the exterior. It's made of a rubber and it's very comfortable in the interior of it. I haven't had any issues sleeping with this band. Uh, no rashes or anything like that. During workouts, when I'm really sweaty, I noticed that the band holds very well.
---
Read more: Apple Watch Series 4: Bigger, Faster and Rugged
---
The current 18 millimetre band comes with quick release pin, so it's easily to swap in different types of bands. What's nice about using third party bands is that they're a lot cheaper than kind of buying the more proprietary bands, such as when you had a Fitbit, it would cost a lot of money and you very limited in your selection.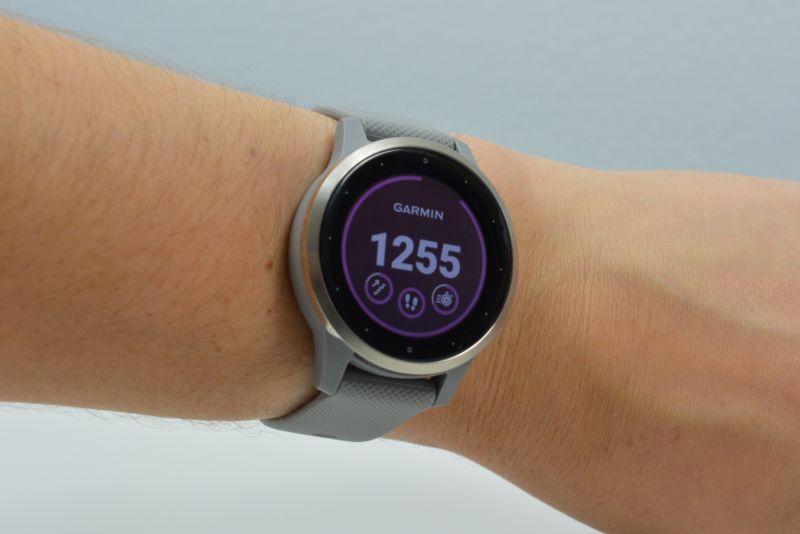 This is a really big bonus. Overall, in terms of the built quality and the design of Garmin Vivoactive 4S and how this feels on your wrist. I'm extremely happy wearing my Vivoactive 4 throughout the entire day. This is a major win.
Hardware of Garmin Vivoactive 4S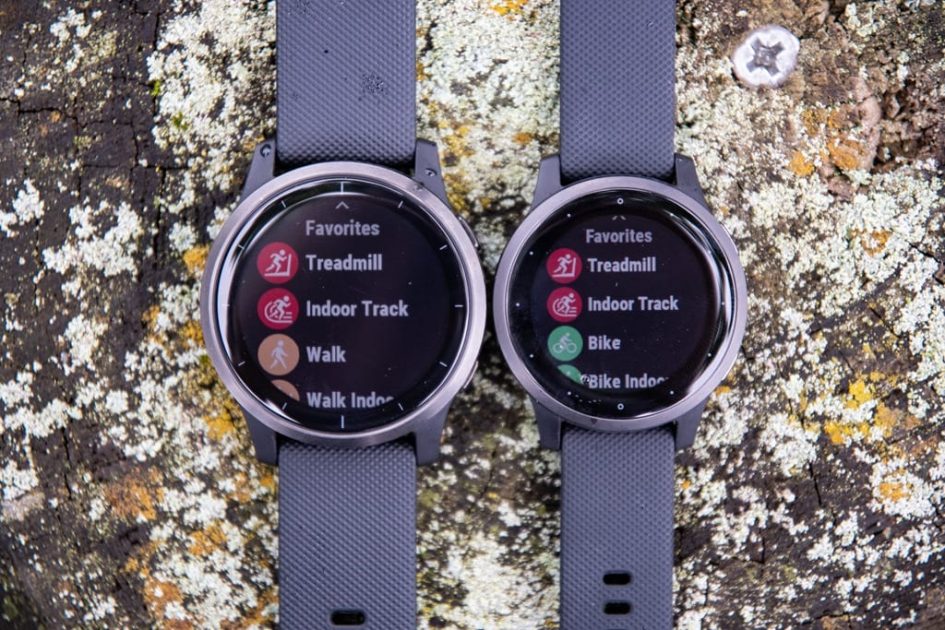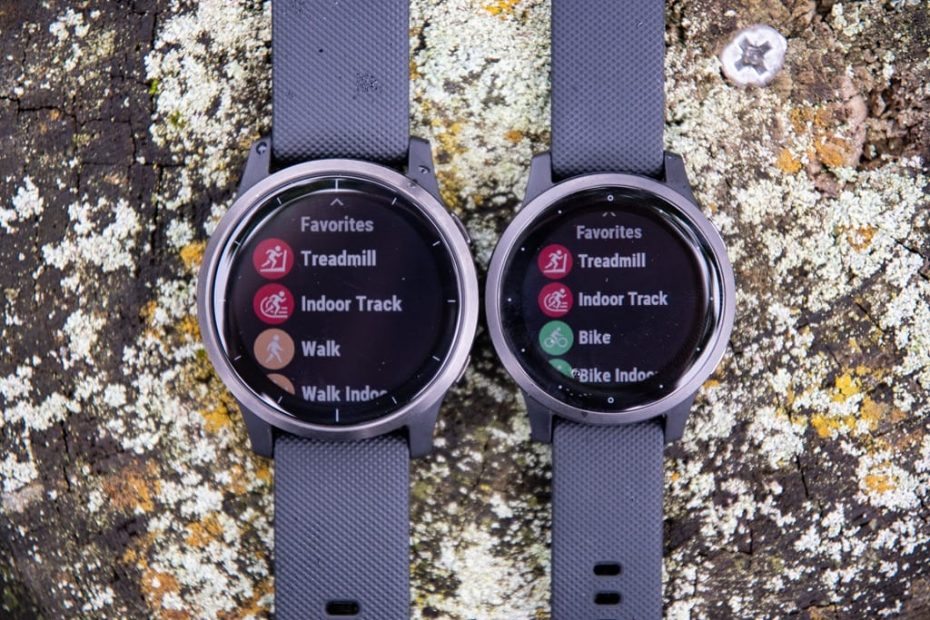 You'll notice that on the backside of the Garmin Vivoactive 4S, there's a big bulge and it's not that annoying.
The bulge actually doesn't really affect me at all, and that houses the sensors. There's two types of sensors, the Pulse Ox sensor and the optical heart rate sensor, and I'm going to dive into those two types of sensors and show you whether it's accurate or not. One thing I want to note is that the bulge really helps with the accuracy of the Pulse Ox and a heart rate sensor.
I noticed on other types of watches that are, have a more flat profile on the back where the sensors live. It's not as accurate. The bolts kind of helps keep the watch in place and monitor your heart rate and your pulse-ox.
One annoying thing is that a lot of gunk can get in between the crevices of the back of the watch, and this is a common occurrence I've had with Garmin watches, so you just have to routinely clean it out if you are worried about plan cleanness.
So you might be wondering what is Pulse Ox? Well, Pulse Ox is Garmin's proprietary term for blood oxygen saturation level. I'm going to cover this type of sensor data in great detail when I cover the sleep tracking Garmin Vivoactive 4 of feature.
---
Read: Apple Watch Series 3: Mighty Effective Wearable
---
The heart rate sensor is very similar to the Forerunner 245. It's very accurate even during strenuous exercise, I noticed on the website that it's able to track your heart rate as you are swimming, which is a really cool kind of feature. Obviously this watch is swim proof, so you can go ahead and go in the ocean or in the water and swim just about 50 meters below the water surface.
Display of Garmin Vivoactive 4S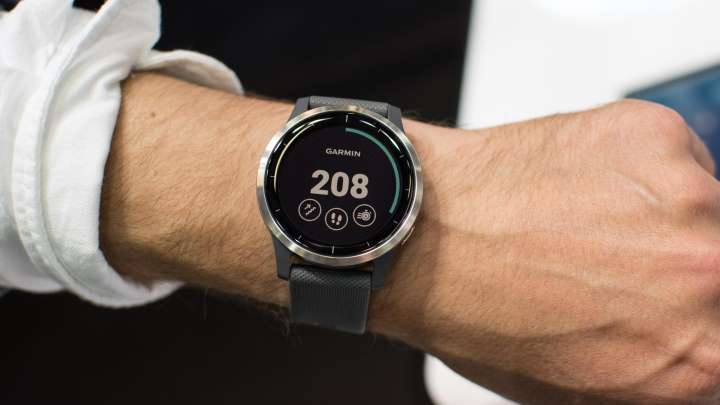 The display of any smartwatch is very important. One of the most defining characteristics of Garmin watches historically have been the trans-reflective memory in pixel displays. Basically, what that means is that it's a very low battery consumption type of display that's always on.
The way the technology works, a MIP or memory in pixel is that it's able to update only certain pixels and all the other pixels can retain their position. This allows Garmin Vivoactive 4 to be very battery efficient. Now I love Garmin Vivoactive 4 display because it's always on. I'm able to use my fitness tracker, my smartwatch as an actual watch.
I can look at it and I don't have to use some kind of gesture feature. I can always have the time on me. So that's been very convenient and kind of like an essential feature I look for in any future smartwatch. The downside is that when you're using it in a darker environment. It uses the backlight, kind of like a blue tinted backlight to actually light up the display.
When you're looking at the display with the backlight on, it looks very washed out and very low contrast. And to me it looks very ugly. So you kind of make trade-offs, you know? Do you want an always on display that's very battery efficient or do you want some kind of like, overlay display or your typical LCD screen that hogs a lot of power but also looks very nice.
Another downside to using a more traditional, like overlay display or LCD screen, is that it's very hard to see in the sun, so it requires you to increase the brightness which kills your battery. With this, Garmin Vivoactive 4 display always works in the sun, so when you're doing activities outside, it works very well.
---
Read: Top 10 Cheap Running watches
---
Honestly, I'd rather have it washed out blue tinted type of backlit display then have kind of a more of a traditional type of display. I notice Garmin releases a very similar type of smart watch called venue, and it uses a more traditional type of display.
But I'd much rather have an always-on display because I can treat my smartwatch as a basic watch, not having to like do some crazy gesture to just look at the time just being able to quickly glance at the time to see some kind of metadata.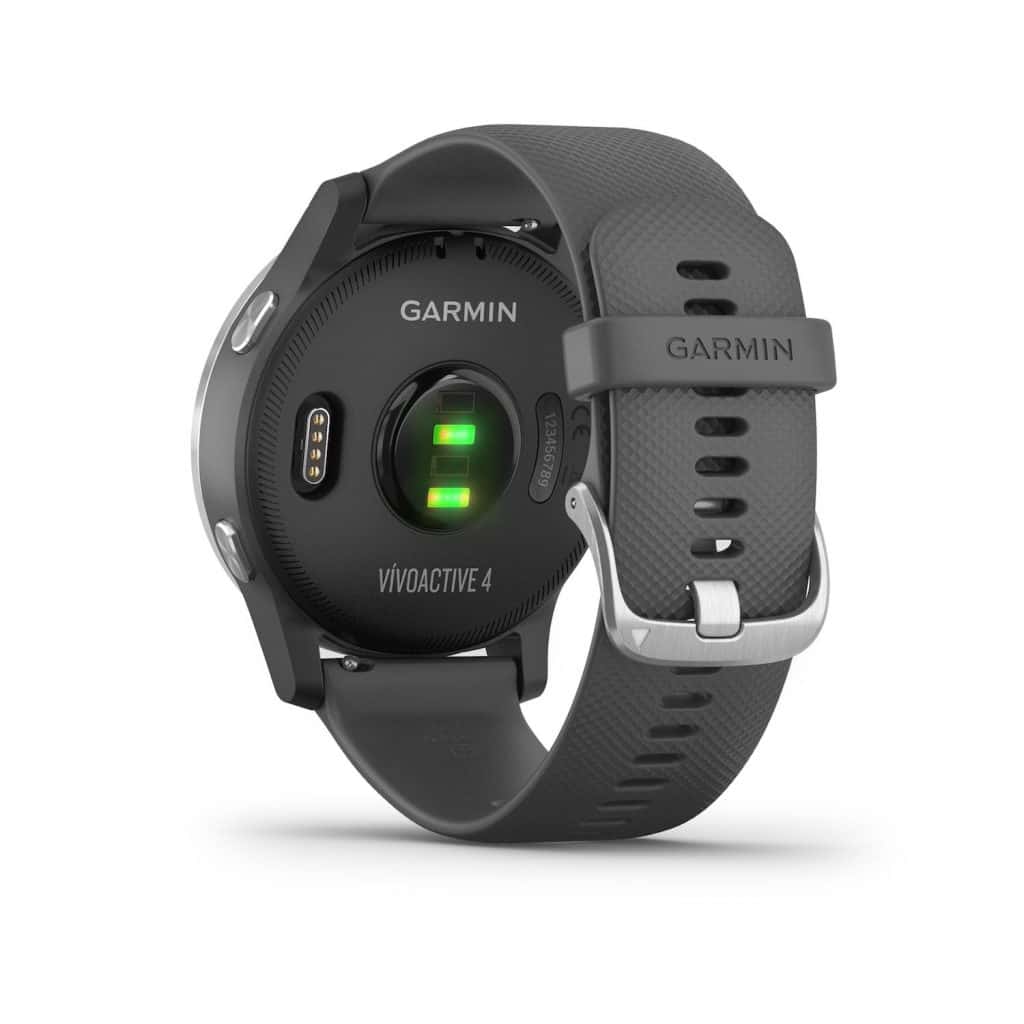 Some complications have been very convenient throughout my life. So obviously the display is a touchscreen, and I find that interacting with the software on the actual Garmin Vivoactive 4 is very intuitive, and I noticed that the touchscreen doesn't screw up or doesn't become kind of weird and junky.
Garmin Vivoactive 4 actually very responsive and very accurate. Zipping through menus is very nice using the touchscreen.
Garmin Vivoactive 4 Vs. Garmin Forerunner 410 Vs. Garmin Forerunner 245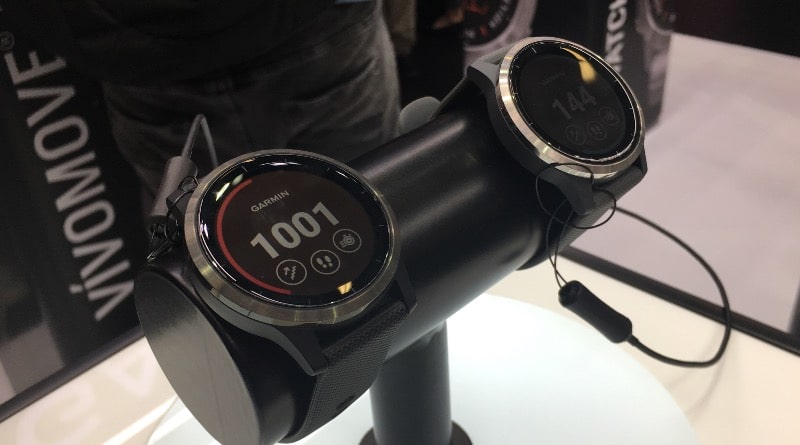 In terms of comparing to Garmin Forerunner 410 or Garmin Forerunner 245, do you prefer a non-touchscreen display and just use kind of four or five buttons or would you rather have a touchscreen and use two buttons?
Personally, for me, I find the touchscreen more than adequate and it's been very kind of intuitive to use and sometimes using the Garmin Forerunner 410 or Garmin Forerunner 245, you're just restricted to buttons. Sometimes I see myself touching the screen and I kind of want to tap stuff. Basically, I much prefer a touch screen.
---
Read: Is Apple Watch Series 1 still worth it?
---
Now in terms of the two physical buttons, it has been a welcome addition of an extra button. Originally the vivoactive 3 usually had one button, this extra button and kind of helps with kind of navigation. Maybe you're moving back or you're interacting with a strength training app or some type of exercise.
It relies more on a tactile feeling and it's more accurate than a touchscreen. So this addition to two buttons has been very welcomed. I'm happy for them to add more buttons so we can have more shortcuts and gestures.
Garmin Vivoactive 4S battery life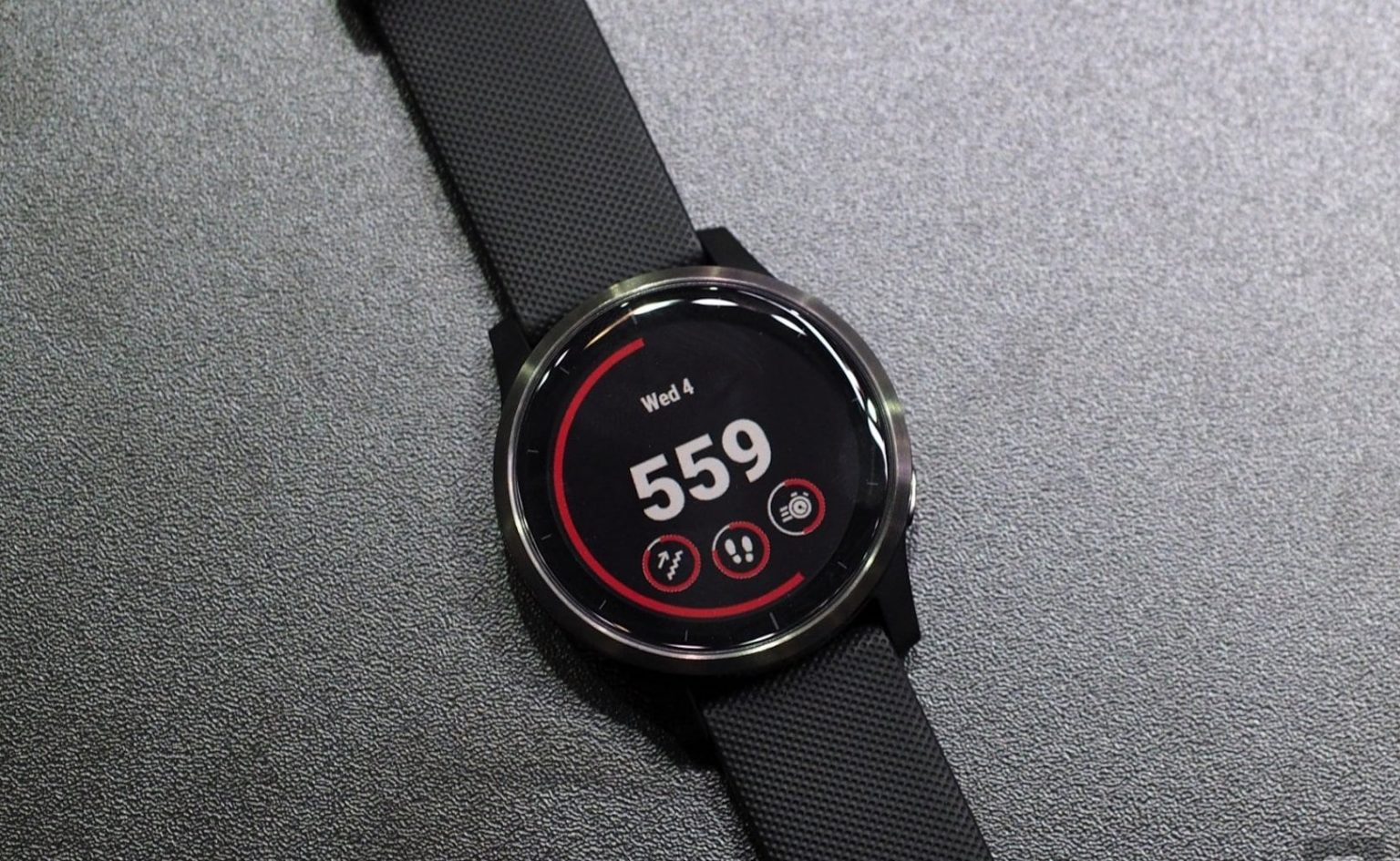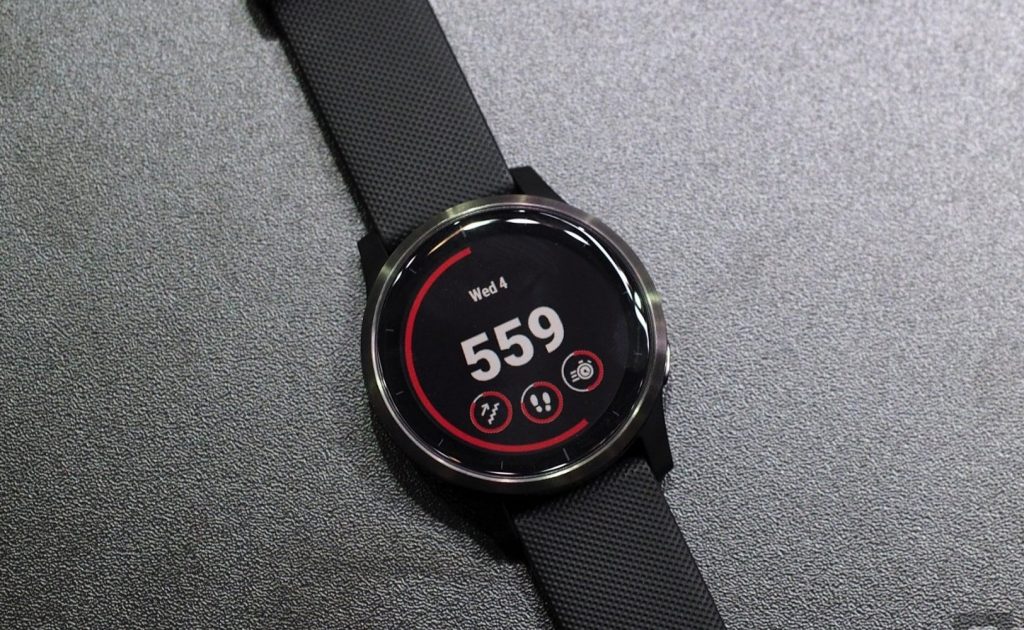 When you look on the box of the Garmin Vivoactive 4S, you notice that it has up to seven days of battery life and it has five hours of music and GPS simultaneously running at the same time.
So that's pretty good in terms of if you're going to be running and tracking running with GPS and have music five hours, just pretty lengthy. I don't think people run for more than five hours.
In terms of the seven day battery life, it hasn't been that much for me because I'm using Pulse Ox impulse while you're sleeping or all day Pulse ox tracking, which is a really unique feature to be proactive for.
That type of sensor actually eats a lot of your battery because it uses a red LED. It's actually a lot stronger than the green LED, which monitors your heart rate. In terms of the actual battery usage I've had, when I'm using the Pulse Ox feature, let's say I have Pulse Ox enabled on Garmin Vivoactive 4 for all day tracking.
I get about four nights of sleep with it. Which  is actually still really good. I'm still impressed that it's able to kind of last that long with the Pulse Ox running all the time. I didn't do any kind of music or, um, like running any kind of GPS tracking. I did do a couple strength training exercises.
I receive a lot of notifications on the watch. I interact with Garmin Vivoactive 4, you know, use the backlight on the lowest brightness. You don't need it that bright. If I actually disabled the all day Pulse ox on Garmin Vivoactive 4 and I just switched to "sleep only tracking". Basically, you'll set your start and end time when you fall asleep.
---
Read: Apple Watch Series 2: A Complete Smartwatch in Cheap Price
---
It'll actually track that entire duration as you fall asleep. Typically what I capture when I'm sleeping is about seven hours worth of data of pulse ox, and that increased my battery life to one extra night. So, in terms of all day pulse ox tracking versus sleep only pulse-ox tracking, you only get about a day.
It's not much of a big difference. I imagine if you disabled pulse ox, you are likely to be able to get the seven day battery life. One thing I noticed is that when I'm using the music feature and I'm trying to sync, let's say a podcast, it really does eat a lot of my battery. That's because it's using Wi-Fi to download the podcast or the songs.
So just be mindful of that, if you're downloading songs and listening to music, your battery life will be severely affected. I actually measure the time it takes to charge this device from 0% to 100% and for me it was about one hour and 10 minutes, which is absolutely acceptable.
In terms of actually using the watch and the software and all the menus and navigating through the watch, what has changed from the previous Garmin series? Well, not much has changed. It's still very intuitive. I really like using the touchscreen and the two buttons to kind of navigate around. As I mentioned before, for example, the added some gestures or a shortcut, you can actually swipe right, and that will show a, let's say a flashlight or a music control.
They've really taken advantage of the touchscreen.  Navigating the Garmin Vivoactive 4 is really simple. For example, if you want to start a strength training exercise or any type of activity or start an app, you simply tap the top button once and you're right into your menu and you can select your exercise.
You also use the top button to stop and start certain types of exercises or activities. The back button is usually to get out of menus are returned back to the main kind of screen.
What are the main gestures is swiping up and down on the main watch face, and that's going to cycle through all your widgets and widgets give you information such as the calendar notifications, your weather and all that type of other information that you can customize in the Garmin Vivoactive 4 connect app.
---
Read: Carbon Fiber Apple Watch Case Review
---
Another common type of navigation is long pressing the top button to kind of show a bunch of controls and that can give you shortcuts to maybe enabling, do not disturb, turning on your flashlight, saving a location, or more importantly, getting to Garmin paying now long pressing the bottom button will get you into your history and most importantly, your settings.
From there you can just kind of customize and tweak everything. Let's say, let's say you want to change your watch face. You'll access it by using the long press on the bottom button gesture.
One really nice software update I noticed is that when you're, you doing, let's say an activity, let's say strength training, you're able to actually swipe to the left and that will reveal your main watch, a kind of interface so you can access your, you know, you're just, basically your entire watch is completely free to use.
You can see notifications; you can do other types of things. It's almost like multitasking where you have an activity and you can swipe between the activity and the main watch face and obviously all the widgets that come with Garmin Vivoactive 4. Navigating through the menus has been very Zippy and very fast.
One thing, however that kind of annoys me and is a little scary to you sometimes is when I'm interacting with a notification, I might accidentally hit a quick reply because it's so fast. It doesn't know that confirmation. There can be some embarrassing moments where you see of you reply to a notification by accident or something like that.
Garmin Vivoactive 4 watch faces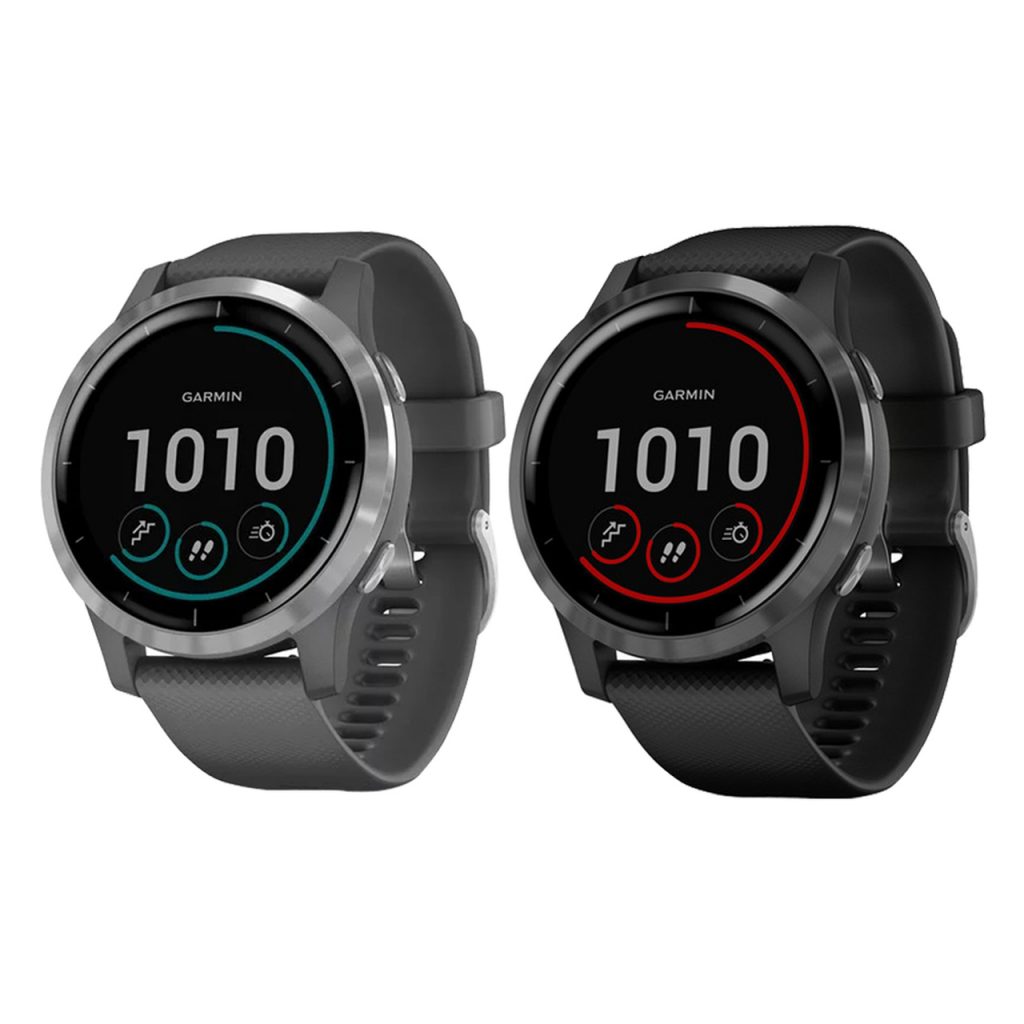 Watch faces are really important because we all want to customize our smartwatch to our own taste. Thankfully, there is a whole market where you can go out and you know, get kind of third party watch faces because the Garmin default natives watch faces are very uninspiring, although very functional in their terms of use.
I need complications on the watch face Garmin Vivoactive 4. I need to see the weather, the date, obviously the time and maybe some extra information like the next calendar event. As you can tell by this watch face, it just looks very boring and basic. There's a lot of white space. There could be so much more that they could have added.
---
Read: 10 Best Apps for Moto 360
---
In terms of the aesthetic of watch face, it just looks very ugly. One thing that really annoys me is that these complications, so basically on your watch face, you can see extra data. You can't interact with it, like kind of like what you can do on wear a West, it works totally fine, and you can't interact with it.
For example, you have the weather widget or complication, you want to tap it to get to your weather widget and see more information regarding the weather and you can't do that. So it's just, I don't know why they can't do that. I mean, come on. It's really unfortunate in terms of watch faces, it's kind of annoying.
I want to share my favorite watch face, and it's called sky tracker anti-aliasing. And what's really nice about this watch face is that it looks very aesthetic. It occupies or uses all the screen real estate to fill it with purposeful information such as the weather on Garmin Vivoactive 4. It's very detailed and kind of gives you illustration of what the weather looks like, a little description with the temperature, but also gives you things like your battery life, a detailed date.
The time looks beautiful. You can fully customize sky tracker anti-aliasing and configure it as you wish, but you'll need to upgrade to the premium version. And I really do think it's worth the minor cost to upgrade.
Sleep tracking
Sleep tracking on Garmin Vivoactive 4 is really a feature that I'm very passionate about.
I really care about my sleep. I really care about tracking my sleep just because it's so important for me and I get really poor sleep because I have a condition known as sleep apnea, which is basically prevents you from breathing as you're sleeping.
---
Read: Best Fitness Tracker for Seniors in 2020
---
What is the main reasons why I went out and bought the Garmin Vivoactive 4is that it finally has all day pulse ox tracking, and to me this is a major feature when I was super excited to use this feature and I'm super happy with the way it's working right now.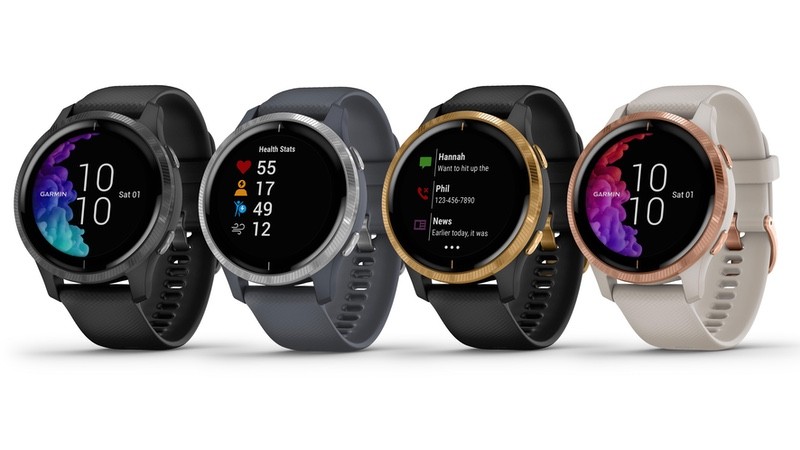 Like I said before, using all day pulse ox, it does really eat your battery life, so what I do is I disabled that, but I enabled it during sleep tracking. Previously on a lot of Garmin devices that I've tested, like the Vivosmart 4 or the Forerunner 245 it only tracked four hours of your pulse ox, which is basically nothing.
I mean, I sleep for eight hours or sometimes more. I want to see all that information. I want to see you like high resolution data. I have my pulse ox as I'm sleeping because in order to properly understand your sleep patterns and diagnose issues, although this is not a medical device, so don't use this to medically diagnose your sleep apnea, if you suspect that you haven't, based on snoring, gasping for air, or filling fatigue during the day.
What I'm trying to say is I really like being able to see all this data because it helps me make more informed decisions. And thankfully Garmin Vivoactive 4 works pretty much what I expected to by kind of sending your start and end time when you fall asleep and when you wake up, it will enable pulse ox tracking. So I'm able to get around seven hours of pulse ox tracking as I'm sleeping.
This has been a fantastic feature. I'm really excited. Sleep tracking in terms of the more normal features like sleep stages and movement and all that other types of stuff, detecting your deep sleep versus REM sleep versus alive versus being awake. All that stuff is very accurate and it works just as the previous garment devices I've tested before.
Sleep tracking is first-class type of data tracking that Garmin present and asking this information on the desktop web app or using the kind of connect app on your Android or IOS device is very pleasant. The way the display, the information, the way you can actually sit and seek through the graphs is absolutely amazing.
---
Read: Smartwatch Benefits You All Should Know!
---
Garmin Vivoactive 4 has done really well in showing that this type of detailed sleep information to you. The one thing that I do criticize Garmin is they don't have a nap tracking. It really sucks because I nap during the day and I want to be able to like see if this napping affects my kind of overwhelmed sleep pattern and stuff like that.
It's really annoying that they don't track naps. Having a nap does affect your body battery. What happens is that when you nap, your energy reserves will increase, so your body battery will go up and it will properly reflect that, but it doesn't show that you napped.
Another feature that I heavily criticized Garmin for not adding to their sleep kind of information in the connect app is the ability to kind of annotate your sleep. So let's say one night you were doing something, they'd be, you're drinking a lot of alcohol and you're feeling really tired. You want to be able to annotate it so that maybe you can look back. It's like, Oh, I got no deep sleep because I was out drinking and stuff like that.
This type of customization to our sleep data, I really wish they would provide. One little thing I want to add about the pulse ox tracking, if you're only tracking during sleep, is that if you kind of exit the boundary of what you set your sleep patterns, let's say you go to sleep at 2:00 AM and you wake up at 9:30 AM if you sleep more than 9:30 AM let's say you wake up at afternoon or in whatever, it's not going to track your pulse ox from 9:30 AM to the time you wake up.
It only tracks the time that you kind of white listed. That is unfortunate, but it helps save your battery in the long run if you really care about getting into all your pulse ox date. You can totally just enable all day pulse ox tracking, which is actually really neat and it only eats one extra day of battery life.
It really depends on what you want from Garmin Vivoactive 4 smartwatch. I compared the pulse ox data captured from the vivoactive 4 to the data captured with the dedicated SPO to sensor called the Loki ring sleep tracker.
I tested the two devices on two different people, one being myself who is diagnosed with sleep apnea and someone who does not have sleep apnea. As you can tell by the results, both devices show that I have some sleep issues when I'm not using my C-PAP therapy. And you can see that the other person without sleep apnea had much improved blood oxygen saturation throughout the entire night.
---
Read: Top 4 Smartwatches for Women
---
I'm actually quite impressed with the accuracy of the pulse ox, and I'm very happy that I'm able to monitor it 24/7 with Garmin Vivoactive 4. Another feature, Garmin was marketing pretty heavily during the vivoactive 4 was respiration tracking and how many breaths per minute do you take. And to me, this is a kind of a cool feature.
I was like very intrigued by respiration tracking with Garmin Vivoactive 4. Perhaps, you know, if you have sleep apnea and you stop breathing as you're sleeping, obviously your best per minute will be reduced. And I was looking at the data, it doesn't really help me that much.
One interesting thing to note is that if you disabled pulse ox entirely, you still get respiration rate. That means that it's not using the pulse ox data to calculate this type of breathe per minute. It's actually using the heart rate sensor and I've tried looking on in the app or on their website and understanding how this breathe per minute works and what exactly are we trying to do with this data?
That's something that I've kind of been annoyed with Garmin Vivoactive 4 is that they present all the data very well and body battery has been very helpful in determining how tired or if I should take a rest or if I'm very stressful, but I wish it was more kind of sent you insights or send you more contextual data about the data that you've been tracking.
The respiration rate is being tracked as you fall asleep 24/7. So I'm not sure what useful.
Now there's one little nitpick I want to say about sleep tracking and journal with Garmin, and it's basically they, it's kind of what I said before, they don't kind of provide any insight sleep tracking. All Garmin Vivoactive 4  does is show you a kind of very objective data. You've had this much REM sleep, you have this much deep sleep and this is your total sleep.
That's great. I mean, that to me is already a very helpful metric and you can use that to help improve or motivate you to go to sleep more often and obviously get more sleep. I really wish Garmin would provide some kind of sleep score or some kind of calculation of whether my sleep was of good quality or bad quality.
And I noticed that Fitbit is doing this, so I don't know why Garmin can't. You don't crunch all this data and compare it with their peers, with our peers. Garmin Vivoactive 4S kind of provides coming to scores. I really wish Garmin would provide more insights to our data.
Body battery in Garmin Vivoactive 4S
Another major feature they've added in Garmin Vivoactive 4S since the Vivoactive 3 is body battery, and I really liked this feature.
Body battery feature really is kind of accurate in some ways. Sometimes it's kind of off. It's kind of scary how it knows more about your body than you know about yourself. Sometimes I look at the body battery and it's showing me the 20% but I feel fairly fully tired. But then within an hour or two I completely crashed.
It's using some kind of magic data to calculate this type of body battery percentage in terms of how full you are. If you have a full battery, you're ready to tackle the day. I've had times where I was 100% but I felt really tired. It doesn't really account for caffeine or other types of things that affect your body, like water intake and stuff like that, but it hasn't been a good kind of a proxy to estimate whether you are tired or going to be tired or whether you're active.
Personally for me, sometimes I find body battery to be a little weird because you kind of have this. Machine or device telling you that you should be tired or you should be fully active, whereas like sometimes you feel differently. So it might have a weird psychological effect on you if you look at this data very religiously.
---
Read: How to Get Apple Watch Faces Rolex?
---
Garmin pay
Garmin pay is a major improvement over the Garmin 41o or 245 versions I'm really shocked that that watch, which is really expensive and almost the same price in terms of the music edition. Compared to the Vivoactive 4 does it include Garmin pay, but this one does and I'm very thankful of that.
This to me is a very handy feature. If you want to go out for a run and you don't want to carry your big bulky wallet or carry your phone that has NFC like Google pay or Apple pay.
Now, my main issue with Garmin pay is that it's supposed to be more convenient. It's supposed to augment your life. These, you know, wearable are supposed to make things more simple and more convenient.
What I find really annoying is that if I want to, let's say I'm at the grocery store and my hands are full, I just wanted to simply tap the terminal and just pay. I don't have to, I want to fiddle a buttons or enter a password pass code. The experience with garment pay has been absolutely awful.
You have to long press to get to the control menu, you have to tap a very small icon. The little wallet icon to open Garmin pay, and if you haven't entered your pass code recently in the past, I don't know, a couple of hours, you're going to have to enter it again, so you enter four digits. Finally, you can actually tap the pay.
I use Google pay and it's pretty much instant. I take out my phone, kind of works like a credit card. You don't have to enter any passcode. You can just turn on the device and just tap and it's really convenient and really fast. The whole point of having a smartwatch is to kind of go hands-free and just tap the terminal.
This has been the opposite experience, so I can only see the benefit of using Garmin pay if you intend to go out without any type of credit card, NFC chip or your phone.
Now, on a more positive note, using Garmin pay is extremely fast. As soon as you get it ready. Tapping the NFC terminal is very fast and I noticed that on wear OS, sometimes it like misses or lags or you have to hold it for a long time. This is like instantly, it completely works really fast.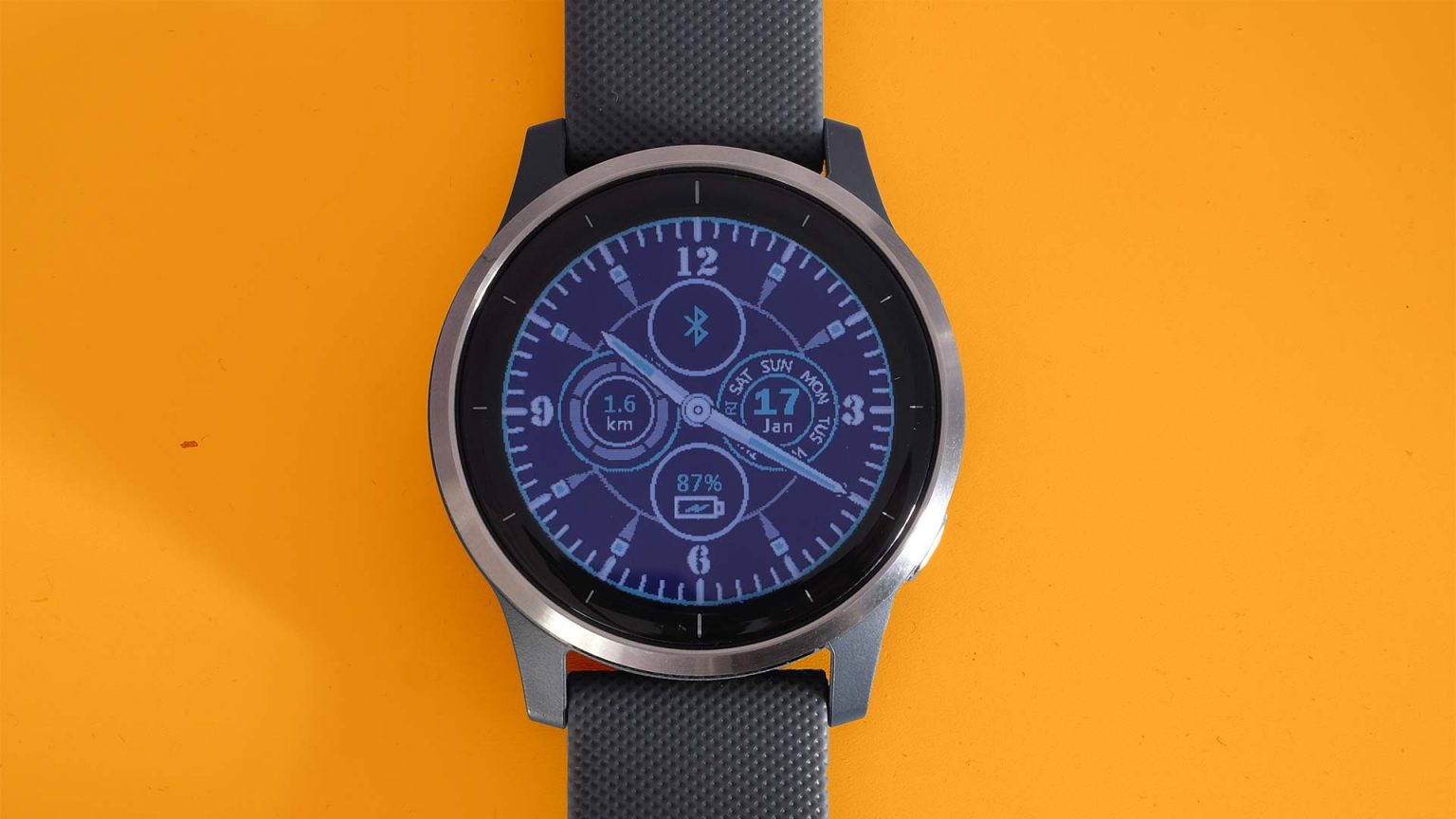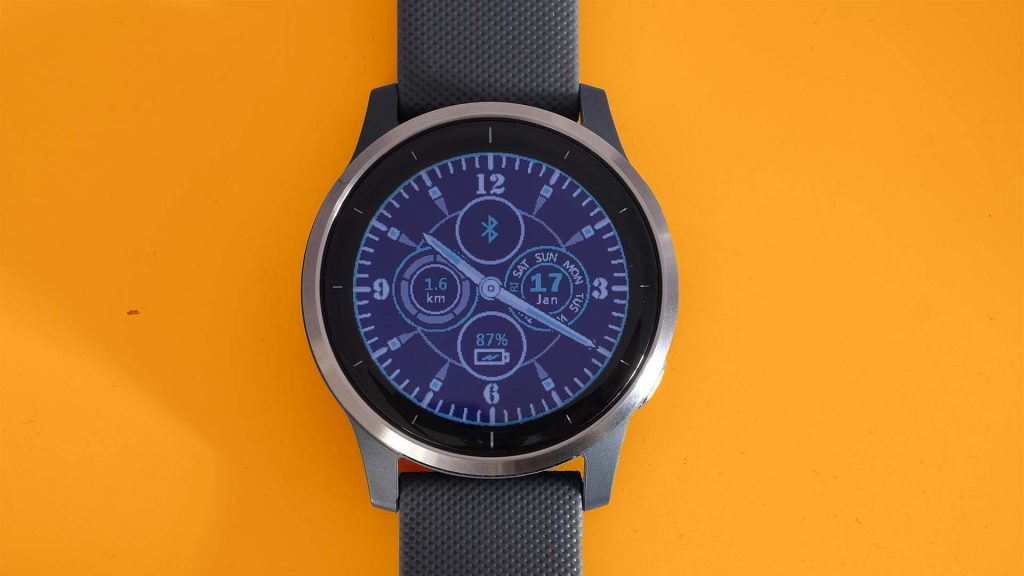 I might've been a little harsh. I found out in a later software update that you can actually go and customize your shortcut. So when you swipe to the right, you can actually open your wallet, however, you'll still need to enter your pin, which is still a cumbersome experience.
Garmin Vivoactive 4 also occupies the shortcut for your music control widget, which I would rather have here.
---
Read: Top 8 Upcoming Smartwatches in 2020
---
Smart notifications
Smart notifications are excellent on Garmin watches. They are kind of like the wool industry leading, in my opinion, because they just work so well, especially on Android.
What happens is you get a notification and you get a little pop up, a little vibration, haptic feedback on your wrist and you can see the title and you can see the content of your notification. And for me, being able to glance at my notification really quickly and kind of scan it and get all the information has been very convenient and making me use my phone a lot less.
Another thing that Garmin do really well is present all your notifications on a widget, kind of summarizing all the notifications in kind of a list. And to me this is very helpful because I never have to really go to my phone. That's a wake up. I can see all the notifications and it's very convenient on Garmin Vivoactive 4.
Just be able to kind of glance at all of them all at once. Now, despite the Garmin Vivoactive 4S having a smaller display, I find that notifications are very crisp and very legible and easy to read. Interacting with the notifications is very intuitive. Once you get it, you're able to tap and kind of swipe up and then as you swipe up, you can reveal the quick actions or the inline actions that are contextual to the notification.
Smart notifications is a feature that kind of only on Android, unfortunately, because IOS has a very close system. Damn you Apple. What this means is that you can interact with notifications. For example. I'm using a transit now app and I'm able to monitor, track my streetcar or my bus, and I'm able to set a timer right from the notification.
It's been very convenient to maybe do a quick reply or interact with custom developer actions provided in the app. In terms of responding to messages like SMS or WhatsApp or messenger, you're able to quickly reply and that's really convenient and you can go into the connect app.
And just customize the type of replies. So that doesn't look very cookie cutter. One of my major complaints when using the garments smart watches is that there's no voice reply. We should be having it at this point. We're in 2020, voice is all around us. We have these Google assistants and Alexa's. I really wish that they added this feature in Garmin Vivoactive 4.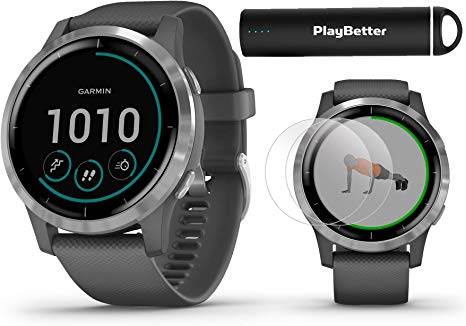 There are times when I just want to respond to a text message, but I can't because the pre-set replies are completely non contextual to the conversation. While we're on the subject of voice replies. Please Garmin. Please include some voice assistant like Alexa or Google assistant, because I noticed that when I want to set a timer or set an alarm, it's really annoying.
---
Read: Samsung Galaxy Watch Active 2: A marvelous success
---
It's really cumbersome. I have to go through all these menus, tap a bunch of buttons, and it's just, I really wish I could just say, you know, set a timer for 20 minutes and just kind of go with my life.
This is how a smart watch should work. Unfortunately, this is stuff that you will get on a wear OS or Apple watch, but you trade off a lot of other things that Garmin is really good at, such as detailed fitness tracking and always on display.
Okay, so back to smart notifications. Another nitpick I have when using smart notification is that I found that the vibration haptic feedback to be actually really strong and kind of annoying. Now what you can do is you can go into settings. And you can actually set it to the lowest type of intensity, but I still find it at the lowest intensity.
It is very strong. This vibrator is very strong. It's kind of annoying and I really wish that the do not disturb button was more accessible on Garmin Vivoactive 4S.
What you need to do is long press the top button to get into the control menu then tap a small button "do not disturb" that i guess it's okay, but like if I want to quickly stop notifications, it just feels like a lot of steps.
I think the long press gesture, having to hold it for so long, it just slows down the whole process. I really wish Garmin would just allow us to customize the way that our buttons work, such that perhaps when you press the top button, it opens the control menu, which is something you would use more day to day and more often.
For example, getting access to your Garmin pay and long pressing it would be do the opposite. It would actually kind of start an exercise or show you the menu for all your activities, which is something that I do maybe once in a blue moon.
One thing about annoying notifications is that if you're getting spammed a lot, you can always block the app. In fact, you can go into the connect app and you can customize which apps can send you notifications. But every so often, you know, I can't disable messenger because I receive important texts.
Sometimes someone will be kind of having a conversation and they'll send like 20 texts in like a minute and your wrist is vibrating and it's just super annoyance.
Strength training exercise activity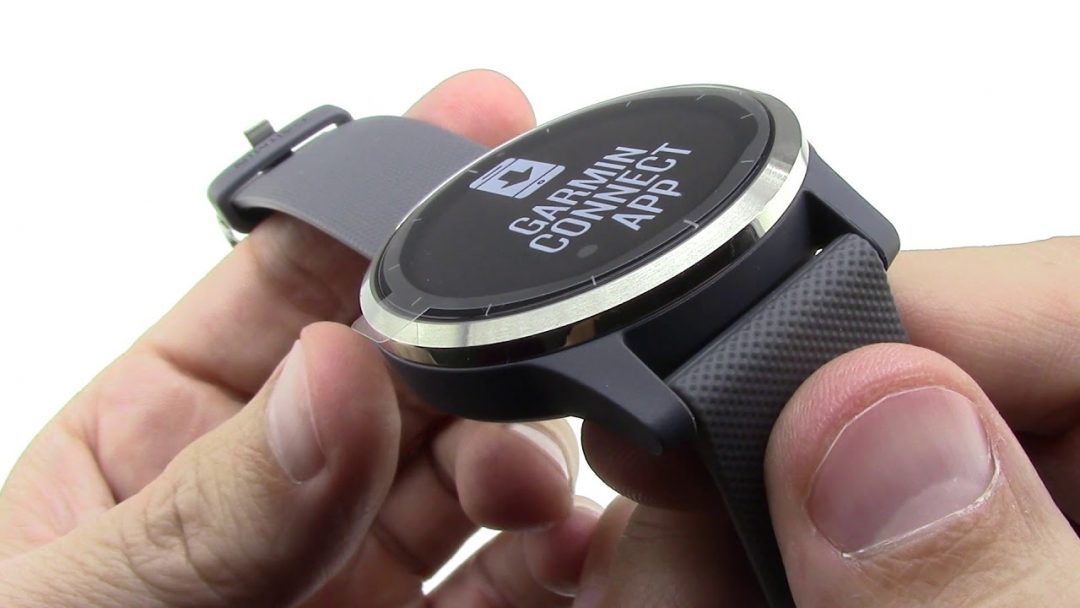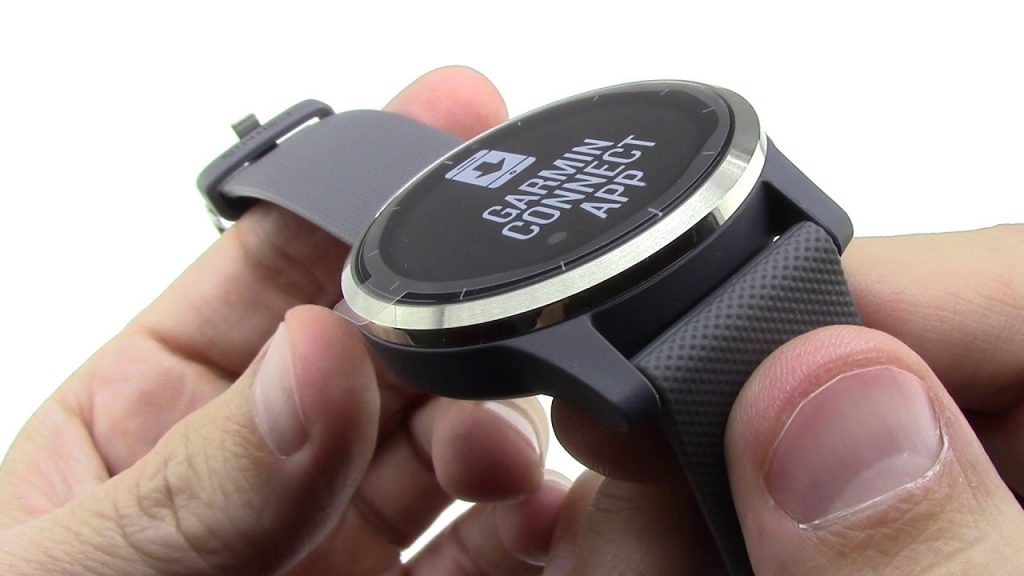 There's, you know, snowboarding and running and walking, auto tracking it as all these crazy activities. But for me, going to the gym and lifting weights is something that I do very often, and it's very important for my health. You might be someone that is going to the gym regularly lifting weights, or you want to do this.
Now why am I kind of advocating for Garmin fitness trackers in the gym? In summary, it's basically a coach, someone that kind of yells at you and kind of helps you focus on doing your set. And what I mean by this is sometimes you go to the gym and you end up kind of like wasting your time. Sometimes you're on your phone or you're, you know, you're on Instagram and you're swiping through images and stuff like that, and you end up wasting a lot of time in between sets.
---
Read: Apple Watch Series 5: The Ultimate King of Smartwatches
---
So let's say you do 10 chest presses and you take a rest break and you sometimes you lose track of time. Now the nice part about Garmin watches, fitness tracking in general is that it's able to detect when you start and stop an exercise or a set. 
Garmin Vivoactive 4S will automatically detect that you stopped doing your exercise. By looking at the watch as you're walking around, you can see rest timer, Oh, I've wasted three minutes just kind of browsing on the internet or doing nothing, and then it kind of reinforces you to stay focused and finish a workout.
Now, personally for me, I hate going to the gym after going to the gym for so many years, it gets really monotonous and I just want to go in there, do my work out and get out really quick. I didn't want to be in the gym for more than an hour. What's also nice about Garmin Vivoactive 4 is that you can see the elapsed time you've spent in the gym.
So let's say you've spent already more than an hour in the gym. You know that you're wasting time, so you should speed up and kind of get out. So I really hate the gym. The Garmin Vivoactive 4S watch has been a personal coach for me and has helped me stay focused, motivated, and very kind of get in, get out type of mentality when it comes to the gym.
Now unfortunately, there are some issues with the auto set and the rep counting. Now rep counting is generally accurate. It's able to detect how many reps you do. Let's say you do 10 reps on a chest press. That's fine. It works maybe plus or minus one. No big deal. Now, when detecting the type of exercise you are performing, let's say you're doing a squat.
Let's say you're doing our fun squad. It's completely misses it up sometimes, and I'm really shocked by this because this new watch, the Garmin Vivoactive 4 actually includes new sensors like a barometric altimeter, a gyroscope, and obviously has the accelerometer and other types of sensors.
I don't understand why the Garmin engineers cannot use this information to determine what type of movement you are making. When I was using wear OS, I was really shocked at how well it was able to detect the type of movement I was doing. Wear OS could differentiate between a upper chest fly versus a dumbbell chest press. Garmin Vivoactive 4S and like all other Garmin watches still to this day have all these sensors and all this stuff cannot detect the type of exercise I'm doing very accurately.
It still does a job. It's still kind of works. Maybe 70% of the time, I'm not sure, but it's just really, really kind of disappointing at this point in time that with all these sensors is still not doing the right job. Now it gets worse. Unfortunately, I was really excited about the auto set feature. I was using this feature where basically if you start your exercise, you start doing your reps, it'll detect you started doing your reps and as soon as you stop.
Ill ill notice that you are completely stopped doing exercise. So times exactly when you start and send and you're set that way, you get very, very accurate tracking of when you start and stop your set and the rest time between sets. So that was very helpful. But I noticed that for some exercises it's not detecting my set at all.
So let's say for example, I'm doing it front squad. It did not detect it at all. Or I'm doing a machine, I'm doing a chest fly and it did not track the emotion at all. Other motions like very obvious, like maybe maybe a back squad or bicep curls.
---
Read: Walkie Talkie iPhone Watch App Explained
---
It was detected totally fine and I thought it was working completely accurately, but it's not. Another issue I had with other, let's say the Garmin Vivoactive 4 was that it would wrongly detect exercise, so I'd be walking around the gym during my rest break and it would actually detect that I started an exercise.
Thankfully with this watch, it doesn't do that, however, is sometimes not detecting. You might just start in my exercises, which is really annoying. Sometimes you have to, you know, manually start the type of exercise you want to do and it gets very confusing when you have auto set featured on. Sometimes it doesn't work and sometimes it does.
And it's very confusing because you don't know when you should actually press the button to start the exercise. So to me, this is almost a deal breaker. I thought that it was really good. I thought it was detecting my exercises. The auto set feature wasn't working, so I'm kind of really just depressed and disappointed about this feature.
So if you don't want to use the auto set feature, you can completely disable it and you can revert to kind of the manual start and stop your sets. Thankfully, it's using the bottom button to kind of start and stop your set. What I noticed that when I was using the Garmin Vivoactive 4S, which is 4 kind of more reliant on touchscreen.
Touching the button when I'm sweaty could sometimes accidentally pressed the wrong button or it would double tap instead. It was really frustrating to use. Now we're using a physical button, so start stopping and starting your set at least isn't as bad as is on a fully touchscreen device.
Another really cool feature with strength training is that you're able to download exercises and you're basically download a whole regiment and it kinda gives you, let's say like, you know, 20 minutes body building, upper chest, upper body type of exercise, and it prescribes you all these different types of exercises.
What's really cool is that if you're new to strength training or you want to get into it, Garmin Vivoactive 4 actually shows you an animation or a kind of an illustration of how you do, let's say, chest press for example. I think these preloaded workouts, you can actually customize and create your own, which is nice, but I find that this doesn't work into my, into my lifestyle when I go into the gym.
For example, someone is using the machine that I wanted to use, so I have to change the order. So it's kind of hard to use this when you are using a more dynamic type of workout or let's say, you know, maybe you want to do something completely different, mix it up. It does not really fit into my workout plan.
I found this feature pretty much useless for me, but I definitely can see it being very helpful for people who are new to the gym and kind of just want to follow a type of kind of regimen prescribed by someone else.
GPS tracking and running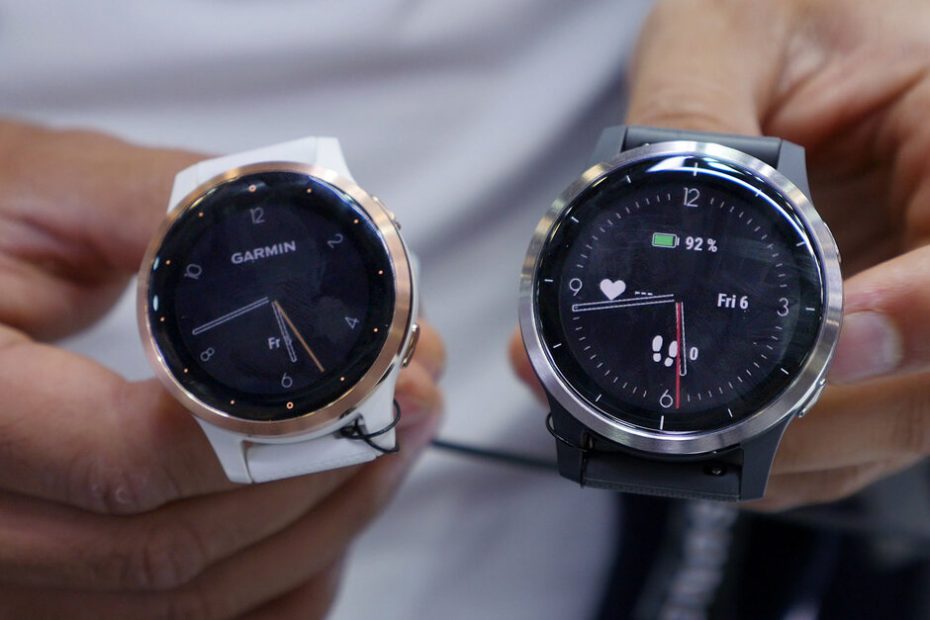 I'm not much of a runner. In fact, I don't run at all. So I went out and I tried this device and I found that it was very accurate in terms of my GPS tracking. The one thing I did notice though, it did take quite a while to kind of lock the GPS signal. Garmin Vivoactive 4S took around five 10 seconds, and I was downtown, so there were a lot of tall buildings.
It's kind of maybe messing up with my GPS tracking, but overall it was able to very accurately detect my entire path that I was taking. And Garmin Vivoactive 4 shows you a lot of stats and information such as your pace and you know your average velocity in terms of how you run. This is very cool type of metrics for people who are into running.
I think GPS tracking feature is more than adequate for people who are just into basic running. Now, the one thing that defines the Forerunner 245 is that it provides a lot more advanced metrics and tracking when it comes to running.
---
Read: Best GPS Tracker Watch for Kids in 2019
---
If you are into more running marathon and all that type of stuff, you might want to research the differences between those types of features that are offered on the Forerunner 245. One thing that Garmin offers during only activities, unfortunately it's only during the activity is incident detection.
Let's say you were running and you fell and something really bad happened to you, it's able to detect that and kind of send a message to your emergency contacts. Unfortunately, this only works when you're connected to your phone.
I thought that I could use this smartwatch walk around my house and if I fell down, it would kind of detect that. But unfortunately it's only during an activity. In terms of auto tracking, basically being able to detect an activity without having to go into watch and kind of start it automatically.
I noticed that it has been very accurate. It was able to detect all my walks, all my runs, and all my cycling, all my bicycle movement very accurately. So that was really cool. But the only thing is that it's not going to have any GPS back data because obviously it's not going to be burning through your GPS.
If you want very detailed information, you'll need to go into the smartwatch and obviously start the activity.
Music on Garmin Vivoactive 4
I noticed that a lot of gyms that I go to that I visit, if you're doing your exercise.
They're very loud. They're blasting music so loud. They're blessing EDM and for you to listen to your own music, even with like noise canceling type of headphones, you have to put your music really loud. And I have tinnitus, so I have a constant ringing in my ears. My ears are very damaged from the younger years of listening to music without protection.
I can't listen to music in such a loud environment. So I really don't use this feature a lot. Now the times when it's actually quiet in my gym and I want to listen to a podcast, that's definitely what I do. But. I just find having music on my smart watch, not very helpful at all because it's a very cumbersome experience.
What I normally do is I load Google podcasts and I'm able to like browse and download all the music and kind of just connected to my headphones with Bluetooth and it just works for my phone. I always find that I have my phone with me when I want to listen to music, so I don't see the benefit of having just only music on your Garmin Vivoactive 4 and just going out and running with your smart watch.
Now, if you are the type of person who wants to go out, not carry wallet, not carry any type of phone, but listen to music, then yeah, for sure. The music on this type of smartwatch is going to be a very nice essential feature for you, but for me, it's completely useless. And what's worst about this is, like I said before, it's very inconvenient, very frustrating to load music onto the device with Spotify and Deezer, you need to use, you need to have a paid subscription.
I don't have Spotify. I use Google music. Unfortunately, Amazon music only works in the U S I'm in Canada, so it doesn't work at all, so I can't preload anything with Amazon music. Google music doesn't work at all and I don't want to pay for a Spotify subscription. Now, I did use the app called run cast, and I found that it was very very good.
I was able to load music on Garmin Vivoactive 4S, but I find that having just search on my phone and then sync it, that whole process is really annoying because it takes a while to sync a podcast. It does eat through your battery every time you sync. So it's kind of just
You can't set the multiplier. You can't say like, Oh, I want to listen to this podcast at 1.5X speed. There are a lot of things that are missing that are on a basic phone app that you can do really easily. If you don't want to use Wi-Fi to sync music using the typical way of using Spotify, you can actually just connect this device to your computer and simply load music onto Garmin Vivoactive 4 really fast.
I haven't found any desktop apps where I can download podcasts and I don't know how to download music and put it onto on my computer because it's, you know, that's obviously illegal unless you have iTunes. I'm not sure we can even pull that music and put it onto your device. It's pretty much useless for me if I'm using a local transfer on my windows machine.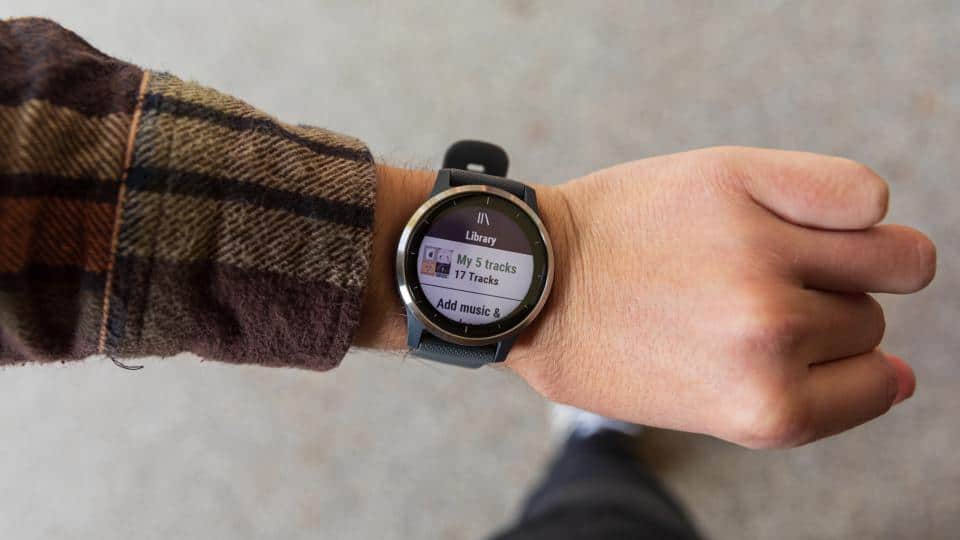 Now what I do find very helpful is using the shortcut gesture by swiping right and displaying the music control widget. That was really really nice feature that they added. I'm able to kind of control the music on my phone so I can change the volume. I can pause or move forward or backward. That's very convenient.
However, if you want to use music local on your smartwatch, but also control your smart phone, you have to go really deep into the settings. And go to music providers and then change it to music control on your phone versus local music. So that was a terrible experience.
If I want to toggle between playing music locally or controlling my phone remotely, you have to go through all these, all these steps, just to switch between the two.
That's not intuitive. It's not a fun user experience. It's very cumbersome. Now, another annoyance when you're using local music when you're streaming from your watch is that you have to connect it using Bluetooth and some, most my, my Bluetooth devices only allow one connection. If you have a headphone that allows for multiple connections, maybe you're okay from this kind of complaint, but let's say you want to use your Bluetooth headphones on your Garmin Vivoactive 4S.
You have to pair them and let's say you want to use that same Bluetooth headphone, but on a different phone. You have to unpair it on your Garmin Vivoactive 4 and then pair it to your phone. And that, that experience of having to manually pair your Bluetooth headset to either your phone or your computer or your smart watch is just way too much work just to like go out and enjoy your life.
I'm sorry, but I have to say that's completely useless for me. And I really wish that I was able to not buy a Vivoactive 4 with music. I wish they would provide a subsidy or a cheaper version so that you don't, you can buy the same watch, but without music. So in terms of the connect app that's featured on your Android phone or on your IOS device.
It's obviously a fantastic app that allows you to access all the information from your Garmin watch. It's totally beautiful. It's a really intuitive type of application on your phone that you can use to kind of just navigate and see your sleep tracking data, see all your running metrics or your strength training exercises.
It's as good all around. Additionally, you can go on your laptop or your desktop and load a web app, which basically is the same version of the connect app, but presents all your information on a nice big monitor so that is very helpful for you if you want to see information on your desktop.
Now for me, I mentioned this before in the past. This hasn't been a recurring theme for me with Garmin, is that I really wish that these, this connect app would provide some information such as insights such as sleep quality, how is your sleep?
Can you rate it? Uh, can you determine if I'm going to get sick? You know, I would really appreciate if they would provide some insight. And I know that Fitbit is doing a premium service.
Where it kinda does is it kind of looks at your day data, analyzes it and then provides you with some insight, and I really wish that Garmin would do something similar because I have all this data, I have all this information, I've been tracking it for months and weeks and whatnot, and I just don't know what to do with it like respiration rate, like what am I supposed to do with that?
Sleep data, knowing what my deep sleep is versus my REM sleep. That has been very helpful and understanding of that, you know? What, what conditions prior to that night would allow me to get better sleep. That has been helpful, but I just kind of wished they would just summarize the data and give you suggestions in ways to improve your life with Garmin Vivoactive 4S.
Garmin has all this information. I don't know why they can't just analyze it and you know, at least try to give us some insights.
I had some people comment on my previous articles on the Forerunner 245 to do a comparison of the Garmin Vivoactive 4S versus Forerunner 410 to Forerunner 245 and I noticed that given that if you compare the music edition of the Forerunner 410 to Forerunner 245 with the Vivoactive 4 to me, in my opinion, I would definitely go with the Garmin Vivoactive 4 with all the new sensors such as a thermometer, a gyroscope, an altimeter, perhaps you're into staircase climbing or you're very curious about your elevation level.
As you move around these types of exercises, you can only get it with a Vivoactive 4.
Forerunner 245 is all about golf activities. Forerunner 245 does have a slightly bigger screen at 42 millimeters.
The screen display is a little bit higher. Resolution is actually a little bit lighter at 38.5 grams versus 40 grams for Garmin Vivoactive 4, and that's because it's using a more kind of a less premium type of built quality cause it doesn't have a stainless steel type of bezel. It's all made of polymer plastic.
But if you prefer buttons and you prefer not having a touch screen, Garmin Vivoactive 4 might be the kind of device that you would rather have, especially if you are actually hardcore runner. If you're a runner, you need all those advanced metrics and data tracking when you're running. You might want to just get the Garmin Vivoactive 4 over Forerunner 245.
But for me, having the Garmin pay, which is not on there for Forerunner 245, all day pulse ox tracking all day, respiration, tracking that stuff is really important. I find it very interesting.  For the same price, I would definitely always get the Garmin Vivoactive 4.
Conclusion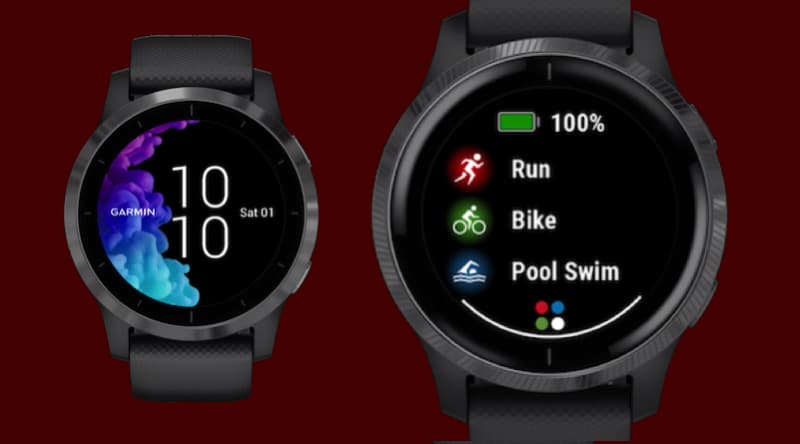 I think that the Garmin Vivoactive 4 or 4s are one of the best smartwatches Garmin has put out yet.
Garmin Vivoactive 4 has taken all the good stuff from all the other different types of devices, like the Phoenix series and the Forerunner 245 and kind of combined it into one package that is more focused on smart features like music and all day postdocs tracking and really good notifications. So if you're in to that, a watch that is very lightweight but also very stylish, looks very nice on the wrist.
I definitely think the Vivoactive 4 is the type of watch that you're going to want. I really do like that they have all day pulse ox that has been giving me some really cool insights into my sleep. Now for me telling the time is one, the number one feature I need when I wear a watch. So the always on display is a huge benefit over other types of traditional type of smart watches, like the wear OS or Apple watch, or the venue type of series.
And I noticed that they're starting to do all, you know, always on display as well. However, the battery life on those are pretty bad and you know you're going to get one to two days max and having seven day battery life or five days depending on what you use in terms of pulse ox has been more helpful in me not having to constantly be anxious or worried about having to charge my device all the time.
Unfortunately, with the Vivoactive 4, everything is so bright and shiny. Unfortunately auto set in the strength training type of exercises they detect are kind of inaccurate and it's been pretty much a deal breaker for me because this is one of the major features why I bought this smartwatch.
Now, in terms of what I want to see in the future from Garmin watches, I really, really wish they would start, you know, adding voice to their, to their smartwatches.
It because interacting with the device, with all the buttons are touchscreens can be very annoying at times when you want to do a quick task, remember, remember a note or set a timer or set a reminder, I really wish Garmin would have Alexa or Google assistant.
I mean, it's 2019 this is a feature that is an almost a necessary for any kind of smart watch. Another thing that I wish Garmin would really improve on is the developer experience. I noticed that their app market isn't very mature when you compare it to wear OS or the Apple watch.
Their app market is very mature because they have a really good developer experience. You're developing with a modern language, so it's very easy to build apps. I'm a developer myself. I really wish I can go in and kind of jump in and build some apps, but they're kind of market or their app store isn't very intuitive.
I tried a lot of apps and they're just all very cumbersome to you, so I really wish they would provide a really good STK with a modern language so that it makes developing apps, more of a joy for developers. I think it'd be improved on this and really invest in that. They can actually build a smart watch that is very, very competitive with Apple watch and wear OS.
Price of Garmin Vivoactive 4
The last thing I want to say about the Garmin Vivoactive 4 is the price. This is a relatively cheap watch. It costs about $299 plus tax in United States, and this is really cheap, especially when you compare it to an Apple watch.
So you're paying a lot less for the premium features like pulse ox tracking all day and all that other stuff like the always on display at this price point. I really do think that they could offer some more value. I know they've already offered a lot, but you know, voice assistant or a better app developer experience would be really helpful.
My honest verdict is that you should buy Garmin Vivoactive 4 because it is still better smartwatch than its adversaries.