Samsung Galaxy Watch active 2 has this tendency to cover both an elegant smart Watch and fitness tracker aspects.
The sequence of releasing Samsung wearables are sometimes surprising. Recent example is Samsung Galaxy Watch active 2 which released in 2019. Previous version of Samsung Galaxy Watch was released in March but just after seven months Samsung has released active Watch 2. But huge improvements have been made in its latest version. This Samsung smart Watch is equipped with optional LTE, optional 44mm case size and rotating bezel.
However, the company has not offered these changes free of cost but a suiting cost has been offered. Previous version has starting price of 200$ and was best known for smart Watch cum fitness tracker.
But Samsung Galaxy Watch active 2 is available at a starting price of $248 and $200. These prices are for different sizes. Don't worry, this smart Watch worth more than mentioned price just because of its unique and effective features.
Best thing about Samsung smart watches is that these wearable keep getting better and better. Samsung Watch active 2 is stylish, modern and awesomely sleek.
This Samsung Watch has simplified rounded aluminium case and no exaggerated angles or flourishes overlapping the side buttons. This smart Watch looks simple yet elegant without giving impressions of looking sporty. There are multiple straps available with the this digital timepiece which will make you dress down or dress up.
However, Galaxy Watch makes sure that the elegant design look both classy and sporty. Active 2 smart watch especially 44mm has a moderate weight but does not make it unwieldy.
Similarly, thickness of the watch is quite manageable and looks great on all sizes wrists. However, workout enthusiasts should consider buying 40mm version of Samsung Smartwatch because 44mm version might hinder arm workouts but this watch is absolutely hindrance-free for running as i experienced.
Samsung watches use Tizen software with special focus on fitness tracking. Tizen has been upgraded and its recent version has some noticeable qualities like easy-on-eyes interface, freakishly great effectiveness, efficient widgets and useful animations.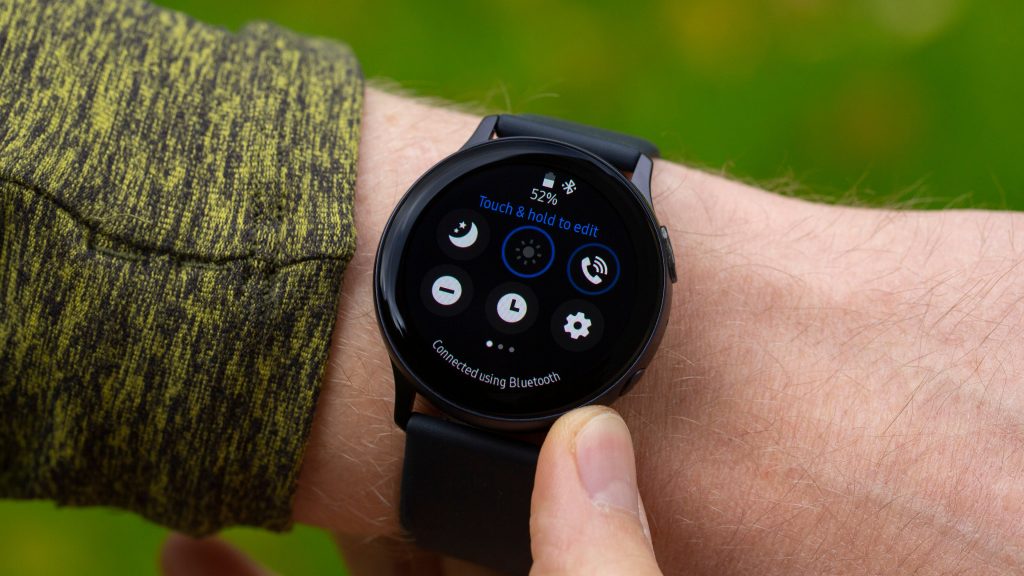 In Active 2, there are multiple options available which cover customisable options. Smart watch faces options include simple to informative and classic to modern features. Definitely, Tizen is getting better with the passage of time. It is good looking, more agile and customizable in comparison to Apple Watch Series 5.
Nowadays, wearable technology is shifting its focus on fitness tracking so does Samsung Galaxy Watch active 2. This Watch is also featuring some cool fitness tracking options but the company has preserved its abilities of being a smart watch.
Widget on interface of smart Watch provides you accessibility to music control, tasks, weather and calendar. Still, full app features cover many more capabilities which you should explore. Galaxy Watch includes speaker and microphone for Bluetooth notifications, phone calls and alarms.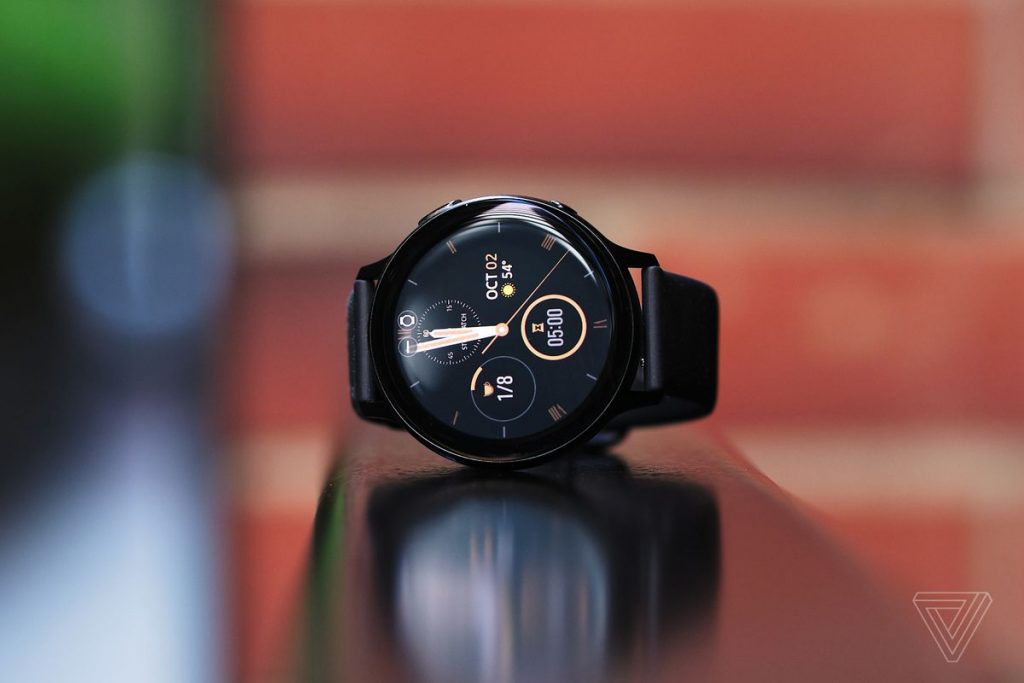 With personalized notifications, widgets and faces it's entire up to you to make the smartwach as effective or simple you could desire. Configuration of Active 2 will take some time but it should be adjusted according to your needs. This is up to you to make the Galaxy Active 2 go notification free or you want to go all out. So, personalization in this watch is actually top notch.
1.4 inches wide screen with excellent software did not cause any disturbances for the user. The brightness functions are brilliant and work in almost all kinds of light conditions. Brightness adjusted itself like smartphone does in broad daylight. Although, brightness is also customizable in Samsung Galaxy Watch Active 2.
Samsung Galaxy Watch Active 2 has capacitive bezel which functions better than normal swiping or a crown but still not as effective as a speed dial. Rotating bezel provided with Gear S2 was considered its hall of fame feature of Samsung smartwatches but shockingly it is missing in Active 2. Many tech critics acclaimed rotating bezel as best interacting feature for smartwatches. Rotating bezel has been replaced with capacitive bezel. Capacitive bezel can be used by touching the finger on the brinks of glass to execute the desired functions.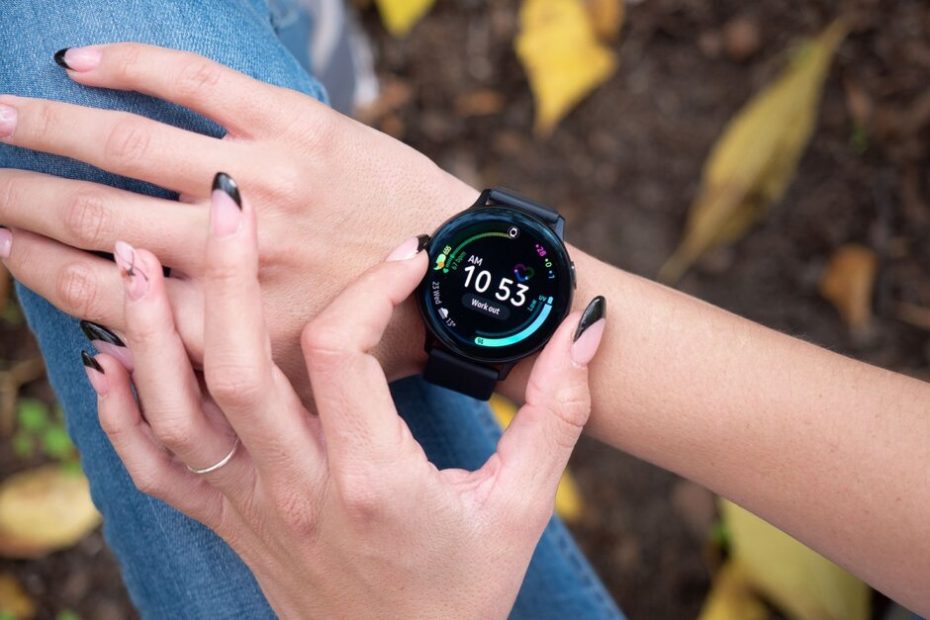 Initially, it will not be enabled. You have to enable the capacitive feature yourself. Over time, users find the capacitive bezel extremely functional and effective for performing different tasks. This will work as long as you move your fingers on it. Also, Samsung has added haptic feature which you will experience clicking the capacitive bezel. This new interface takes time to sink in.
Read Also:
https://smartwatchfan.com/walkie-talkie-iphone-watch/
Battery life of Samsung Galaxy Watch Active 2
Probably one of the best things about this gear is its amicable battery life. You can use all of its features but still battery would not get out before two days. Real time experimentation tells us that Apple Watch Series 5' battery only work for one day maximum. In this regard, Galaxy Smart watch Active 2 is already winning the competition. It is absolutely correct to say that this wearable has lifetime suiting to a smartwatch. Therefore, this smartwatch is considered way more than being a fitness tracker.
Real time experiments have shown us that you could turn on heart rate sensor, automatic fitness tracking, Global Positioning System (GPS) and always display on but still you would get two days battery time out of this smartwatch. Our tests showed that one nigh sleep tracking drops battery by 5% usually whereas one run also consumes the same amount of battery.
It's absolutely amazing that everything available in this watch and Active 2 is quite comfortable wearable which you could adjust everywhere. However, one can easily charge this gear at night. Even at charging you could track sleep easily. Moreover, if you are still not satisfied with the battery performance then turn off the always display-on function in the settings and you will half a day of extended battery lifetime. Still not happy? Change some settings and you may get three day battery life!
Why you should buy Samsung Galaxy Watch Active 2?
This wearable is amazing combination of full featured smartwatch and best fitness tracker available in the technology watches industry. The Watch Active is excellent for fitness tracking functions like tracking heart rate, sleep tracking, daily physical activity monitoring and evaluating workout.
Additionally, Galaxy 2 has best GPS integration which makes it best suitable for GPS tracker for kids. It should not be taken as only fitness tracker but it has all the smartwactch features which you could configure as you would like. GPS, Calender, Google maps, time and many more features you could use in the tremendously successful Samsung Galaxy Watch Active 2.
Hardware compelety commends the software of this gadget. Hardware is designed elegantly to suit your look. It does not only add beauty to your personality but it will make you standout in a room.
Price of Active 2
The Samsung Galaxy Watch Active 2 is available in $300. If you are looking for only fitness tracker then it is available in $200 and $100. Definitely, these smartwatches are original but smaller in size in comparison t0 $300 Smartwatch. But, main version is absolutely worth the price because it has all the ingredients of a smartwatch without looking as fitness tracker only.