Smartwatches for women must have variable elegant designs, class, fashion sense, greater usability and effectiveness.
Earlier smartwatches for women were heavy, unpleasant carbuncles which only passionate tech enthusiasts could bear putting them on wrist daily. But recently, quality of smartwatches literally in terms of everything has improved. Smartwatches of today are more fashionable, classy and effective.
Recent years have seen the growth in tech companies to join the smartwatch industry. Most of these companies are focusing fashion depending on which smartwatches for women are being produced. Recent additions include Kate Spade, Skagen and Fossil for wearable industry. Not only, Samsung and Apple are bringing these gadgets but also other traditional tech companies have also started to bring their own smartwatch versions.
History suggests that Apple launched first women friendly smartwatches. These Apple smartwatches for women included different smartwatch styles for women. Till now, Apple watches are best suitable for women having thinner wrists and probably that is the reason Apple watches are most popular among women of every age. Similarly, being a top competitor to Apple, Samsung smartwatches also moulded their designs best suiting for women. In this regard, Samsung smartwacthes for women are nearly equally elegant, usable and fashionable.
Ladies across the world think that Apple and Samsung are the best companies to bring in women friendly smartwatches. This guide includes every sort of watches to match any style, e.g. if you like silver, gold or a different finish or you are fond of futuristic styles, chunky watches or slime watches, you are welcome!
These are top 4 smartwatches for women in 2020:
Overall best smartwacth for women
If you are looking for enhanced fitness features, always display on face and female friendly styles then Apple Watch Series 5 is rightly made for you!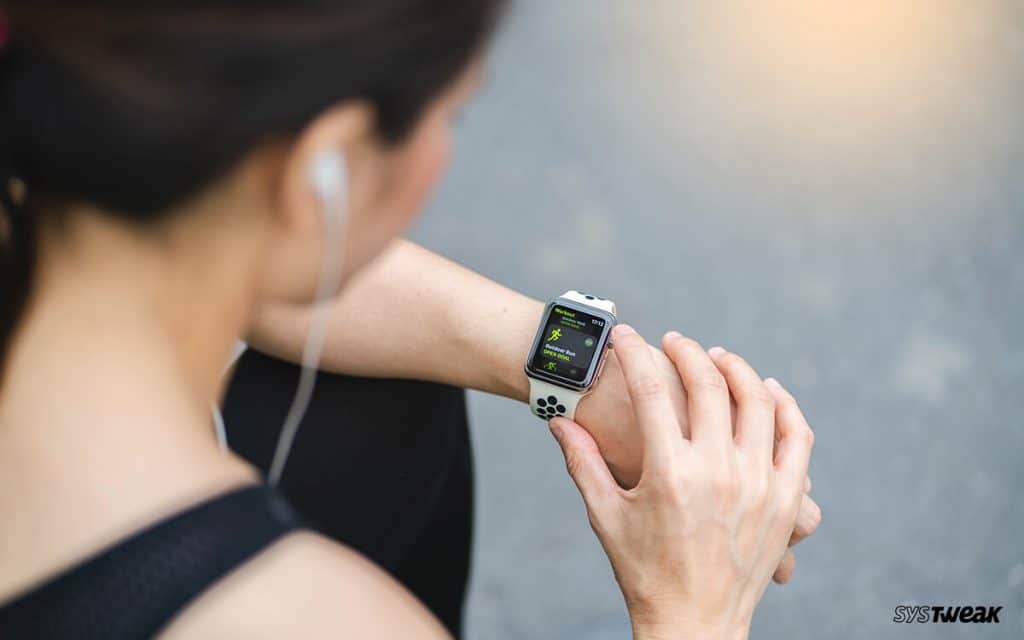 No smartwatch can come near to Apple Watch Series 5 when it comes to overall features especially designed for women. New features of always display on and sleeker design make women look more stylish and classy than ever before. However, unique Apple watch designs work for any age of women.
This best smartwatch for women is available in two sizes (40mm, 44mm), therefore, perfectly suiting to your wrist size. Apple watch provides you different styles of bands to make it look like you own it. Multiple third party bands are also available so that you could fit the smartwatch with matching dresses, jewellery or your smartphone device. High quality stainless steel and ceramic finishes are back in Apple Watch Series 5.
Apple watches are at par when it comes to female friendly smartwatches as they provide next level customization and top notch varieties to its women customers in their wearables. This fitness tracker for women has moderate weight therefore wearing it every day is absolutely possible. It will not bother your wrist at all. In fact, you will feel adorable and ecstatic because now you are "Apple" women.
User data shows that recent version of Apple watches is easy to use in comparison to android watches though android women watches have improved a lot since their inception but still these are nowhere when it comes to Apple Watch Series 5. It would be correct to say that as natural Apple smartwatch looks on your wrist there is no comparison.
Apple has introduced some new sumptuous tech features like water resistance up to 50m depth, always display on, Apple pay and numerous applications. It should be noted that Apple watch interface is attractive and easy. Recent version is absolutely easy to use and got many fitness tracking abilities like heart rate sensor, daily workout tracker, running tracker and much more.
This amazing Series 5 Apple watch has the ability to sense when you fall and it can even contact individuals which you have set for emergency situations. Its electrical heart rate sensor will send you notifications regarding your health and fitness issues. Food & Drug Administration certified electrocardiogram app will help you track your heart rate and other heart related complications.
To avail the features of internet access, texting and calling you could opt for standalone LTE version of Series 5. This version will enable you to keep your phone at home when opting for exercise or daily workout. There is no reason to be afraid of dropping your iPhone now. Definitely, LTE version is costly and also charges for internet on monthly basis. It would be suggested that you don't need to buy LTE version unless you feel weighed down with mobile or if you are afraid of dropping your iPhone on long run or hikes. Arguably, this is still a great option to have in your smartwatch. It is also a best GPS tracker for kids.
Battery life of Apple Watch Series 5 is about one day but it can be enhanced by blocking the notification from less beneficial apps. You should allow notifications from certain apps only. Real time experiences have shown that always display on features does drain the battery slightly.
Other smartwatch companies are trying their best to come up with all of these features and do not look too bulky or large while Apple does this effortlessly. All tech features are placed in one attractive and compact smartwatch. So, Apple smartwahces for women are best in the market.
Pros: Fitness tracker, unlimited apps, numerous band options, haptic feedback, adorable larger screen and slimmer watch case.
Cons: Works with iPhone only, only one day battery life, costly
Check Price
Smartwatch possessing best feminine details
If you are looking for whimsical, charming and feminine smartwatch which holds excellent features like GPS, heart rate sensor and NFC for smartphone payment then Kate Spade Scallop 2 is the best available option.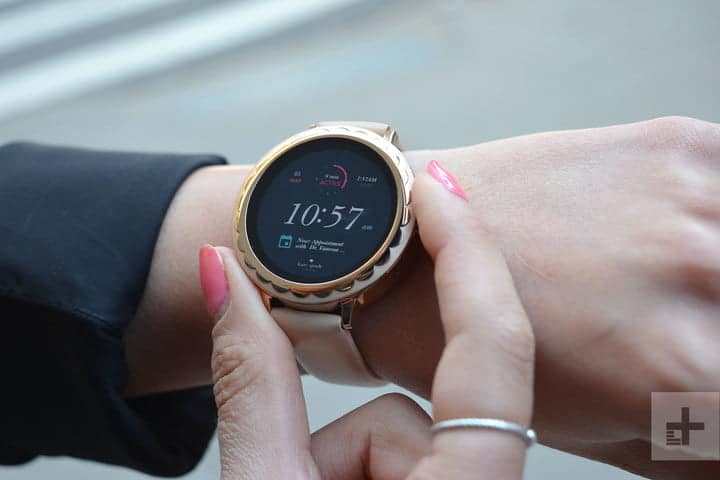 It is correct to say that most watches are men oriented although occasionally good for ladies. Apple, Skagen, Fossil are making unisex smartwatches which are really convincing and attractive but Kate Spade Scallop 2 takes the lead in bringing feminine details. If you were waiting for a time when you see a watch and say abruptly "OMG! This is so adorable" then your time has come!
Greatest thing about Kate Spade Scallop 2 is that it has been especially designed for women. It has sleek, adorable and slim round metal case. Additionally, little bit of scalloping make the watch face even cuter.
This watch has been amicably designed considering the previous versions of Kate Spade smartwatches for women. You will be provided with luscious glittering moon face along with masterfully curled lashes, making you a prime lady, adorable lively balloons for a watch face including numerals, a speeding cad which makes you believe that you will be there in time and beautiful daisy which sprinkles petals as the smartwach for girls ticks the time away.
Besides this entrenching design, it has Wear OS including all its features and limited functionalities. You can pair this smartwatch for girl to Android or iPhone and get the alerts. This Kate Spade Scallop 2 has been repurposed and includes fitness tracking features, GPS and NFC for smartphone payments.
Pros: Heart rate sensor, fitness tracker, subtle feminine details, feminine casing and watch faces, adorable straps, NFC for smartphone payments and GPS
Cons: Expensive
Check Price
Best classically designed smartwatch for ladies
This smartwatch is exclusively made for women who love classic designs. Fossil Q Julianna HR has tech features like powerful Wear OS, NFC, heart rate sensor and sleekness.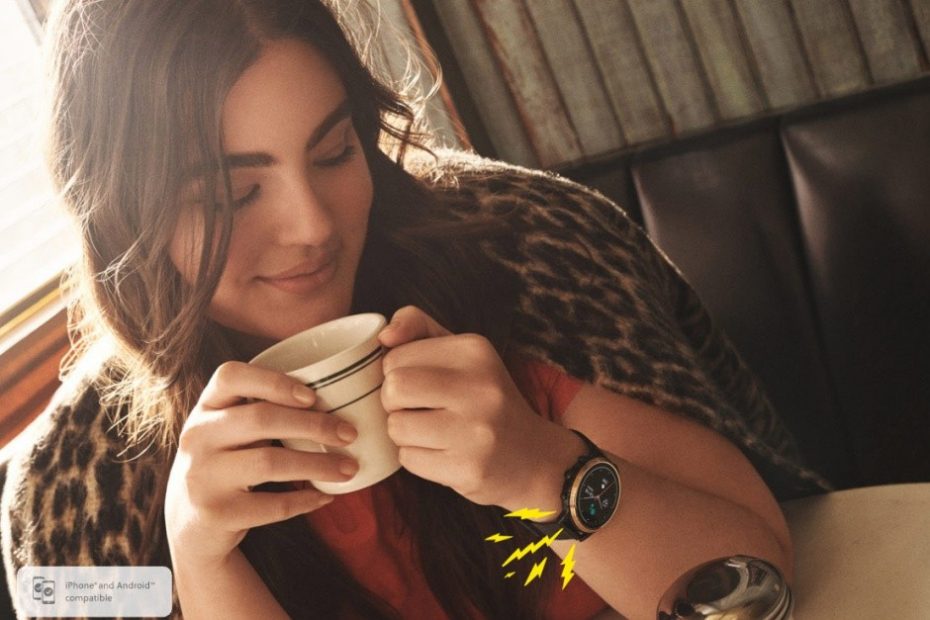 This smartwatch for women is Android enabled wearable. The company of this smartwatch has made the female friendly designs. Therefore, ladies who are Android lovers then this smartwatch exclusively launched for you. Recently, it has been observed that smartwatch manufacturers and fashion brands are excellent Wear OS smartwatches for girls. On other hands, Fossil is consistently coming up with newer versions every year and Fossil Q Julianna HR is its 5th version of smartwatches for women.
Recent version has made tremendous changes in its design. New smartwatch has smaller and lighter watch casing for women along with other top notch tech features. Fossil Q Julianna HR is offering numerous unique finishes for watch casing. Leather strap and rose gold are generally popular among girls but you can also opt for metal bracelet.
If you are still confused about the strap option then you can select from multiple straps which Fossil and other companies offer in the market to make the smartwactch look fabulous on you.
Nowadays, girls love chunky watches which are relatively big and Fossil Q Julianna HR is one of them. Additionally, waterproof smartwatch for ladies enable you to swim without worrying about it.
This smartwatch for ladies runs Wear OS which means that you can use tons of apps available on Google Play Store. This wearable offers features like texting, notification interaction and watch face changes as you could do on any other smartwatch.
You must note that a lot of these watch faces has exquisite feminine colours. Ideally, this smartwatch for ladies work with both iPhone and Android. But practically, this watch is best suited to Android. Sometimes, when Wear smartwatches for women are connected to iPhone multiple features stop working and you can only use this watch for receiving notifications then.
Pros: Tons of straps options, fashionable feminine colors, classic design, pairs with both Android and iPhone and fitness tracker
Cons: Look chunky, not efficient with iPhone
Check Price
Top minimalistic design smartwach
Minimalistic design lovers should be looking for Skagen Falster 2 which has GPS, heart rate sensor, original look and Google pay.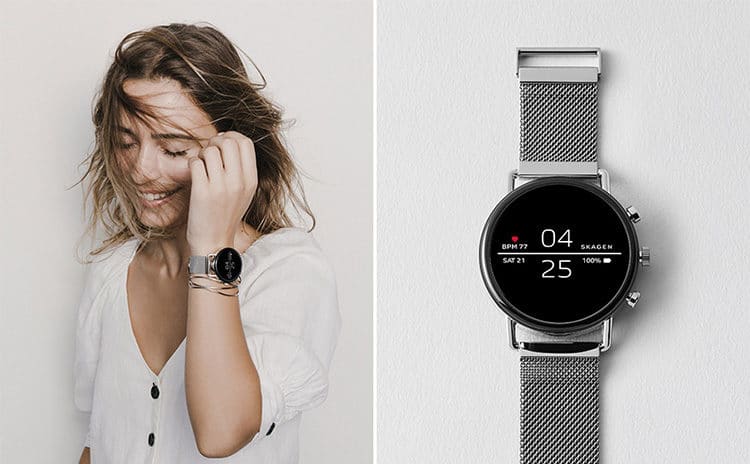 Skagen is famous for its minimalistic design and its recent version is perfect example of it. Skagen Falster 2 has simple bands and unique lugs which make the smartwatch look different from other routine smartwatches for women. The Skagen Falster 2 is relatively slimmer than Skagen Falster.
It is very unique and equally popular among men and women. Girls who are looking for larger smartwaches should opt for this one. Similar to other Wear OS smartwatches for women, Falster 2 can be paired with both Android and iPhone. And again, this minimalistic design smartwatch works best with Android. Few features do not work when paired with iPhone.
Tons of apps from Google Play Store can be downloaded on this women smartwatch. Second version has more tech features like GPS, heart rate sensor, original look and Google pay in comparison to Skagen Falster. All the upgrades which we wanted in Skagen Falster have been implied in Skagen Falster 2.
Pros: Heart rate sensor, Google pays, NFC, GPS, mesh band, minimalistic design, Wear OS and fitness tracker
Cons: A bit costly
Check Price