Are you looking for an easy way to navigate or to keep track of essential data on your hikes, like your altitude or speed or distance travel? Forget about the old school campuses, maps and notepads. What you need is a GPS watch for hiking, but you may be wondering, how do i know what are the best hiking watches for me?
Well in this article, we'll be walking you through how to choose a best hiking watch, and we'll also be showing you our top six recommended GPS best hiking watches.
Many GPS watches can be used for hiking, but the best hiking GPS watches incorporate specific features that provide the biggest benefit when you're out on the trail. The GPS function, as you know, provide accurate tracking of your time, pace, and distance of your hike. A good hiking GPS watch should come equipped with an altimeter, barometer and compass.
This is known as the ABC features. These watch functions will help you to find your way, provide insight into shifting weather patterns, and provide elevation information so that you can navigate through your hike successfully. Now the more advanced GPS best hiking watches will also have maps and bread crumbing routes.
They'll show you a simple dotted line that represents the path where you've hiked. And one of the great things you can do with these advanced GPS watches is you can program weigh points. Now these are landmarks along your hiking route on your watch. Waypoints are specific locations that you can Mark on your watch map or route and can be programmed directly on the watch when you are at a known location or set on a smart phone and upload it to the watch.
Read Also: Best mountain bike watch (Apple, Garmin, FitBit, Polar)
Of course, you don't want to forget that a long battery life is absolutely key. In case you are on a camping trip that takes you away from me that Tree city or if you get lost. As you know, GPS uses a lot of battery power, so while there may be times you want to conserve the battery and turn off the GPS, picking a watch that has a long battery life will help to minimize the frequency and trying to conserve the battery, or even how often you have to charge your watch.
One way to conserve the battery life is to limit the number of GPS readings the best hiking watch takes. Many of these best hiking watches that we present in this list today will have that helpful feature. GPS hiking watches should also be waterproof just in case your watch is submerged in a body of water or if you happen to get caught in a thunderstorm.
Also, alarms are important on the GPS hiking watch so that you can set reminders or alerts to wake you up while camping overnight. And lastly, you want a GPS smartwatch that is ultra-durable. Watches for hiking ordinarily feature robust cases with extremely durable straps. Some watches also come equipped with Sapphire crystal for increased resistance against scratches.
Compare that to the more common mineral glass lenses. Now we know when creating a top 6 lists like this as a course objective and your opinions may differ, and that's fine. These hiking watches GPS that we selected are remarkable from a practical and material perspective, while still maintaining that impressive yet rugged look.
So now that we have the foundation down, let's jump into the top six best hiking watches.
Suunto Spartan Ultra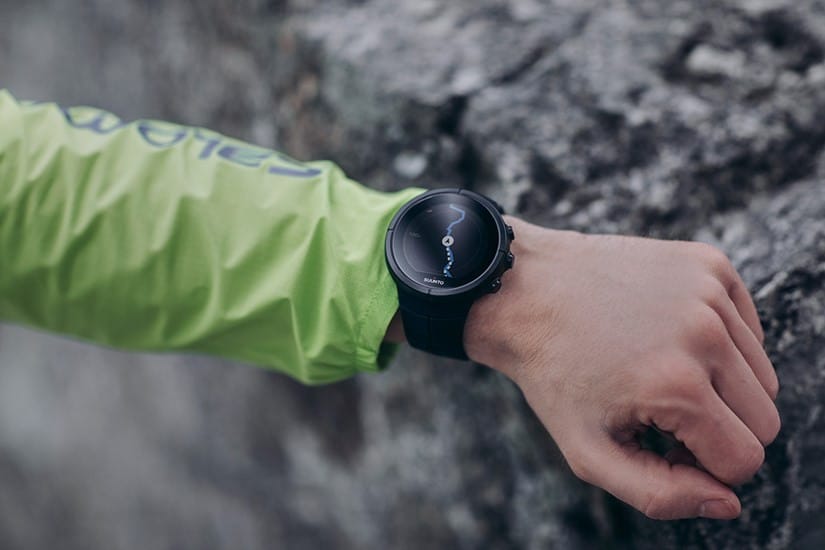 With over 80 different activities built into his function. The Suunto Spartan Ultra is a deluxe activity watch that includes a built-in altimeter, compass barometer, and GPS.
The basic menu allows you to choose your height to track with the metrics available, being distance, time, pace in elevation gain with its noticeably larger face and full color touchscreen display. The Spartan ultra looks like a serious sports watch with solid stainless steel bezel that features Sapphire crystal glass.
It is water resistant up to 100 meters and can withstand and operate in temperature from negative five degrees Fahrenheit to 140 degrees Fahrenheit. Although a relatively large smartwatch, the Spartan ultra is a comfortable fit on your wrist. The adjustable silicone strap doesn't cause any irritation and keeps the watch firm against your wrist, even during strenuous physical activity.
Besides that, the flat face and circular design, otherwise keep its main unit, press closely to the skin so that it is never obtrusive. The Spartan ultra comes with the GPS/gladness and altimeter, a barometer thermometer and a compass with it. You're able to navigate the trails with ease as the way points and the routes can be simply imported to the watch from the Suunto moves count app where you can easily plan your routes before your hike.
In addition, you can also find existing routes from other Suunto users and import them to your own watch if you so choose. This best hiking watch can also track the distance walked. It has a breadcrumb feature so that you can find a route back to your starting point. Show you your current speed and so much more.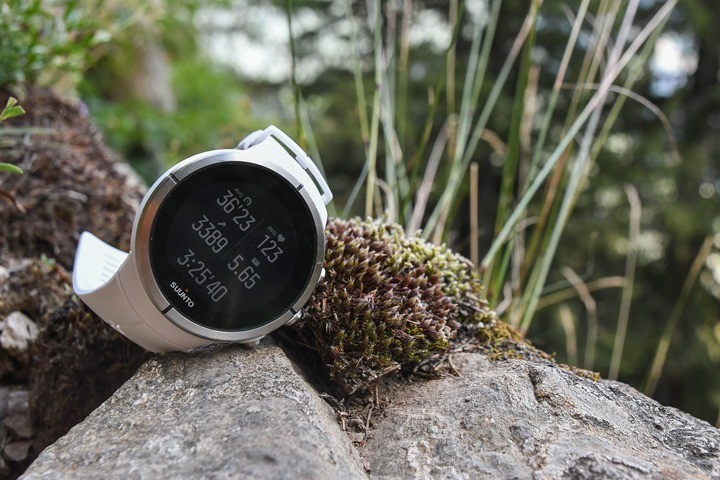 Bluetooth connectivity allows you to connect your best hiking watch to your smart phone and receive notifications from your phone onto your watch having its own standalone charger. The Spartan ultra has a battery life of about 15 days when on standby mode and about 26 hours with the GPS continuously on the battery.
Life varies depending on the type of GPS setting that's activated. When the GPS setting is set to best, it tends to run the battery out much quicker than the other settings. Now the weight of the Spartan ultra is 77 grams. The casing measures 50 millimetres in diameter.
Read: Smartwatch Benefits You All Should Know!
The Suunto Spartan ultra is a high end activity tracker with full color touchscreen display. Incredibly durable construction and exceptional versatility make it absolutely appealing to hikers and outdoor enthusiasts alike. For the outdoors men who wants to invest in a heavy duty piece of tech that will deliver on more than just measuring pace and distance.
The Suunto Spartan ultra is mighty piece of equipment that will be sure to please.
Suunto Traverse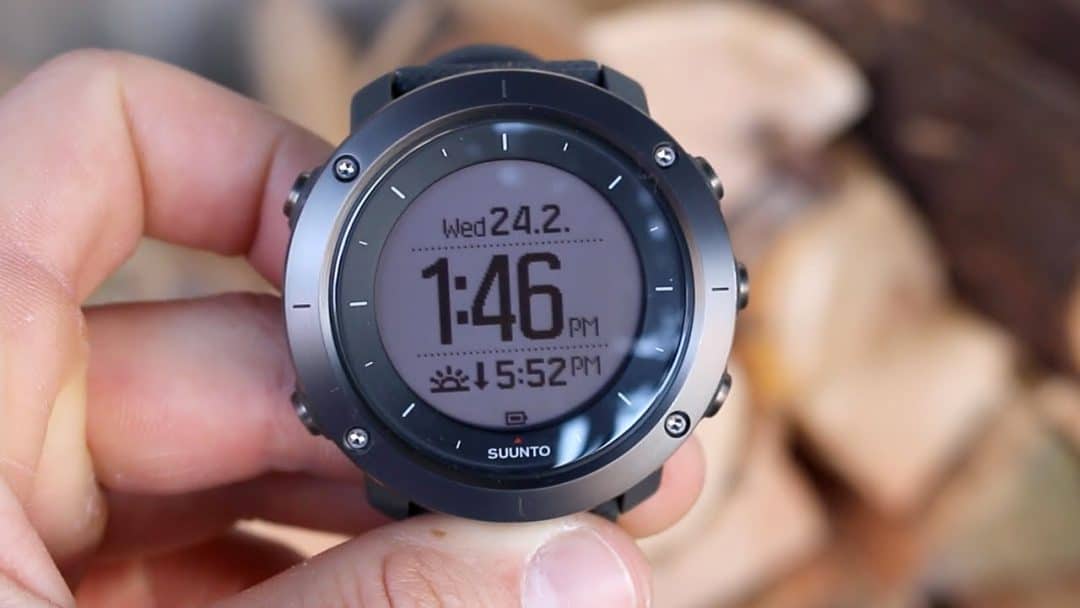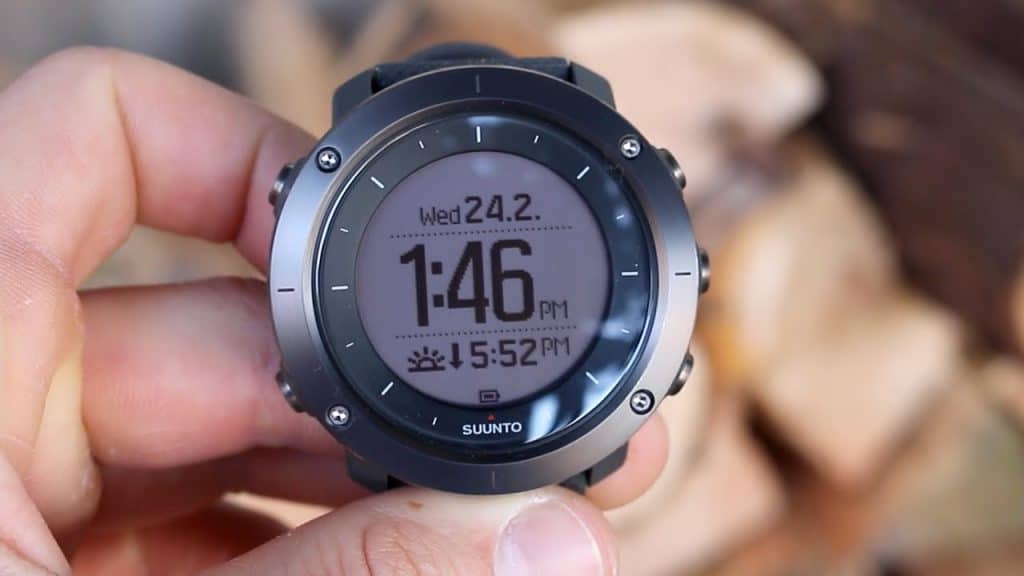 In terms of speed and accuracy, the Suunto Traverse GPS watch is an absolute winner. Having a lightning fast satellite connection to GPS and GLONASS with insane accuracy is exactly the navigation feature you might be looking for.
And with satellite that connects slightly faster than with the Garmin, you can track your position in record, an breadcrumb trail for reverse navigation available with a silicone or textile strap. As well as the Sapphire glass lens. The large clear display, which can also be inverted for better visibility and color options include black, Amber and graphite white.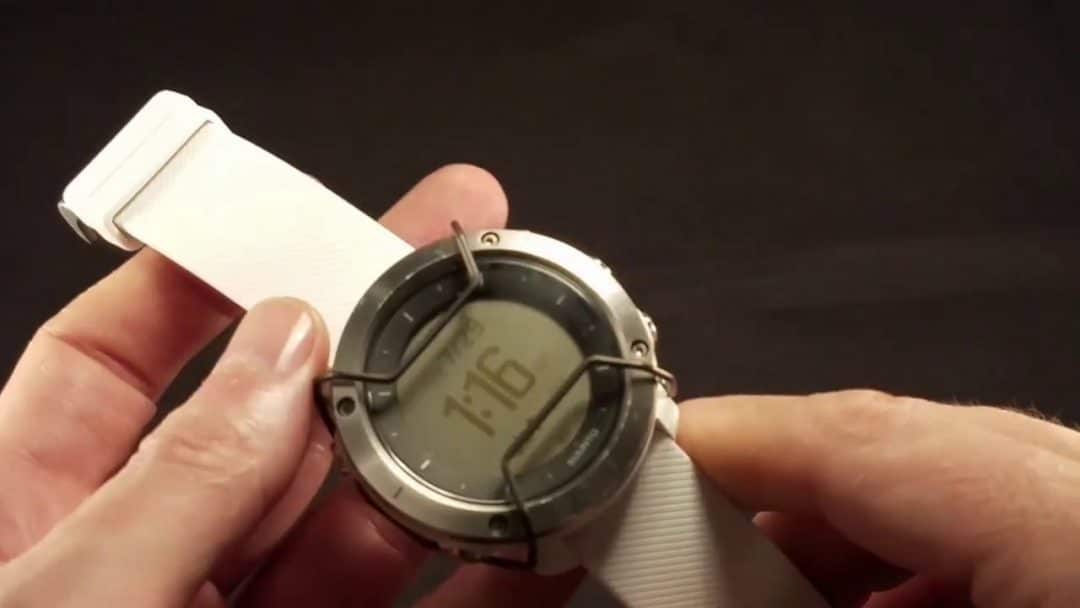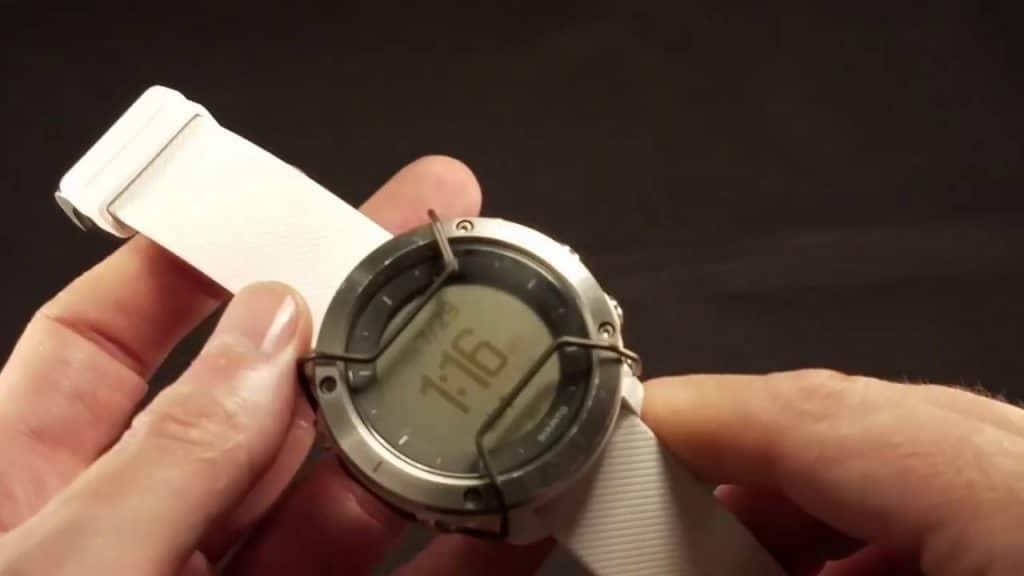 The Traverse has an altimeter barometer, compass thermometer, water resistance up to 100 meters and can be used to plan routes and upload these routes in way points to your best hiking watch. Suunto Traverse also provides a heat map, which is a map of common hiking trails compiled from other Suunto users. The rechargeable lithium ion battery keeps the watch running for about 15 hours to two days while in GPS tracking mode and normal mode.
The Traverse can last around 11 days. Now with the ultra-track mode on this extends the battery life to about 80 hours. As the watch is equipped with Bluetooth, you can also synchronize it with the smart phone, either Android or iOS, and manage the watch settings and data directly from there. Plus, get notifications on your best hiking watch.
The Suunto Traverse is an amazing watch that not only offers many useful features, but also looks quite cool and stylish. Now the weight of the Suunto Traverse is 80 grams. The casing measures 50.8 millimeters in diameter. In a nutshell, the Suunto Traverse provides a sense of confidence that will help you get out and discover new terrain.
Read: How to Get Apple Watch Faces Rolex?
So if your adventures consist of hiking, unfamiliar trails, exploring in the back country, or simply surviving an uncharted wooded area. The soon social verse will be your trusted, God, no matter where your explorations take you.
Garmin Tactix Bravo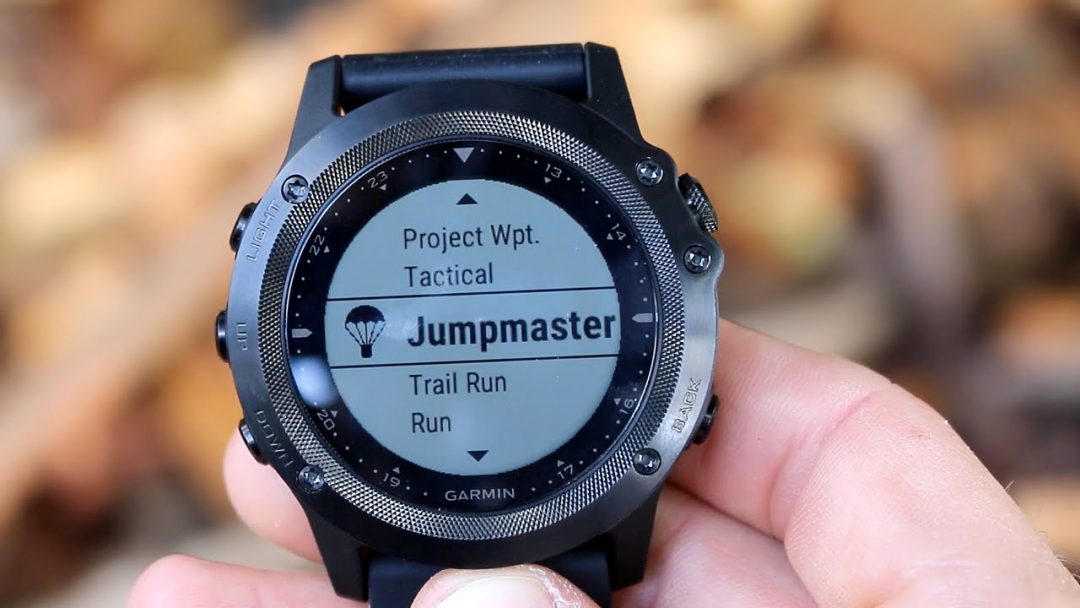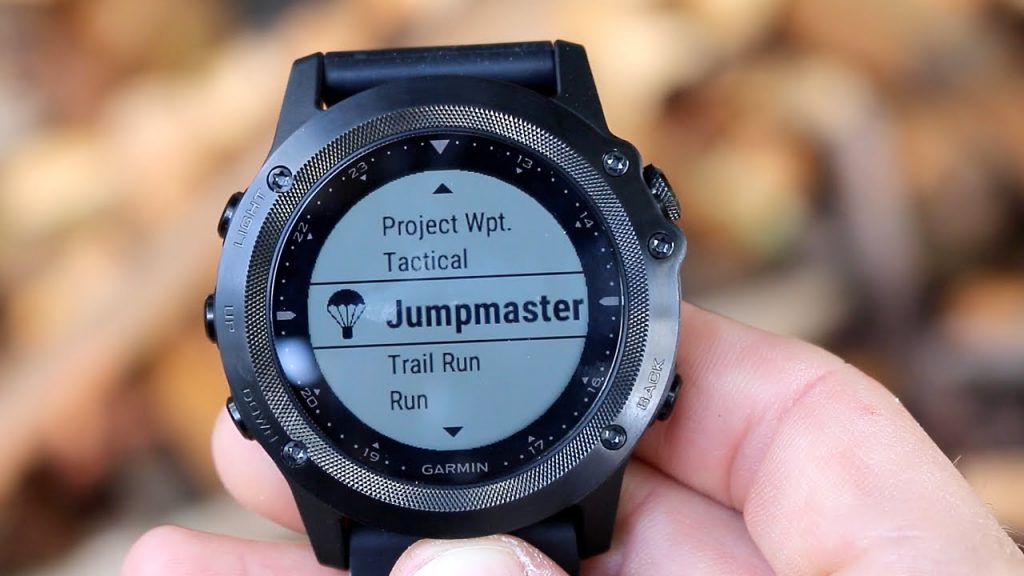 The Garmin Tactix Bravo is a watch fit for tough conditions, able to handle difficult weather conditions. This durable hiking watch has a multitude of features that will easily suit those who are looking to hike their next big trail. This ultimate tactical GPS watch is definitely designed for the elements, giving you what you need.
Reflective coding enables full sunlight readability on its 1.2 inch high resolution display featuring a barometer Altimeter, GPS, three-axis, compass distance and directional trackers. The Tactix offers one of the best feature sets for activity.
The Tactix Bravo has a battery life up to two weeks when the GPS is not in use. With the GPS in full operation, the battery life lasts for up to 20 hours and with the ultra-track feature on the battery could last up to 50 hours. Now the weight of the watch is 91 grams. The case of the watch is 50.8 millimetres in diameter.
The Garmin Tactix Bravo is a durable multisport watch. That can be worn at the office or during your next hike. It can track various types of activities and even provides a GPS navigation feature for an outstanding GPS watch for pro level hikers, the Garmin Tactix Bravo fits the bill.
G-Shock GPRB1000 Rangeman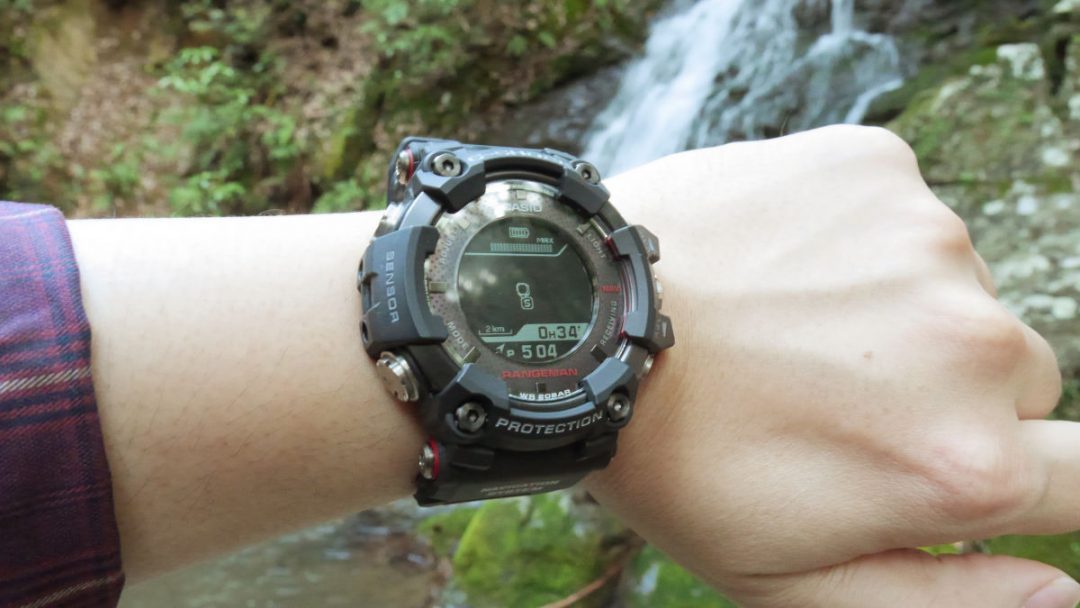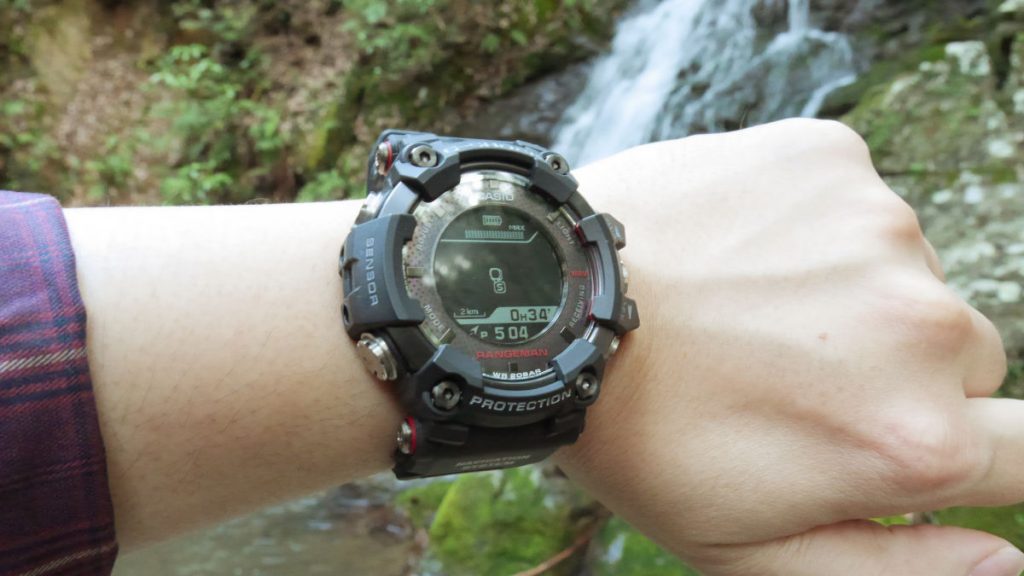 Casio continues to do things differently with his watches, especially its G-Shock brand for the G-shock GPR Rangeman. It doesn't have a touchscreen. Leaving time and energies are focused on augmenting his master of G-line of watches with smart features relevant to the series theme of absolute toughness aimed at the outdoors man who enjoy nothing more than getting completely lost over a random weekend.
The Rangeman will help you find where you're going when Google maps won't help you out. The G-Shock GPRB1000 Rangeman has no problem combating dust, dirt shock, high and low temperatures and water up to 200 meters with its Sapphire crystal over the face of the watch for extra damage control and the carbon fibre reinforced strap.
Read also: Top 8 Upcoming Smartwatches in 2020
It's going to take a lot to break this watch. The full digital display is easy to read and the backlight is clear enough to aluminate the screen evenly. It's not a huge screen and it may take some time to understand and learn some of the smaller details before you can just glance at your best hiking watch.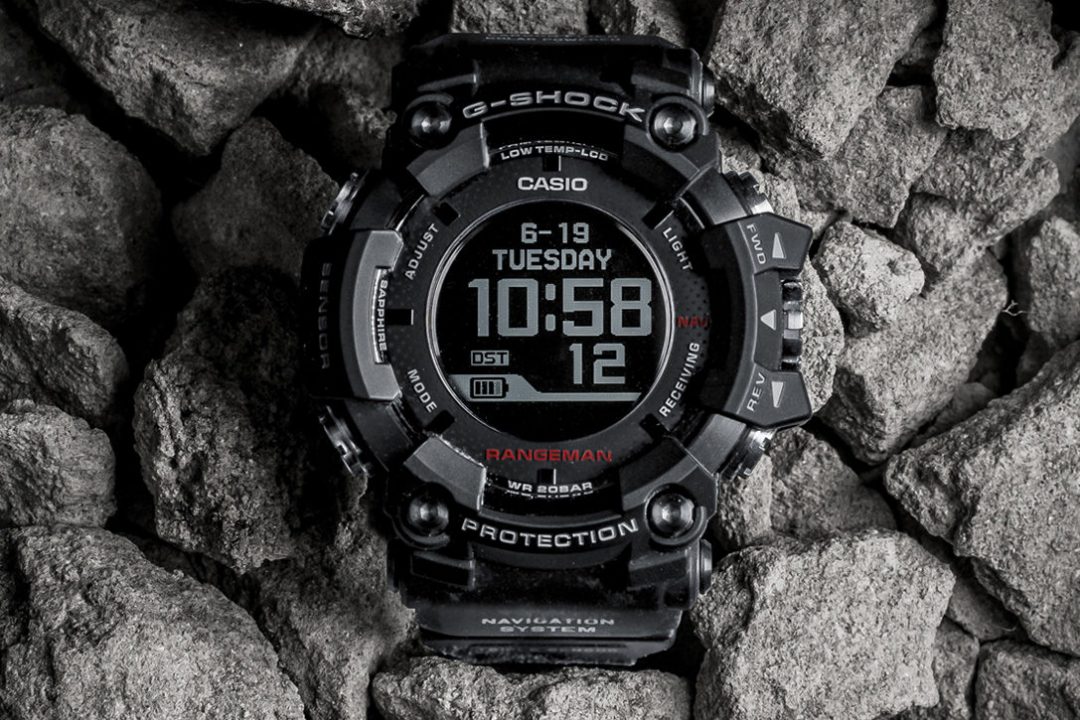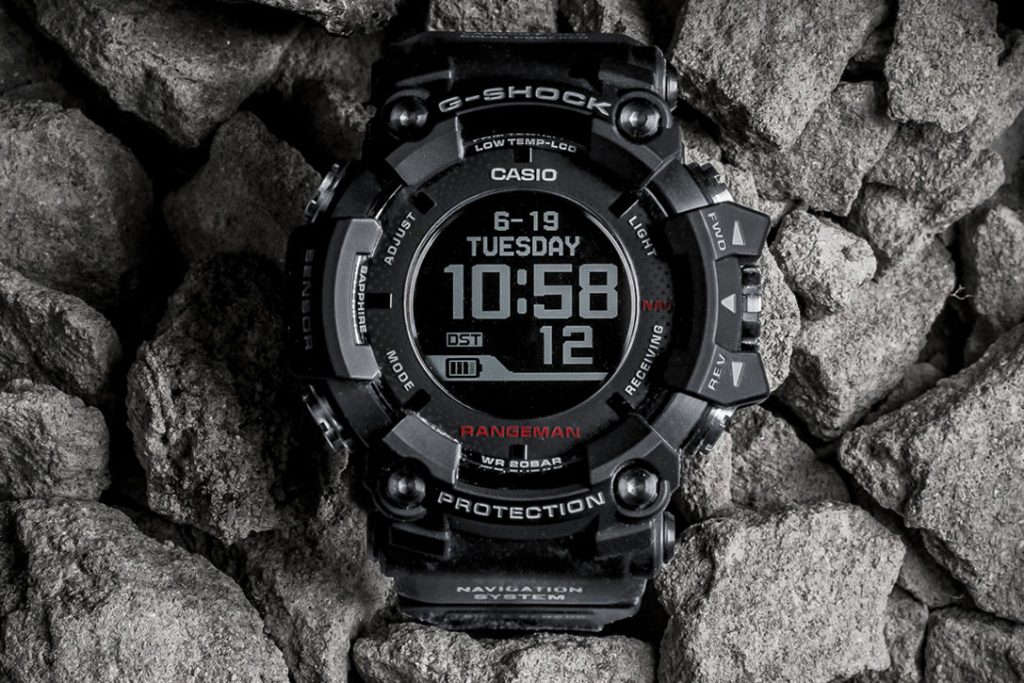 For easy comprehension, you can access modes and features using two buttons on the left and you can navigate and select them using the crown on the right. It's simple, clear, and easy to learn. We liked the customizable main screen, which shows you features like sunrise and sunset times, world time, Vera metric pressure, altimeter readings, compass readings, and GPS way point data, just to name a few.
Now the Rangeman has solar power, so if the watch is out in the light, it's constantly being charged. If for whatever reason you can't find a light source, Casio has supplied a wireless charger that takes the battery to full charge in five hours enough to sustain 33 hours of continuous GPS use before the next charge for non GPS function.
The Rangeman may last between two and 29 months before the next charge. Now the 2018 Rangeman is considered the first solar G-Shock watch with the GPS. But just to be clear, it's not meant to provide navigation between work and home. It's meant to get you from point A to point B, and it does this on the screen with directional guidance, which is based on mapping on the G-Shock app.
The built in GPS tracks the watch, so you don't have to worry about draining the battery on your phone while waypoints and routes are created and the connected app. The data is sync between the watch and phone using Bluetooth, and as your adventures are tracked, you can view them either on a timeline or on a 3D map.
Now the weight of the GPR Rangeman is 142 grams. The casing measures 60 millimetres in diameter. Casio's G shock Rangeman should be on your wrist when you're in the wilderness, you'll never get lost with Rangeman smartwatch. And even if you do, you'll still be able to find your way back.
Casio Pro Trek WSD-F20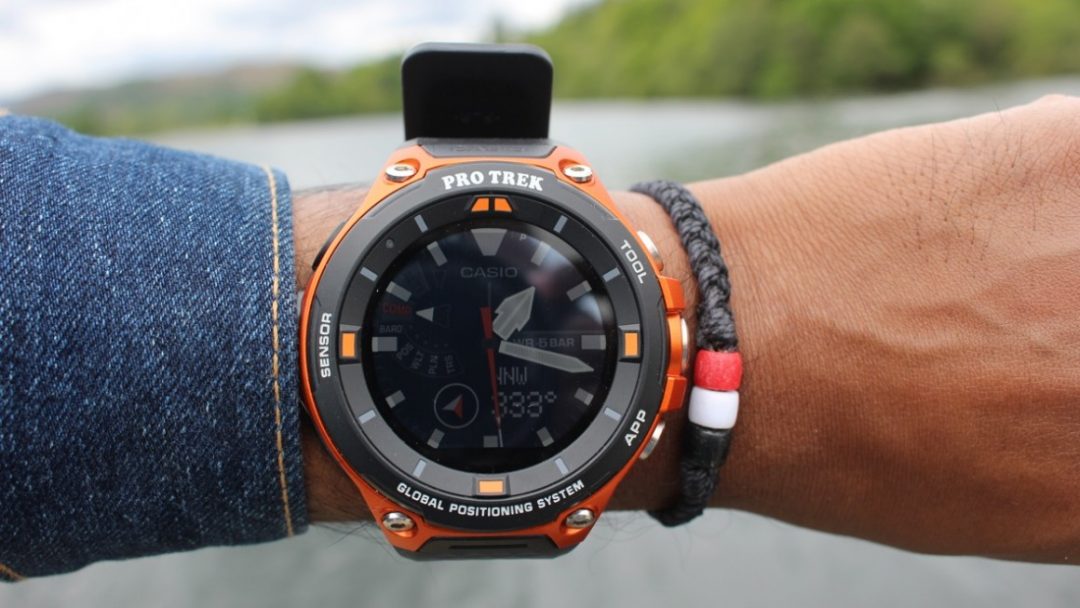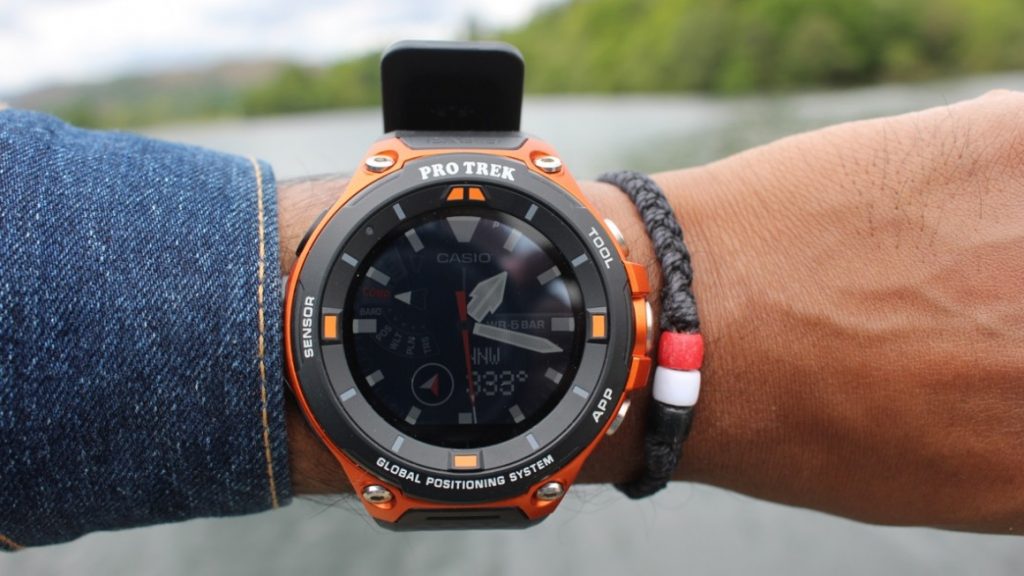 Casio Pro Trek WSD-F20 is for all those outdoors men and women who want all the features of a full color, 1.32 inch touchscreen smartwatch that is presented in such a rugged casing that is backed with sensors like GPS, Last glow, NACE, altimeter barometer, compass, accelerometer, gyro, and a microphone.
As with any standard GPS enabled outdoor watch, you can save your routes in points of interest and even record breadcrumb trails with the built-in microphone. You can leave yourself voice memos at points that you've highlighted along the journey. Now note that your phone has to be tethered nearby for this function to work available in orange, black, fluorite white and indigo blue.
This is the only true outdoor watch on the list. With its 50 meter water resistance, full color LCD display, and a touchscreen similar to the Samsung gear 3 and Apple iWatch. The Casio Pro Trek WSD-F20 has many functions that will help you navigate high quality, full color maps and view them as topographic satellite or through a street view without the need for a phone connection.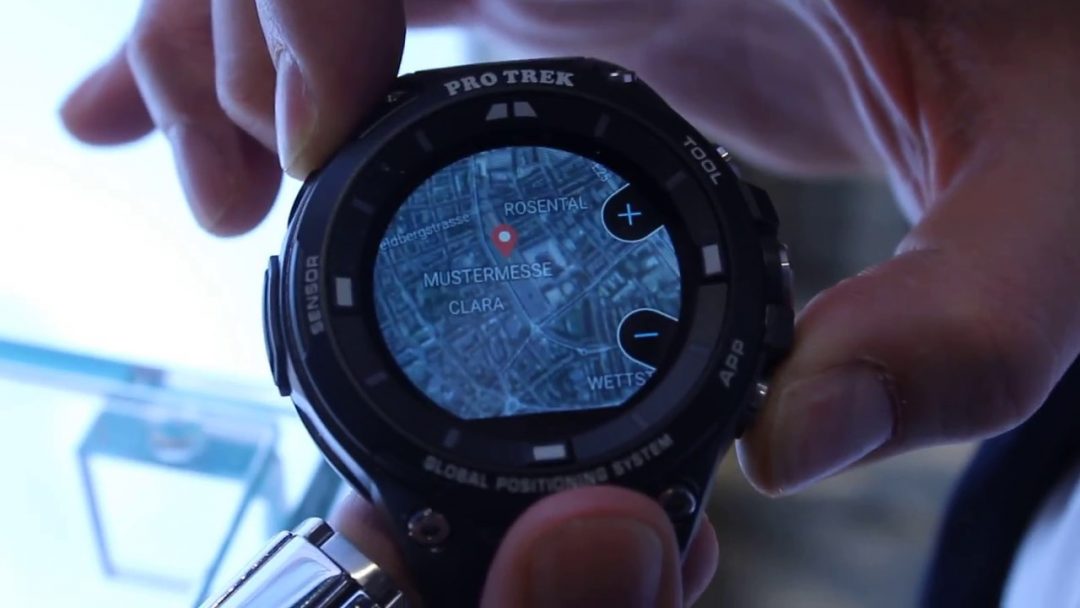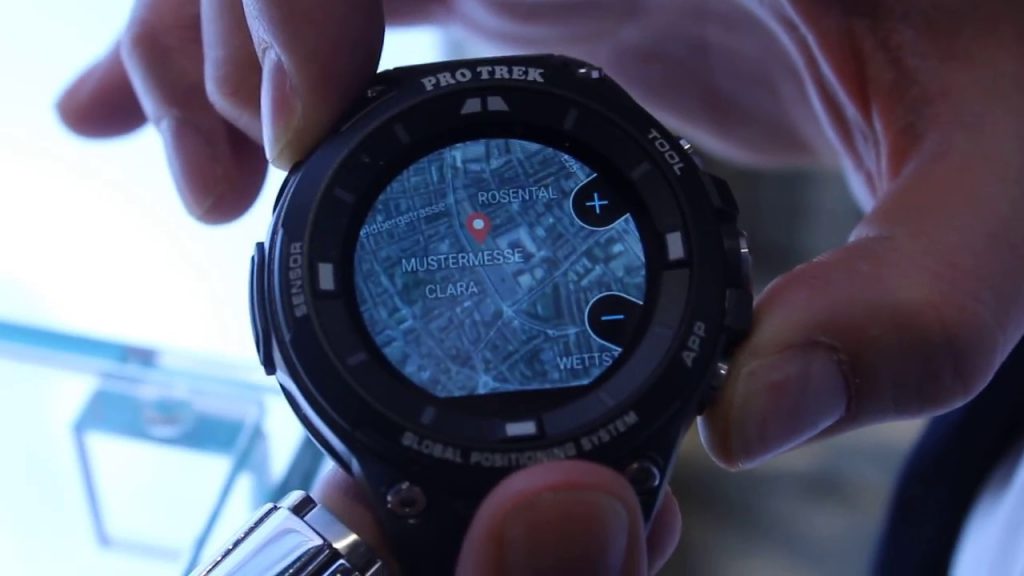 Just make sure you download the map of the area you want to visit before heading out. Unfortunately, the smart display is a little hard to read when you're in the sunlight, but if you can find substantial shade or if you can block the sun with your other hand, then the colors are vivid and the info is crisp and very clear.
Now, when it comes to battery life, let's just be honest, this best hiking watch is pretty average. Even with the GPS activated watch will still need to be charged on a daily basis which can be super annoying. The battery lasts just over a day in smart mode and drops to around 22 hours from place in GPS mode.
Read: Top 4 Smartwatches for Women in 2020
Now, these are pretty typical numbers for a best hiking watch that operates a full color display. However, what this does mean for you is that you need to take a charger along when planning for our height that is longer than a day. Now, if you want, you can also set the smartwatch display. It's asleep. Activating the top layer of the watch and saving you tons of power, but the primary display and smartwatch functionality completely turned off.
The battery can last about four weeks on a single charge, but having the watch and sleep mode doesn't really serve you very much when you're out hiking. Also, Casio doesn't fully support IOS. So you should be leaning toward either Garmin, Suunto or G-Shock model if you own an iPhone like myself. Now for my Android users, the Casio Pro Trek WSD-F20 is a fully functional Android wear smartwatch that allows app downloads from Google play.
Now the weight of the Casio Pro Trek WSD-F20 is 92 grams. The casing measures 57.7 millimetres in diameter. The Casio Pro Trek WSD-F20 is a good smartwatch with features that may appear nice for most people, but if you're an outdoors enthusiast like a hiker, and you love checking out data from altimeters and barometers, or even tracking the way you've travelled, you'll like what the Casio Pro Trek WSD-F20 has to offer.
What's a bummer is that it does seem like you have to connect to the internet in order to access all that the best hiking watch has to offer, but we guess that's the nature of a smartwatch that lacks its own wireless broadband connection.
Get Casio Pro Trek WSD-F20 here
Garmin Fenix 5X Sapphire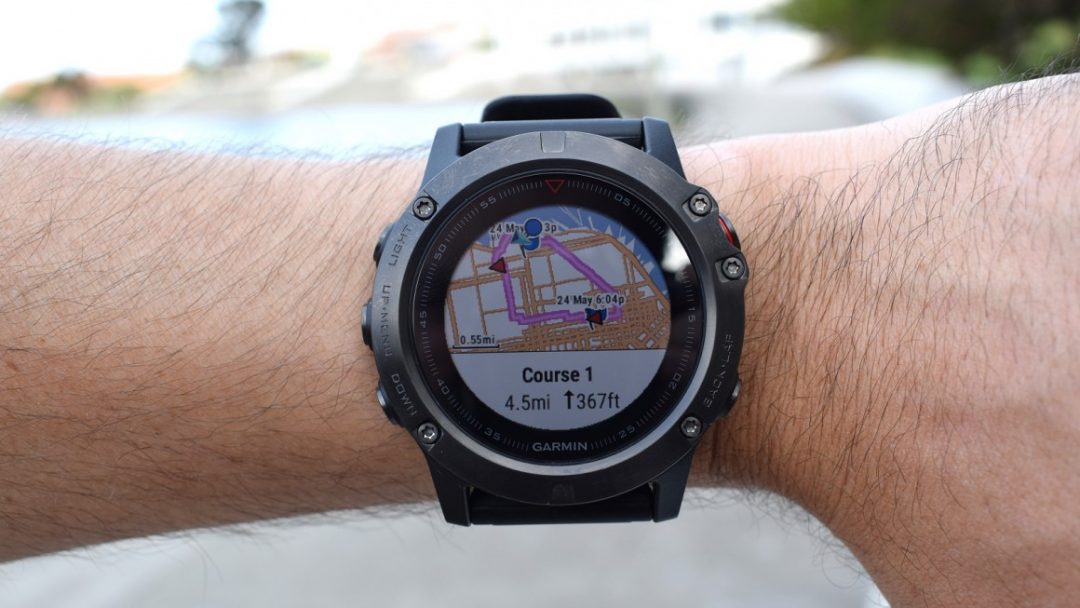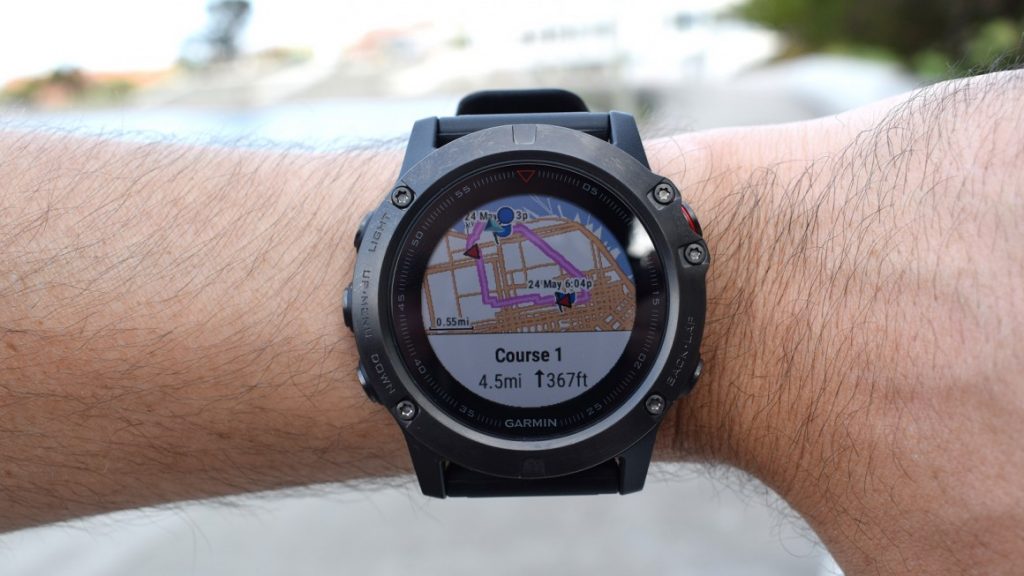 The Garmin Fenix 5X Sapphire is the front runner of the Fenix 5 line.
The GPS is highly accurate, and the Fenix 5 software includes color, topographic maps. You can easily mark points of interest on its 1.2 inch color display, say multiple hiking routes, breadcrumb trails, and track your progress with an incredible amount of corresponding data. Also, water resistance is up to 100 meters.
When it comes to battery life, you can expect 12 days in smart mode. This, of course depends on the settings you arrange on your watch and expect 18 hours in full GPS mode. This is extended to 50 hours when the Fenix 5 backup is on ultra-track mode, and intermittent GPS signals being sent versus the continuous pinging for most accurate GPS signal at all times.
Now with the Fenix 5X Sapphire model, you get a preloaded set of maps. You can't get this with the other Fenix 5 models. The 5X also allows you to even display reloaded points of interest on your route, like food, entertainment, accommodation, et cetera.
All the Sapphire versions include a scratch resistance, Sapphire crystal lens, but also to take note only. The Sapphire models include wifi for easy transfer of data to your device through Garmin's connect IQ platform. When it comes to features like the obstacle, heart rate monitor and the thermometer.
The Fenix 5 is not as accurate as we would like. They're really not that accurate, especially when you're moving around during high activity. Now, the weight of the Garmin Fenix 5X is 150 grams. The casing measures 51 millimetres in diameter.
This is most definitely a beast of a Garmin watch for hiking into the wild. This one of the best hiking watches has built-in altimeter, barometer and 3-axis. Compasses are excellent, and the gyro and accelerometer are smooth and plenty accurate. The casing is tough as nails and can take a huge hit without showing any damage to the watch.
However, we do find that the paint on the bezel does scuff pretty easily, though.
Those are the top six best hiking watches. We all know that a great hiking watch helps make life easier, especially when you're navigating through those crazy cool trails. And let's be honest, there's very little difference when it comes to the quality of any of these GPS hiking watches discussed in this article.
All of these models are built to the highest standard. That's why it's important to find a time piece that matches your own personal style, taste, and personality.