This is hands on Fossil gen 4 smartwatch review. Venture HR is the fourth generation Fossil watch they have in their line. Previous generations were lacking some hardware features. This is finally the generation where I picked it up and tried it on for myself. Now, previously I had the LGG watch and the Huawei smartwatch.
There are two versions of this Fossil smartwatch. Fossil gen 4 Venture is a woman edition and the Fossil gen 4 Explorist is the men edition. I just want to make it clear that these two watches have the exact same hardware. However, the Venture edition has a 1.19 inch AMOLED screen with 300 mA battery. Fossil Gen 4 Explorist has a 1.4 inch screen with a pixel of 454 by 454.
Design of Fossil Gen 4 Smartwatch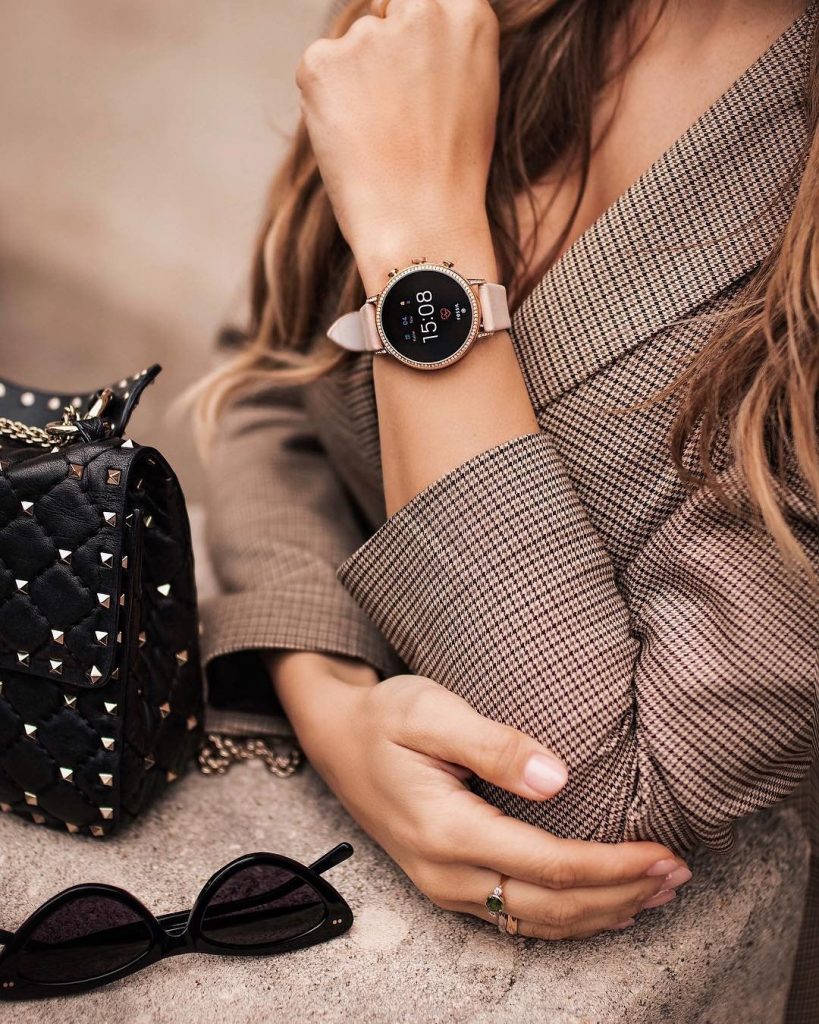 First, I want to start off with the design of Fossil gen 4 smartwatch. The design of Venture HR watch actually made me pick up this watch over somewhere 3,100 watches.
I've got the rolls gold Venture HR version with some couple of diamonds across, and the nice blush pink leather strap, and it's really one of the best feminine looking watches out there right now. This watch is very thin. However, I say the battery doesn't last as long as my very thick and heavy Huawei watch.
Read: Matte Black Airpods For Premium Wireless Earbuds Experience
The leather has a nice feeling to it. However, pink leather blush leather strap isn't really gonna last you too long. With a one month of use, you will see some wear on Fossil gen 4 smartwatch. The straps get very dirty very easily. So what I recommend is actually not picking up the same color of Venture HR Fossil watch as the straps are a Berry like color, and they get very dirty very easily.
The straps on the behind are made out of silicone and they do catch dust on the edge very easily. However, it helps it being wet roof or sweat proof. This Fossil Gen 4 smartwatch is not fully, but it is a waterproof as possible as stated in their websites.
Get Fossil Venture HR Watch from Amazon
Fossil gen 4 Smartwatch features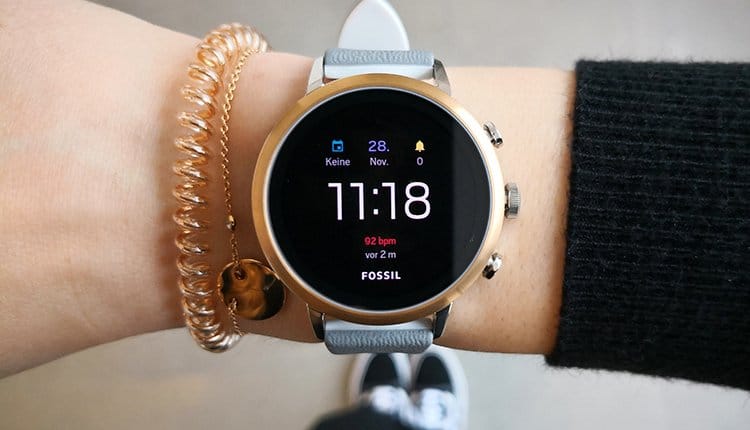 The haptic motor is much more accurate than Huawei watch and compared to my Huawei smartwatch, I'm noticing not that much of a speed difference between the processor as the Huawei watch ran a Qualcomm Snapdragon 400 series processor. Well, this is running a Wear Snapdragon 2100. I'm not noticing too much of a speed bump, but the watch does lag from here to there.
Paired to the Wear 3,100 I've been seeing many mediocre reviews saying that the battery life doesn't last quite too long and the chip doesn't run much further than the 2100 this is why I picked up this Fossil Gen 4 smartwatch personally because at the end of the day, you're still going to have to charge your 3,100 watch the same as you charge Wear 2100 watch.
So I can't really say my opinions of Wear 3,100 versus Venture HR watch, but I personally picked up this watch up because I know I'm going to be charging the watch anyways. So the design of this watch made me actually pick Venture HR watch up personally.
Read: How To Make Airpods Louder? (7 Working Methods)
However, wear 3,100 could improve in the future with software updates. Now, the bezel powers the ambient light sensor, so you can get automatic brightness with Fossil Gen 4 smartwatch, which is pretty helpful instead of needing to switch in the settings menu.
I don't really mind the bezel as much as most people think of it. I actually really enjoy the smaller screen as the smaller screen of 1.19 inch fits my wrist a lot better as I have very tiny wrists.
Previous Android wear watches were made more for men. I had to mod my strap a lot and it was really painful to find a watch strap that fit my wrist. And finally, fossil has made one that does fit my wrist and I used the last pin or buckle in the watch.
The charging cable for Fossil gen 4 smartwatch is actually pretty nice. The two pins attach on to the two rails of the back of the watch near the heart rate sensor. And you can twist the watch any way and it would stay connected no matter what. And this is connected through magnets and I do appreciate the design of the charging dock.
However, I would rather prefer something maybe like a stand or anything.
Get Fossil Venture HR Watch from Amazon
Battery Life of Venture HR Fossil Watch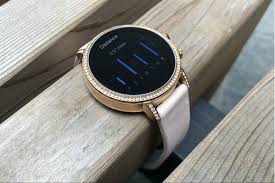 Battery life is not that great, but being a very thin watch, I mean, I guess you have to sacrifice for the design of this watch. I'm getting about 10 hours of battery life going into battery saver mode, which is 15% of the battery left and lasting about another two hours in battery saver mode.
You get a total of 12 hours of battery life with Fossil Venture HR. However, I do have average to low average type of use, getting couple of notifications throughout the day and probably one or two calls throughout the day. If you're going on vacation or something like that, where you need the watch to last a whole day and Venture HR women watch really kind of tips at that point.
You're going to always need to charge Fossil gen 4 smartwatch every single day. I have about under 50 notifications in day, and if you get like 50 to 100 notifications a day, you're probably going to expect about eight hours of battery life with Venture HR.
I have ambient display always on, GPS location always on, NFC always on and Wi-Fi always on. So basically, everything is always on. Not to forget, the heart rate sensor is also always on. And I really enjoy the heart rate sensor as I'm reading my heart rate every 20 minutes. Fossil gen 4 smartwatch helps health tracking. It tracks your jogging. Basically, Venture HR is an amazing women fitness tracker.
Fossil Gen 4 smartwatch is pretty nice for denture dial where it acts as a nice scroll wheel for your notifications and home button. The top and bottom dial act as a customizable button. You can customize it to open any app you want.
Read: Why Do My Airpods Keep Disconnecting?
Fossil Venture HR is running Wear OS 2.2. The wear OS is the little slowdown as why I got it is mainly because I have adapted to the ecosystem since day one. Since my first smartwatch as the LGG watch, since smartwatches came out, this has been my first ecosystem.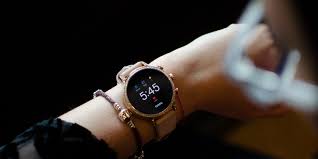 So if you're technically haven't gone in the wear OS ecosystem or don't own an Android wear OS watch. I personally recommend something like a Fitbit or an Apple watch as those watch platforms have much better software. So to round it up, this watch is mainly for people who appreciate the design.
You can't really wear that watch with a tuxedo or a dress. However, Fossil Gen 4 smartwatch does run the Snapdragon 3,100..
Personally, I enjoy the smaller screen of the fossil watch than the Ticwatch. Ticwatch obviously is going to be a larger screen and bulkier design for a woman. You would rather much prefer the slimmer and theatre design to go well with something, more of a dress or some more, you know, professional, appealing design.
This watch is mainly for someone who is okay with getting on the tips of very low battery. You're probably going to be okay with getting into the battery saver mode of the watch at the end of your day. However, if battery degrades over the next couple of years using this watch, this watch isn't going to be much appreciated.
So to end this article, Fossil gen 4 smartwatch is a great watch and I'm going to be using this for the next couple of years until Google or Qualcomm decides to do anything more phenomenal with hardware or software, which I should be able to receive in Venture HR. Fossil gen 4 smartwatch price is about $129 from Amazon.
Get Fossil Venture HR Watch from Amazon