If you're looking for an activity tracker that accumulates great data, is durable, has great battery life, and will help keep you more health accountable. Then let me introduce the Fitbit versa, one of the best activity trackers in the current market that can help you find the body and feeling you're looking for and help you get there every step of the way.
Design of Fitbit Versa
The Fitbit Versa smartwatch really felt like a mix between the Pebble, Apple watch and Fitbit Blaze. It looks great on the wrist, but it's not designed in Cognito.
The front screen is made up of Gorilla Glass 3 which helps protect against scratches, dings, and drops. Although the last model of the ionic was also created with this Gorilla Glass 3 it seems as though there's a little bit of an upgrade in the glass used with the Versa. In that first week with the ionic, we ended up with a huge scratch across the front base.
With the Fitbit Versa, We've dropped the Fitbit watch from five to six feet elevations, roughed it through Catholic strips with no scratches whatsoever. This was a pretty big boost from the last model.
We have the anodized casing for increased durability. Versa smartwatch also has the same peer pulse sensor that is in the attic.
Unfortunately, you can't pair to an external heart rate sensor. However, comparing the Fitbit Versa to something like the Garmin heart chest monitor, the average heart rate per session is fairly accurate.
Read: Amazfit T-Rex Review: Best Military Standard Smartwatch
And finally, the buttons do give some great feedback so you can feel exactly what you're doing with the Fitbit watch.
The Fitbit versa is also water resistant for up to 50 meters for 30 minutes and tracks swimming statistics pretty well in terms of lapse and distance. Fitbit Versa is at least better than the Fitbit Ionic. Now you can get better data while tracking in the water.
The front display has a sleep option, which helps saves battery. However, this means you'll be expected to tap, click on the buttons or turn your wrist just to seeing the time or your notifications.
This can sometimes be annoying to keep having to tap your watch or to turn your wrist every time you want to see the time.
You can also connect your Fitbit Versa to a Bluetooth 4.1 device similar to the Ionic as well as upload up to 300 songs on the go listening without your phone. Just make sure you allocate plenty of time for the upload as this is probably one of the biggest pain points of the Fitbit smartwatch.
Get Fitbit Versa from Amazon
Fitbit Versa Battery Life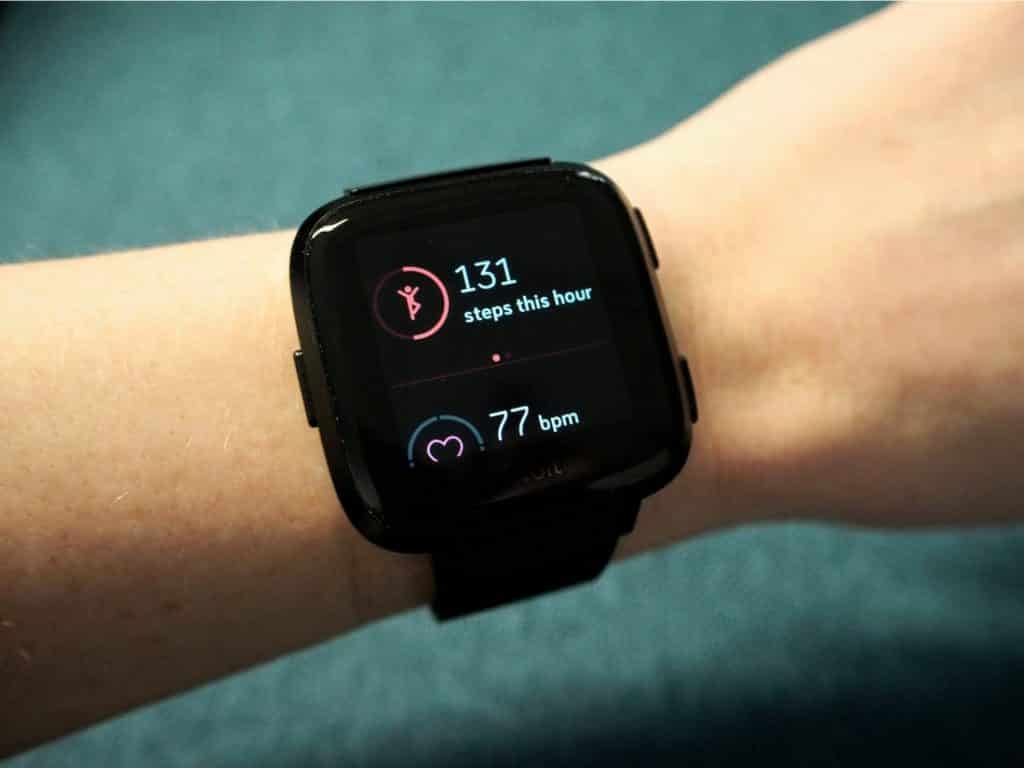 Battery life with some testing proved to last the claimed four days with a ton of usage, however, this will decrease with increased usage apps and setting configurations.
With the view checks on stats and max brightness and auto screen awake on, we were able to get a solid 3.5 days consistently from the Fitbit Versa.
The charger, as with the Ionic is distinct, which does bring up the hassle of having to bring along another charger with you on trips. However, we did enjoy this charger a lot more than the Ionic due to secure protective nature of the Fitbit Versa charger.
It really locks it into place. In total, the Versa charge time took about two hours to fully charge from 0%.
Although, the Versa smartwatch is one of the better fitness trackers on the market, the OS itself is rather behind the time. Maybe almost like an old Android OS.
The Fibit Versa runs off the Fitbit OS, which if you have had the Ionic, you should be familiar with. Overall, the Versa is a runoff of an Android OS system. However, compared to some of the other watches, like Apple watch 3 or Samsung gear 3, you'll be able to notice that the Fitbit OS runs a little slow.
Though the latest updates significantly increased the OS performance in our opinion. This being said, Fitbit seems to understand that, that this is a fault of the OS continues to release patches that help the overall performance of the firmware.
Get Fitbit Versa from Amazon
How to Setup Fitbit Versa with Smartphone?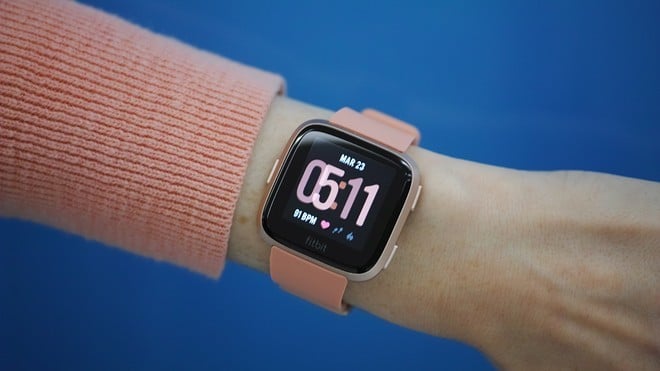 Set up is quick and easy with the Fitbit Versa as well. All you need to do is go to your mobile phones, native app store and download the Fitbit app. Once you do so, you'll be able to create a new Fitbit account or log in with a previous one that you've already created.
Once you do so, you can select your new device, which is the Fitbit Versa, connect it with your phone via Bluetooth, connect to your Wi-Fi, wait for the updates to download and install. Select your quick configurations and settings. And you're ready to go. Fitbit Versa is compatible with Android and iOS.
Fitbit App
The Versa smartwatch is really great for any mobile user. The Fitbit mobile app continues to be a great all in one hub for your fitness community and stats. Not only do you have access to a network of great health oriented individuals like yourself, but you also get a single place for all of your stats from distance step to calories burned, sleeps activities track and more.
During our testing, Fitbit Versa didn't track reps when weight lifting though it did track heart rate compared to other options such as the Apple watch 3, the fact that you don't have to log into three different apps to see exactly what your stats are.
This is a huge convenient time-saver alone. In the community section, you can also join groups with common interests such as running, yoga, et cetera, to find a ton of motivation to get you active. You can also add friends and compare stats with each other. This is a great tool for those that are competitive.
And finally, you can fully customize your stats dashboard to have a display what you want, wherever you want. In addition to, you can customize your notifications, auto tracking configurations and preferences to your Fitbit watch. You can also set quick replies, which is an update from the last Fitbit release of the smartwatch.
Read: Best Fitness Tracker 2020-Definitive Guide
They didn't have this feature in super handy because you can select "By application" and select "emojis" as well as quick responses. Downloading applications happens inside the mobile application as well. Although the app store is constantly being updated with new applications, it is still minuscule compared to Samsung's app store or Apple's app store.
Fitbit App store has grown significantly, not only in application numbers, but also in a watch face numbers with overall 500 watch faces from private developers as well as Fitbit.
Effort Quick tip for the Fitbit Versa, you can actually change your quick start button apps just holding an application until the Versa responds with a vibration and shifting it all over to the left.
The most screen where the top left app will correspond to the top right button and the bottom left app will correspond to the bottom right button.
Get Fitbit Versa from Amazon
How to Change Fitbit Versa Bands?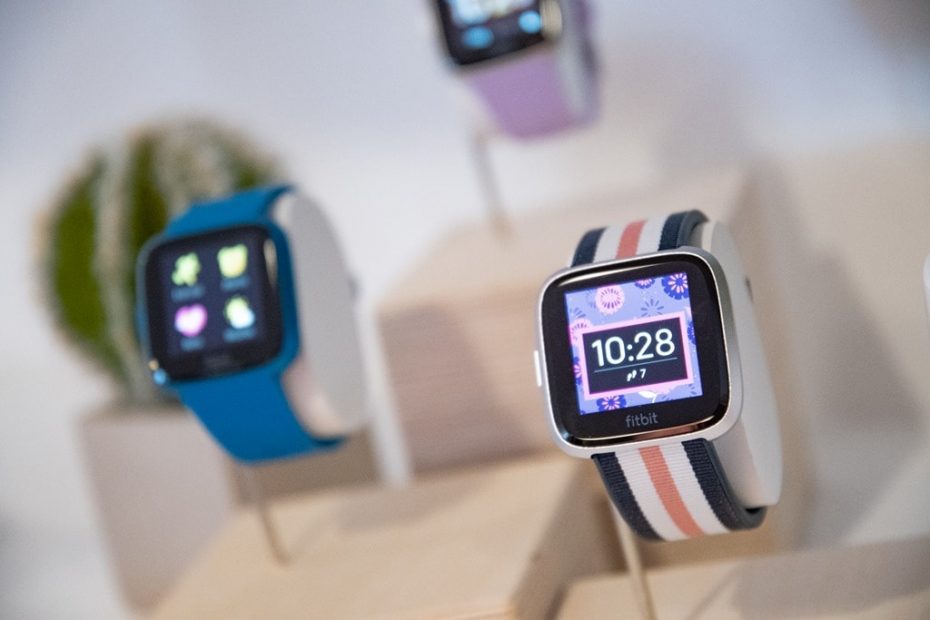 You can change out the watch bands quickly by using the little notches on the bands themselves. They are loaded with a spring triggers so that way you can just push in the little knob to contract the latch and the spring and load in your watch band to the watch face.
Once it's in place, you can let go of the little latch and then the inner spring will push out the rod to lock the watch band to the face.
This is a little bit different than the Ionic where it had the quick release buttons, but it still does the job and it holds the watch band securely in plate.
There are many different Fitbit watch bands. You don't necessarily have to go with Fitbit. However, in our experience, Fitbit does have the best watch bands.
Pros of Fitbit Versa
The design and build overall, the Fitbit versa is clean, sleek, and thin. Especially compared to its counterpart Fitbit ionic, it's definitely a lot smoother, less box and less angular. Overall, Fitbit Versa was just a lot more appealing and more durable.
The Fitbit Versa is water resistant up to 50 meters, which makes it a great tool for water activity tracking as well as everyday use.
The buttons give great feedback.
As far as sports features go, the Fitbit Versa is at the top of the line with the capability to track multiple different exercises. As far as typical activity tracking goes, such as running, you can track your pace, speed, elevation, and more. However, in comparison to some other trackers, it's one of the best activity trackers for swimming and tracking your pace while on the water.
Get Fitbit Versa from Amazon
Cons of Fitbit Versa
As mentioned before, you'll be expected to tap, click on the buttons or turn your wrist just to see the time or your notifications. This can be annoying to keep having to tap your watch or to turn your wrist every time you want to see the time.
Easy transfer can be a huge pain in the butt. As far as downloading the software, it is pretty easy. All you need to do is go to fitbit.com/setup once you do so, you can use the Fitbit native desktop app to upload your music. However, each song does equal about one minute to upload, so if you're uploading a lot of music, you do need to take some time to allocate to that, and so you don't have to wait on it.
It does not have Spotify control.
The Fitbit app store is kind of slow compared to Google play store or Apple's app store, so it does take quite a long time to download multiple apps at the same time.
Finally, the Fitbit Versa does come in a normal version and a Special Edition version, which does allow Fitbit native payments via NFC. Unfortunately, this version requires that you pay an extra 20 to $30 for a special watch band and this NFC feature. So the value really lies in how much you actually use it.
Read: Fitbit Charge 3 Review in 2020: Closer to Perect
Overall, if you're someone who casually works out and is looking for an activity tracker, you won't be disappointed with the Fitbit versa.
However, this is definitely more of an activity tracker than an actual smartwatch with its sleek, thin and compact design that Fitbit Versa definitely packs quite the punch in terms of fitness functionality.
Get Fitbit Versa from Amazon