The last couple of years I've played with the idea of getting an Apple watch, but never did. And that's weird for a guy who always upgrades to the latest iPhone and AirPods so why did I hold back? Short answer is the shape. My current watch is a rugged fossil, complete opposite of the Apple watch, but pretty similar to Amazfit T-Rex that we just got for review.
So I jumped at the chance to test the Amazfit T-Rex myself and see if it's worth getting a smart watch. Now, Amazfit T-Rex is a big watch around 47 mm, but surprisingly light at about 58 grams. The 22 mm Silicon strap is very flexible and comfortable. You can buy Amazfit T-Rex in four colors.
You'll notice the frame isn't flushed with a 1.3 inch OLED display, but that's not a bad thing. It's meant to protect Amazfit T-Rex from falls just as the gorilla glass 3. Well, the anti-fingerprint coding will save you some screen wipes. Amazfit T-Rex has a bold functional design because it ultimately has to withstand anything and everything.
Read: Best Fitness Tracker 2020-Definitive Guide
Amazfit T-Rex rugged smartwatch has 12 military grade certifications, resistant to harsh environments. It should work fine under 70 degrees Celsius and in -40 degrees Celsius, but maybe don't push your luck unless you want it to go extinct.
Although it has a polymer body reinforced fine alloy blue, users say you can wear it up to 240 hours in high humidity.
And 96 hours of salt acid or alkaline environments, and of course you can go underwater with it up to 50 meters.
Four buttons on Amazfit T-Rex are comfortable to press and they have a nice grip, but I would have liked to feel more of a click when pressed. The AMOLED display with a 360 by 360 resolution is pretty bright even during the day, and the colors are vibrant. I love the always on mode and wanted to keep it as a main FaceWatch.
Get Amazfit T-Rex from Amazon
Amazfit T-Rex Watch Faces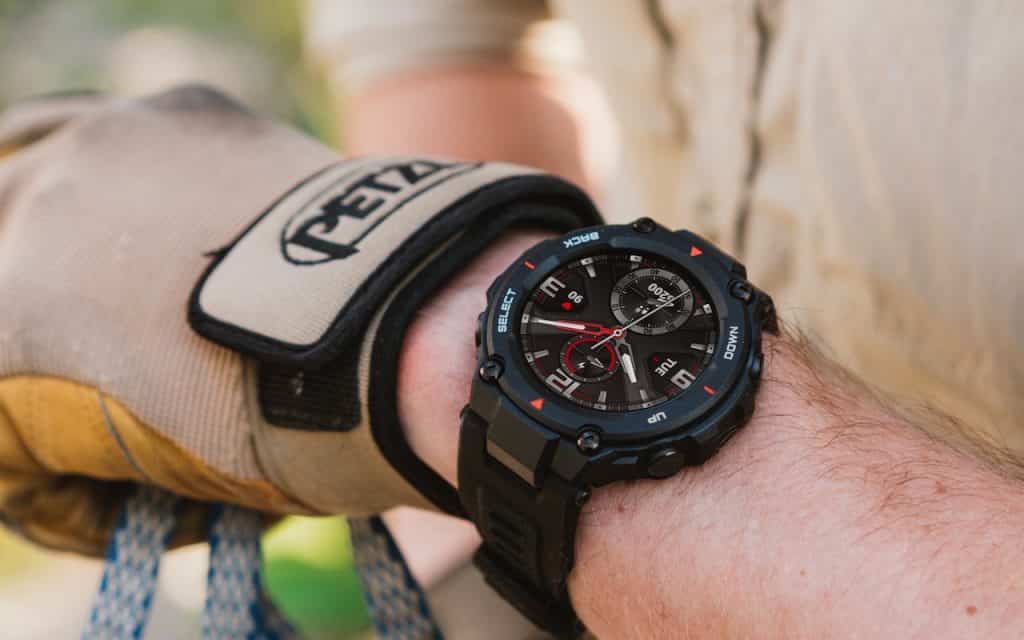 Now, there are only two other watch face options on the device. Of course, the companion app gives you 30 extra to choose from, but you'll have to install them one by one.
Once you install a new watch face, you can only switch it with the two already saved and you have to wait more than a minute for a face to be installed, which is a little too long if you had it.
Read: 5 Best Fitbit Chargers For Different Fitbit Smartwatches
Especially for 2020 smartwatch on the back, you have your heart rate sensor and the Pogo pins for USB charging. Huawei made this watch to survive anything, even the apocalypse.
Well. Almost, but with heart rate monitoring, compass, GPS, GLONASS, it definitely can be a testimony of the end of the world. I actually love testing step count, heart rate, and sleep monitoring.
Get Amazfit T-Rex from Amazon
Features of Amazfit T-Rex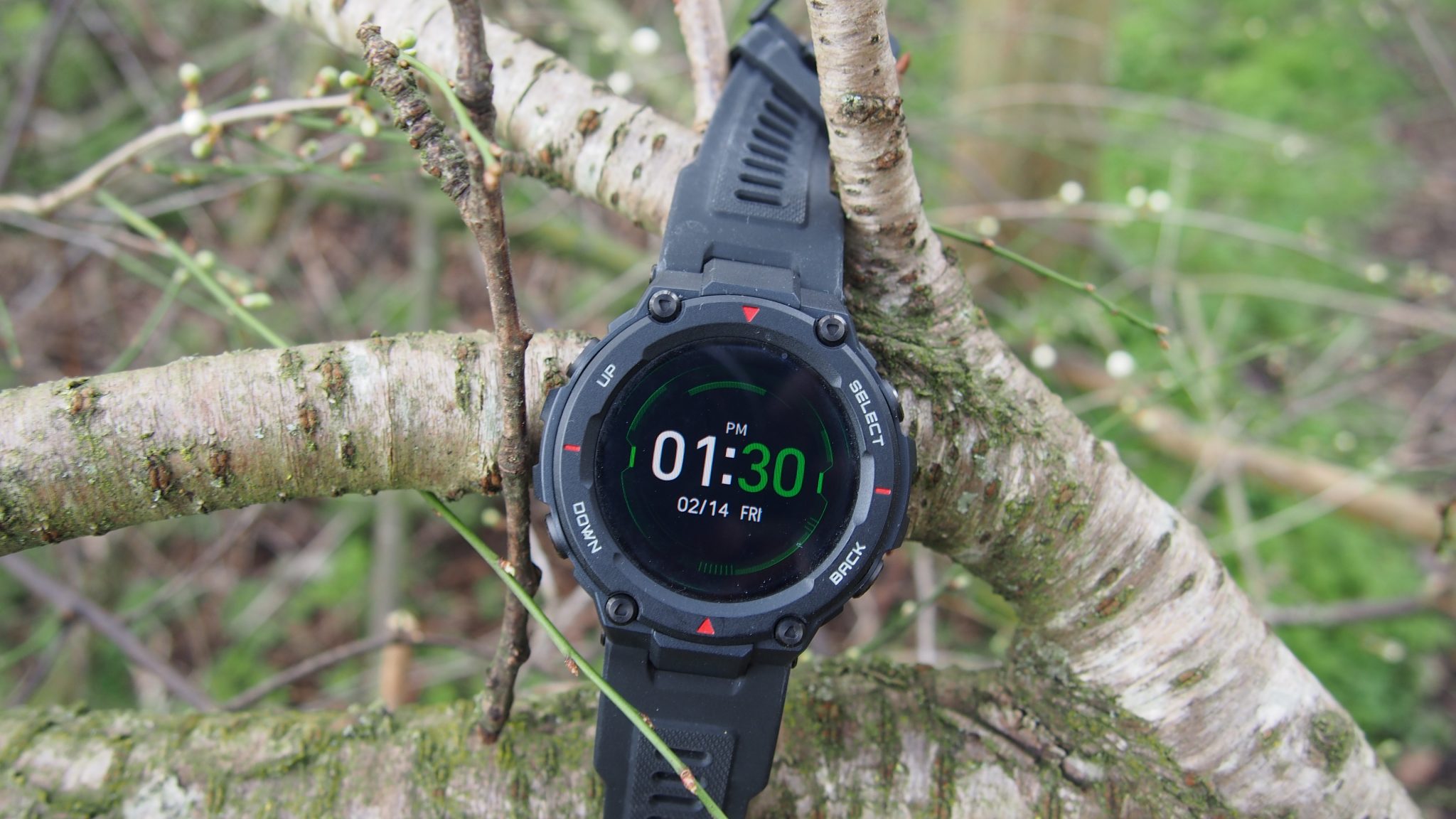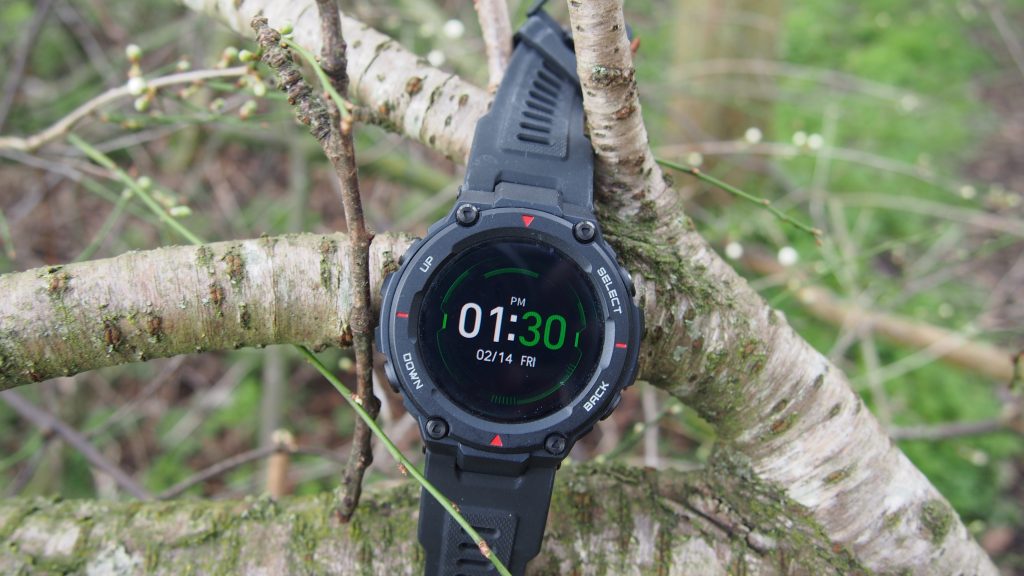 Of course there are 14 different activities you can track from cycling to outdoor skiing.
I walked a lot, especially in New York there due to all the skyscrapers and close knit buildings, GPS signal was on and off, but the rest of the time it was pretty flawless and parks, for example, it worked just fine. And when I wanted to take it further, see how it does while driving cycling mode, it showed routes perfectly.
However, every time I stopped at a traffic light, real time speed updates at a bit of a lag. At the end of an activity, you can see a summary of your efforts on the watch screen or on your phone. And seeing all that info and vibrant colors on OLED display is extremely satisfying. Even after just 10 minutes of working out.
We can't review a smartwatch these days without going into heart rate monitoring. When you're active, that's done continuously. Otherwise you get an update once a minute.You can select the frequency from the app along with other modes like sleep assistant or automatic heart rate detection. However, automatic heart rate detection depletes the battery pretty fast.
Notifications are key in a smartwatch, but because there's no speaker, T-Rex will vibrate to alert you of incoming notifications. Vibrations are customizable too. You can select what notifications you want to receive from the app. I checked all calls and texts, emails, reminders, alarm and other alerts.
Getting every notification on the watch means taking out the phone less. Plus, it's very useful when you don't have your phone.
Fortunately though, you can't reply to them from the watch.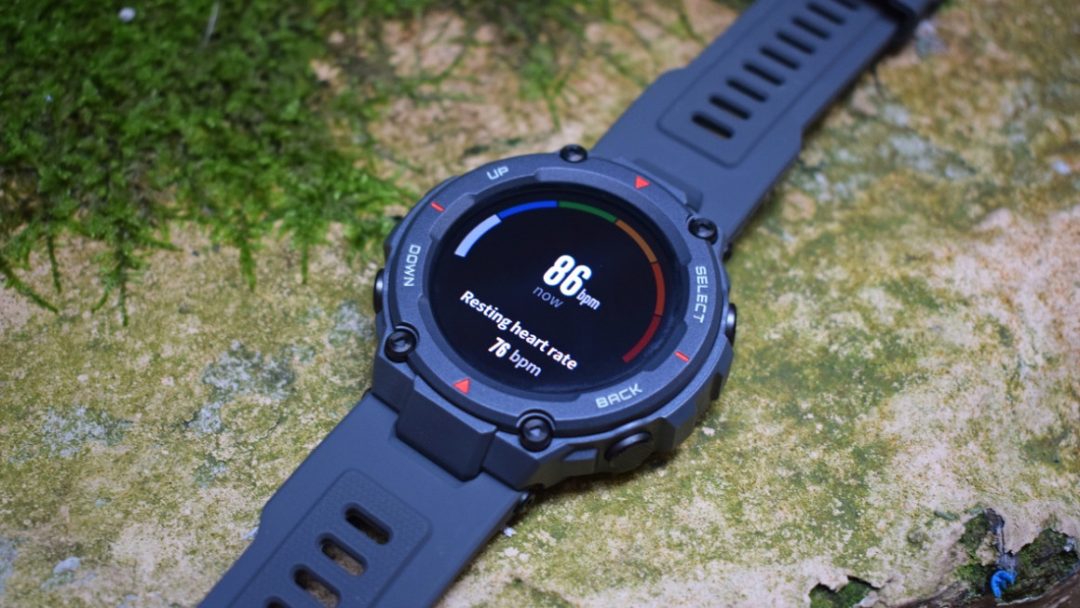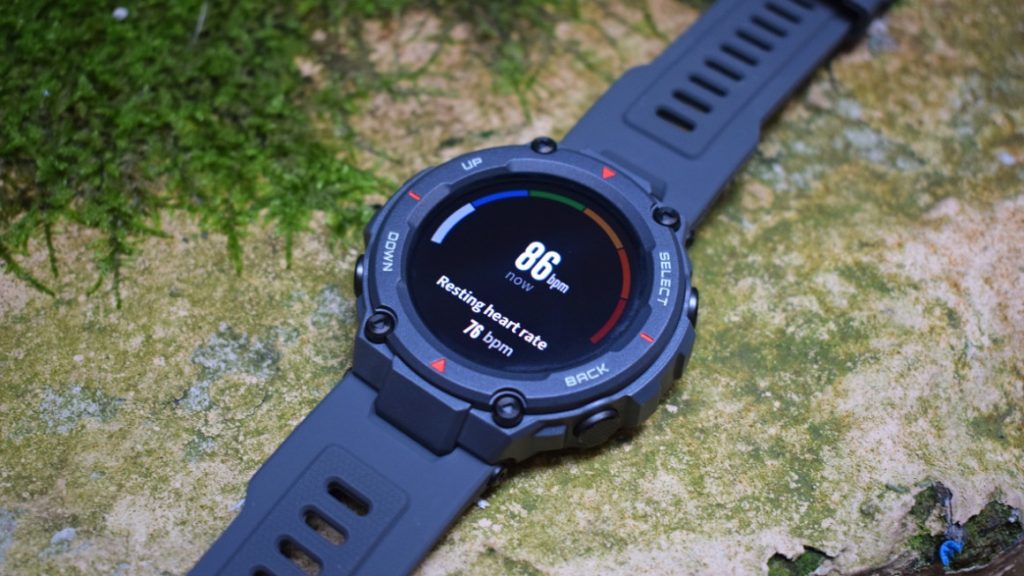 Some start their day reading the horoscope. Others want to check the weather even before grabbing their phones. I'm not one of them, but when I'm traveling or have a shoot, weather updates are key. So I set the watch to show them at a press of a button, the upper right button to be precise.
Another plus, when it comes to battery life, before you ask, yes, it works with Strava, but first you have to authorize data access.
Read: Fitbit Charge 3 Review in 2020: Closer to Perect
There's no music storage, but thanks to Bluetooth, the Amazfit T-Rex will show you the song, artists, volume and playback progress from the phone. And from there you can change the song and volume on the phone or the connected Bluetooth speaker.
The mobile app is intuitive, but Huawei should really get a dark mode, especially since the activity summaries already on the dark side, an automatic heart rate detection mode.
Sleep tracking has its hiccups. The watch didn't detect when I left the bed and walked out of the room. It also didn't differentiate between lying in bed and sleeping.
While you're sleeping, the always on mode is automatically disabled to save battery and enabled once it senses movement. Huawei says the battery lasts up to 20 days. The way I used it though, with all notifications enabled, few activities track today and changing the watch face frequently. It lasted about five to six days. Not bad at all.
When Amazfit T-Rex gets the 10% battery left, the watch face changes to a simple monochromatic one and heart rate monitoring is disabled leaving just the essential info and step count to see your normal watch face again. Simply press and hold the upper right button for a couple of seconds to get to 100%.
The magnetic pins connect easily and seamlessly. How much Amazfit T-Rex costs for all of this? T-Rex costs only $139 which is about a third of the Apple Watch Series 5.
Get Amazfit T-Rex from Amazon