There are some great new features that they've added to the Fitbit Versa 2, like an always on, OLED screen and even a microphone. So there's a bunch of stuff that I want to talk to you guys in this Fitbit Versa 2 review.
So first up, let's take a look at what you get inside the box when unboxing your Fitbit versa too. They've pretty much kept the packaging exactly the same across all the Versas, and I like it. Nothing overly complicated and not too much plastic either. So in the box, of course you get the charging cradle that charges your Fitbit Versa 2 watch.
You also get an additional strap size, which is really nice. Some quick start information, a bit of a user guide as well as all your product information, warranty, all that jazz and of course, the beautiful Fitbit versa 2, in all its glory. And once again, all of that packaged in the super simple Fitbit Versa 2 box.
Read: Fitbit Versa Review in 2020: Best Apple Watch Alternative
Fitbit Versa 2 Design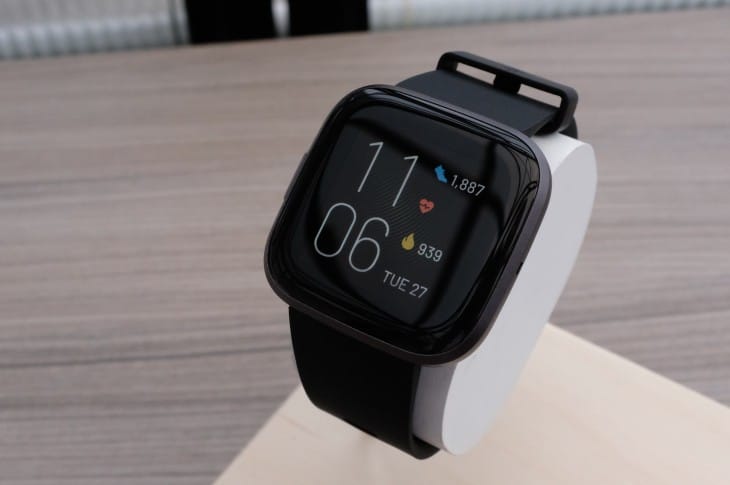 Of course, Fitbit Versa 2 does look similar to the previous birth of models, but there are some slight changes, and I've got to admit guys, I think it looks so slick and stylish.
The overall size of the Versa 2 smartwatch is actually slightly. But again, I actually really like this and they've gone for such a smooth rounded edge on the front.
The back has also been modified and slightly changed full more rounded Polish feel, which is really nice on the wrist. And then what I really like about this watch if they haven't changed the strap sizes.
So if you have any previous Fitbit Versa models or maybe a partner of yours has one, you can use the straps from any one of the Versa models and you'll have no problem at all.
So I really like this because again, if you had one of the previous Fitbit Versa models, you can use all those existing straps on your beautiful new Fitbit Versa, and like I said, if you've got a partner who also has one of the versa models, you guys can swap out or change straps with no problem at all.
Buy Fitbit Versa 2 from Amazon
Fitbit Versa 2 Display
Fitbit Versa 2 now has an OLED display and that means a lot of great things. Then not only that, we also have an always on display now.
An OLED screen is so fantastic because not only does it make the blacks a lot darker and the colors a lot more vivid, but it also helps save on battery and we all need a lot of that in our life.
I also like within settings, you can change so many things about the display and then it is a 1.4 inch display, 300 pixels by 300 pixels.
Of course, in previous models, you could always see the display in full blown sunlight or even shade, but on the Versa 2 guys, Oh my goodness, you really do not have any issue reading the display whatsoever.
Fitbit Versa 2 display is so bright and vivid and no matter what the lighting condition, you'll always be able to read your display so easily.
Buy Fitbit Versa 2 from Amazon
New Features of Fitbit Versa 2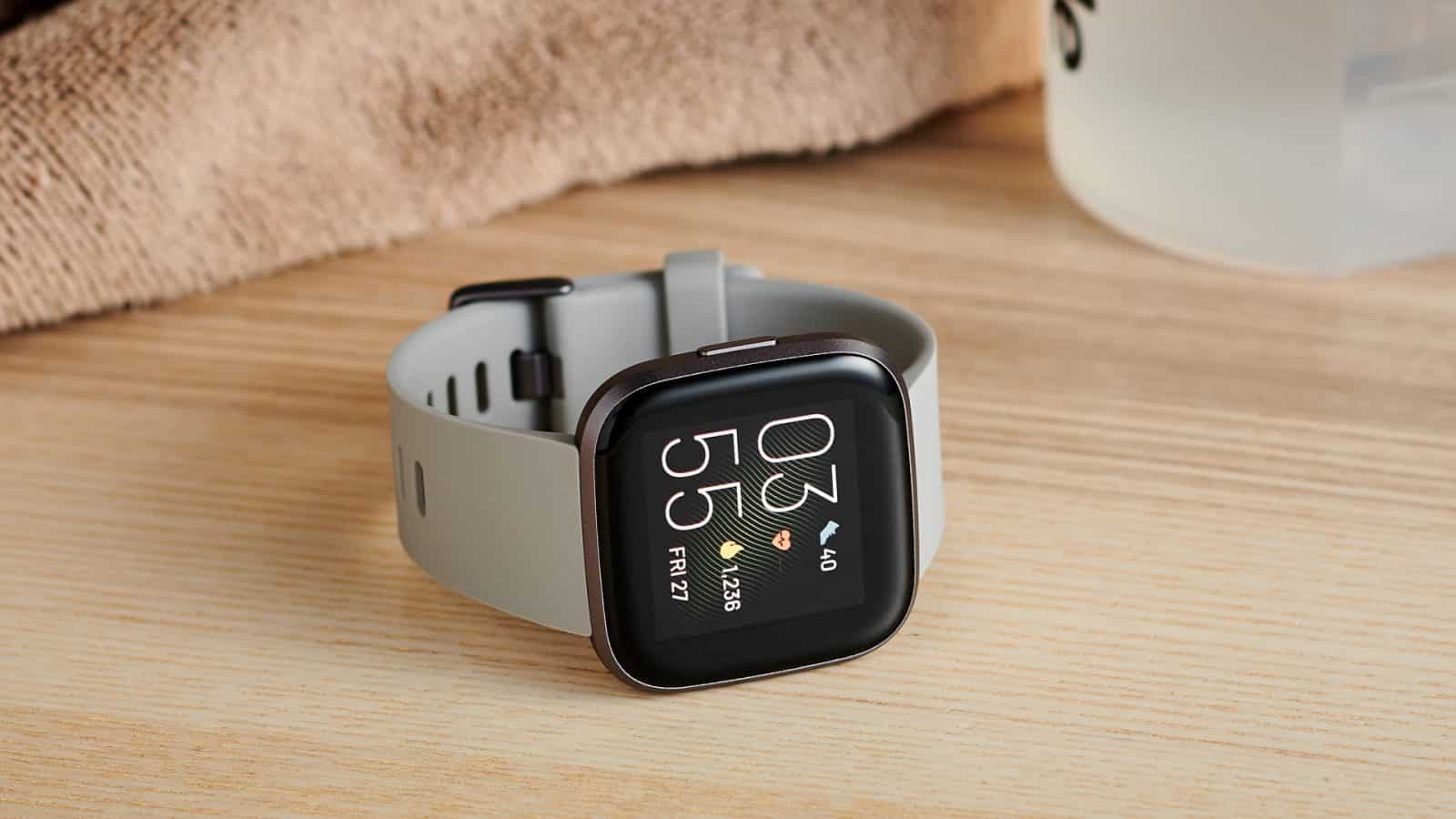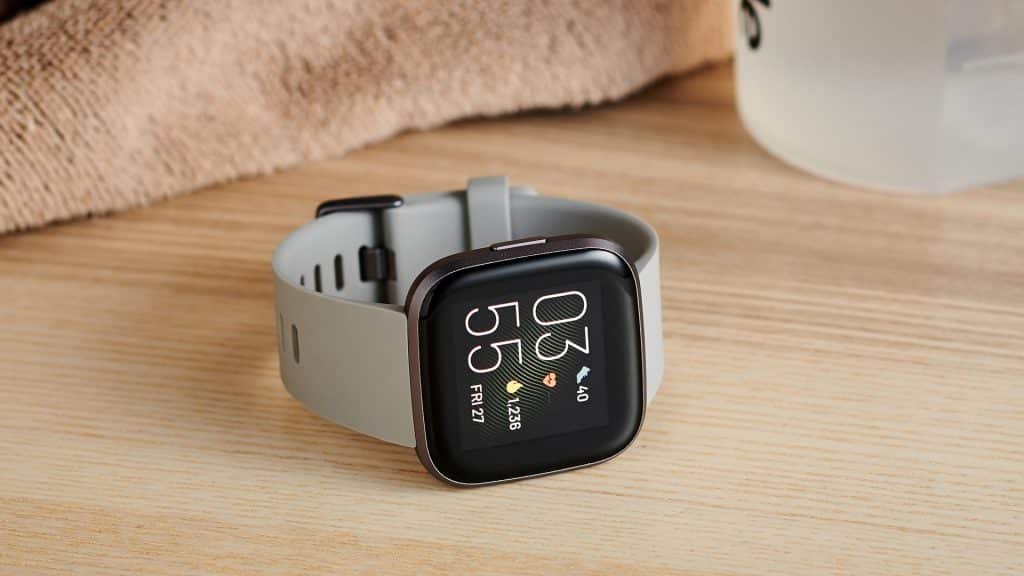 Fitbit Versa 2 now comes with a microphone that is integrated with Amazon Alexa. So what that means is if you lift up your Fitbit Versa 2 smartwatch and hold down on the button. You can ask or tell Amazon Alexa anything, and it will respond.
It'll then do some thinking, connect to the Wi-Fi or internet, and then it comes back with an answer.
Not only that, if you receive a WhatsApp notification to your watch, you can just click the reply button and you will see a speaker icon. If you click on that, you can once again speaking to your watch and it will dictate your entire message and send it off to your WhatsApp contact.
Read: Amazfit T-Rex Review: Best Military Standard Smartwatch
Another fantastic new Fitbit Versa 2 feature guys is the quick access menu. So if you swipe down, you see quick little menu pop up. And from there you can so easily just quickly put your watch on "Silent Mode".
You can put it on "do not disturb", even change the brightness settings. And then also if you quick and easily want to access your Fitbit wallet or the music app, it's all right over there.
And this is a really welcomed new feature that I've been using a lot and I'm so glad it's now there.
The next new feature is an integrated Spotify application on your Fitbit versa 2, that you can use to control your Spotify music. So the Spotify application was on previous Fitbit versa models, but it was a third party application.
And in my personal opinion, it didn't work all that well. But now the Spotify application is made my Fitbit and come standard on all Fitbit versa 2. So if your phone is busy playing Spotify, you can now use your watch to toggle songs, play and pause or even go through various playlists.
Something else I am really glad they decided to do was add an always on display option. So this is not on automatically. You do have to enable Fitbit Versa 2 always-on in settings, but once it's on, you will always be able to see the time and some other key metrics without having to always flick your wrist, if you know what I'm saying.
Buy Fitbit Versa 2 from Amazon
Standard Features of Fitbit Versa 2
Some standard features that still exist on the Fitbit versa 2 is of course the watch faces. You can change your clock to anything your heart desires.
And all you have to do is click on those three dots. It'll take you off to settings. And then once you click on settings, you can say pick a background image. You can either take a picture right there or choose from your photo library. As I mentioned, I just picked a selfie to see what it would look like.
And what's also really nice is you can adjust the size and the positioning of your image and once you clicked on and just like that you have amazing custom Fitbit clock face. I think it's so Epic and guys don't be afraid to check out the other clock faces. They have so many Epic ones to choose from that you're bouncing love.
Then notifications from apps like WhatsApp, Instagram, Facebook, Gmail, you name it, are still there. The only difference is that on Android you can use the microphone to respond to messages, but on iOS, unfortunately not. You can then also still receive calls as well as decline calls, all from your watch, and this is a great feature for when you're driving.
Read: Best Fitness Tracker 2020-Definitive Guide
What's also quite interesting is once you've answered the call, it'll actually send your watch if the call is still active. So this is really nifty. Then this has had a slight facelift, but all the various fitness modes are still there, and if you select one, it'll obviously take you through all the information that you need while you're busy training.
So whether it's your heart rate, perhaps the distance, calories, or time that you need to know while exercising, it's all there just at the click of a button.
Another super nifty application that I use all the time is the Timer App. So if it's a stopwatch you need, you simply click play and it'll start counting down for you.
Or if you need the timer, just select how long you want the timer to go forward. Once it begins, of course it'll calm down, but when it's reached the end of the time. You'll Fitbit Versa 2 watch will start vibrating.
Buy Fitbit Versa 2 from Amazon
Size of Fitbit Versa 2
Now, as I mentioned, the versa 2 is slightly bigger than previous Versa models, but not by much. So firstly, the display is 25 mm by 25 mm. Fitbit Versa 2 is roughly 12 mm thick and weighs only 40 grams.
The Versa 2 body is a lot more compact and for me someone with small wrists, it fits perfectly.
Fitbit Versa 2 Battery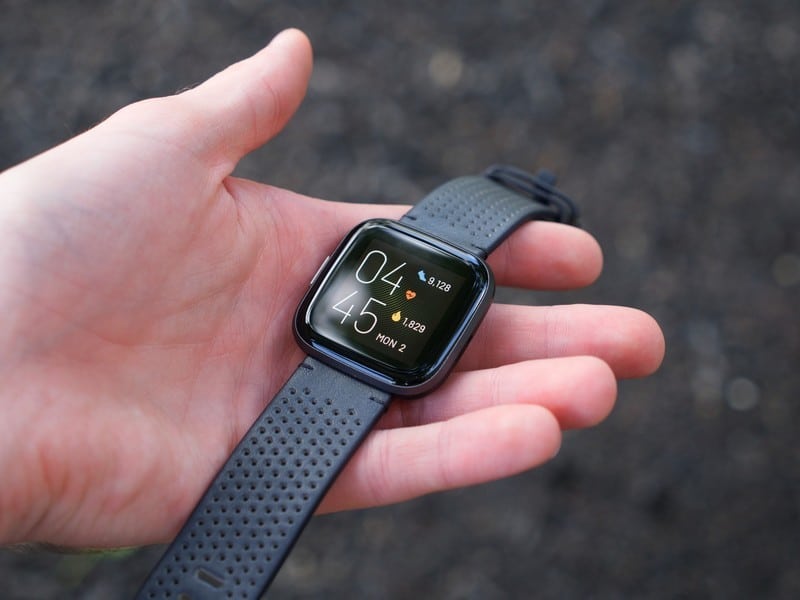 Possibly one of the most frustrating things for me about the Versa range is the charging cradles. So this is how you charge your Fitbit Versa 2 watch. You simply place it in little cradle, but it has one major design flaw in that is the cable comes straight out of the back.
So when you leave the cradle by the side of your bed or with your watch in it to charge, and you place it down on a flat surface. This cable coming out the back makes it almost impossible for the cradle to stand upright. The cable nearly gets in the way and it is so frustrating, like the sides, all of that.
I've had up to almost four days of full use without having to charge the Fitbit Versa 2 watch, which is crazy, and I love it, thanks to the new OLED display.
Some other features include the interchangeable watch straps. So as I mentioned previously, you can use watch straps from any of the previous Versa models, and it does look a bit tricky when trying to change the watch straps. It is super easy to change Fitbit Versa 3 straps.
Another Epic feature that I think a lot of people don't know about is the Relax app. So if you opened it up and activate it, or what this Relax app does is it takes you through a two minute breathing exercise that is super simple and ultimately just helps you relax.
Read: Best Smartwatch in 2020: Top 10 Reviewed
You can also check out the weather on your watch. Once you've set your location, it'll give you all the different weather notifications and information that you want. And then the sleep tracking feature also has an extensive amount of information all based around, of course, your sleeping, so you wear your watch when you go to bed, and then the next day you can see how much REM keep you had, how much deep sleep you had.
It is so interesting. And then if you've ever wanted to swim or shower with your Fitbit smartwatch, you can with no problem at all because the Versa 2 is waterproof, which is awesome. The heart rate monitor constantly tracks your heart rate throughout the entire day and also provides you with a bunch of stats if you go into the Fitbit app on your phone.
I was actually tracking my heart rate when flying a drone the other day and it was off the charts. I've been using Fitbit Versa 2 for quite a while now, and I have to say all the new features and improvements are so welcomed and make a huge difference.
Buy Fitbit Versa 2 from Amazon