We are going to present you the Fitbit Charge 2 review by popular demand. Fitbit Charge 2 is going to be the top fitness tracker for the next two years because it targets such a broad consumer base. It targets people that are out of shape that want to get in shape, people that are fit.
People who want to stay fit. Guys and girls, somebody that's 17 or somebody that's 70, it really has something for everyone. It's really in that sweet spot between having a lot of features and being very easy to use and look, there's stuff that I like, stuff that I don't like about it, but that's why we're doing a Fitbit Charge 2 review.
So let's get to it.
All right, so the Charge 2 is an activity and sleep tracker. It has a built in heart rate monitor, a few smart features and something called connected GPS, and it's really designed at the end of the day to do two things for you. Fitbit Charge 2 helps you quantify your life and present a holistic picture of your health.
Read: Fitbit Flex 2 Review in 2020: Best Budget Fitness Tracker
Fitbit also has challenges and a bunch of social features for competing with friends and coworkers. And it even has a new section where you can see how you compare against other people in your age cohort in terms of your fitness level, which is pretty cool.
And then number two, it wants to make health and fitness fun for motivation to gamify things, to allow you to have a little stats about your day. That helps you keep on track. So that's what the Fitbit Charge 2 is designed around. We've got some important design elements and then functional health, fitness and smart features, and that's how we're going to break this thing down.
Buy Fitbit Charge 2 from Amazon
Design Of Fitbit Charge 2
In terms of design, the Charge 2 is slightly larger than the Alta and definitely smaller than the blaze, which are kind of the two devices. That you'll see people compare it against. It's about the same size as the Charge HR. However, it does have some new big hardware updates to start.
The Charge 2 now has a larger screen that is very crisp, clear, vivid, and comfortable to read, and it's black and white, so it's not color unfortunately, but it is an old lady display.
It's not a touch screen either, which I actually prefer. I like having just the physical button and then you tap on the screen to cycle through your secondary data.
The Charge 2 also now has interchangeable bands, so for working out, you can rock the silicone sport bands, which by the way, are way better than what you've seen from past Fitbit devices.
Not only are they comfortable, but they don't collect the lint or dust. Fitbit Charge 2 bands are easy to clean and they don't pull your arm hair, assuming that you have arm hair. But I'm thankful for that.
So you've got updated nice new sport bands Fitbit Charge 2, but you can also get classier leather bands. You can swap in and out for like out the office or somewhere that's more formal, which I think a lot of people will end up taking advantage of.
TheFitbit Charge 2 sport bands are $30 if you want to get different colors. And then the leather ones are $70 and I forgot to mention this. The Fitbit Charge 2 price is $124 at retail, which I actually think is pretty reasonable.
Buy Fitbit Charge 2 from Amazon
Is Fitbit Charge 2 Waterproof?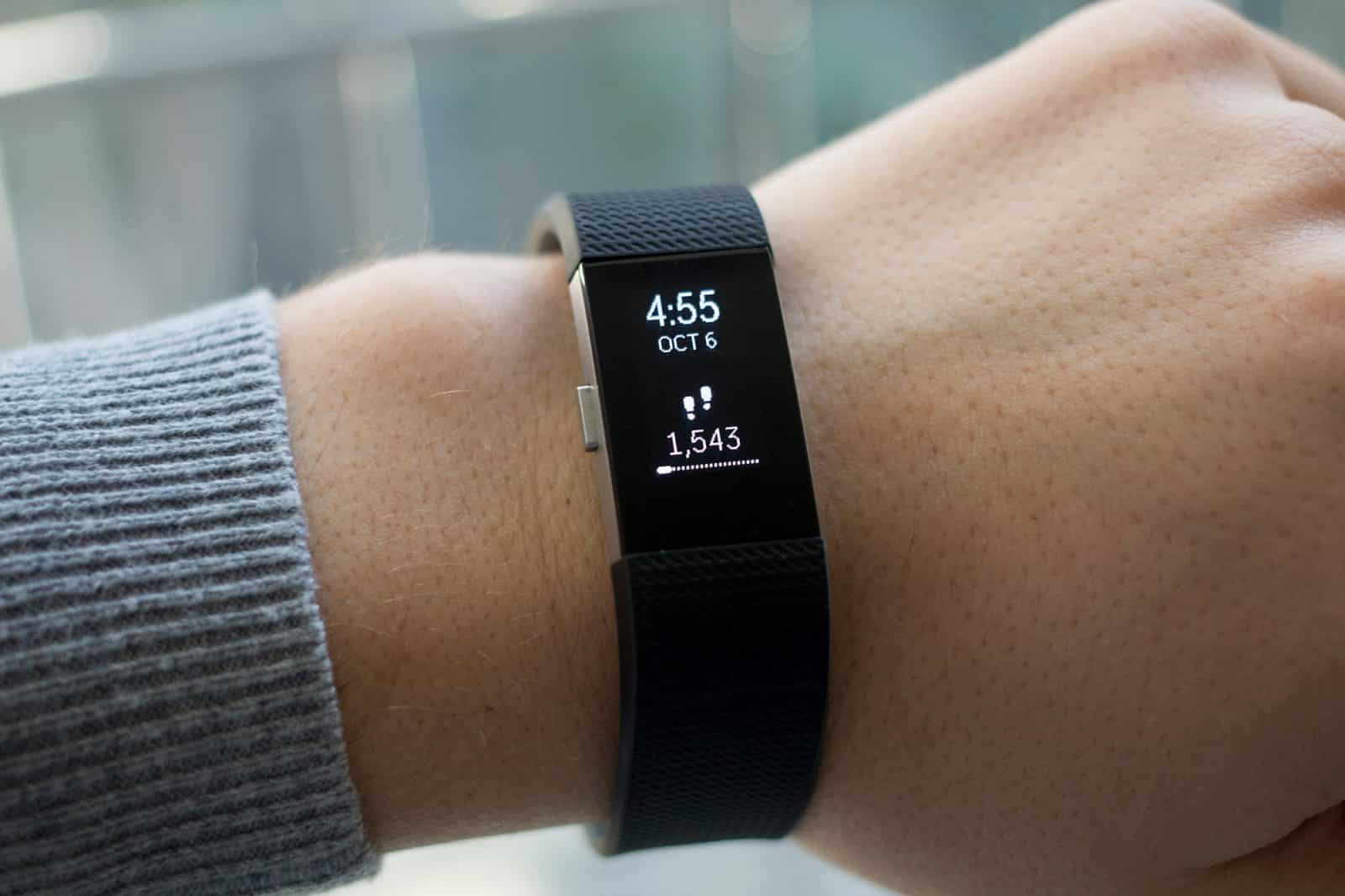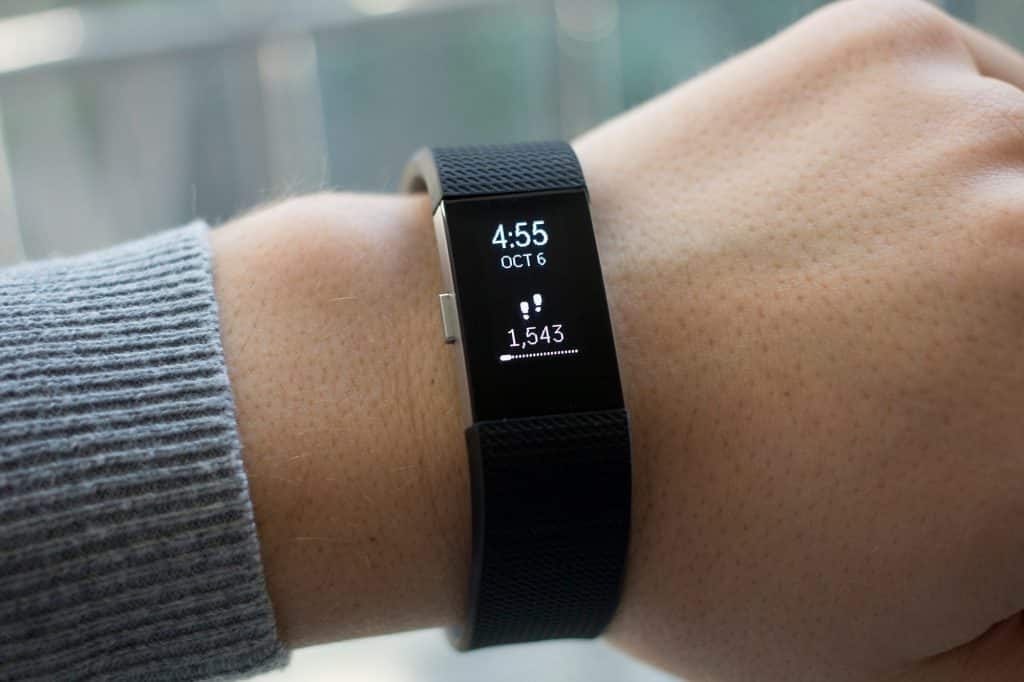 The Charge 2 is unfortunately not waterproof, but it is splash, sweat and rain resistant. And even though Fitbit says not to, I've taken it in the shower and had no issues. There with the device. It's just not recommended also, no swimming with it or submerging it.
Heart Rate Sensor
It still does though, have the optical heart rate sensor on the underside. Heart rate sensor is basically the same one we've seen from Fitbit in the past, but it looks like it's been improved through some software updates. It's not on par with the chest strap, heart rate monitor, but that's more of just a limit to the technology rather than being Fitbit's fault regardless though, the optical sensor is running 24/7.
And during workouts it is really designed to give you a more accurate picture of your calories burned and effort level. And I think it does a pretty good job of that. And I like how Fitbit breaks things down into simple zones for you, like fat burning and peak heart rate, that sort of thing. Now for running and biking, it's largely on par with an external heart rate sensor, but at the higher beats per minute, you'll see it's just not as reliable.
It'll deviate from what it should be for weightlifting. It won't be spot on, but there's enough time between sets that actually kind of snaps back and over the duration of a weightlifting workout. Things will even out in the data overall is not too bad for cross training. It's kind of just depends on what you're doing, but for the most part it's going to be right around 20 to 30 beats per minute off and that will throw that calories burn number off.
Read: Raycon E55 Earbuds Review: Get 30 Hours Battery Life
But overall, I was surprised that we saw a number of improvements to that heart rate monitor. Now in addition to that sensor, the Charge 2 also has a gyroscope. That's pretty cool. So the display on this thing by default is off, but when you turn your wrist over, it will illuminate the home screen watch face.
And that gesture works almost perfectly. And just so you know, you can switch up those watch faces. You have different ones within the Fitbit mobile app. The Fitbit Charge 2 syncs automatically with it via Bluetooth.
The application is very good and Fitbit updates it regularly.
Buy Fitbit Charge 2 from Amazon
Battery Life of Fitbit Charge 2
Fitbit says that battery life will be up to five days, but I think for most people, you won't get there. It's going to be four days, expect four days. It really just depends on how you use the device though.
So if you work out a lot, four days would be good. If you just wear the device and maybe, you know, do house chores as your workout, it may be up to five days for you. It just really depends.
What does Fitbit Charge 3 actually do?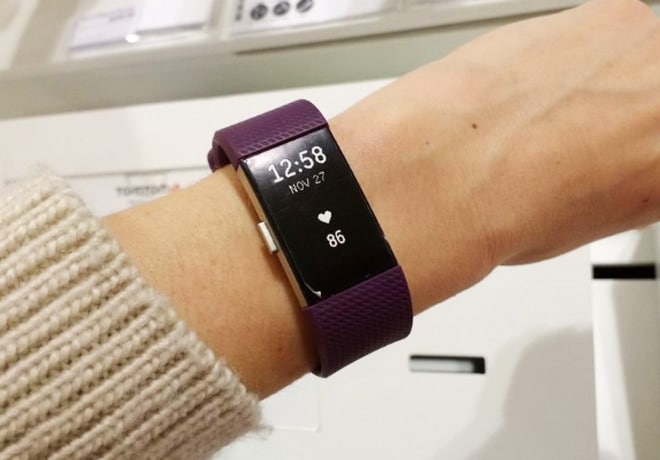 Well, we got three things here. First up, it's your activity and sleep tracker, so it collects all of the metrics. On the screen, you also get a daily activity goal that you try to work towards every single day and then move reminders, which Fitbit actually does something really cool with. So instead of just telling you to move so often, Fitbit gives you a goal each hour to hit, to try to get 250 steps or more, and then you're going to try and string together multiple hours to hit your goals.
So you can make it nine hours, 10 hours, whatever you want. But I think it's a manageable way of approaching activity throughout the day. Fitbit also added something new to the Charge 2 which is called breathing sessions. They're designed to help you mellow out for a few minutes to help you control stress and breathing.
Fitbit is good at the activity tracking stuff. They're kind of like a pioneer in this industry in terms of accuracy of all of the metrics. It's on par with what you'll see with the rest of the market.
Sure, it's all imperfect, but it's definitely good enough for me and I think for a lot of people out there as well.
Buy Fitbit Charge 2 from Amazon
Fitbit Charge 2 Sports Band
So next up, the Fitbit Charge 2 is your sport band. It tracks your workouts, keeps them organized, and provides insights into those workouts. You can load a few different sport profiles onto the band for quick access or with certain workouts that Charge 2 will automatically recognize them and categorize them accordingly.
Although I don't really like this feature, I'd still rather start a workout on the band itself, so that way I know that the Charge 2 is picking up what I'm putting down.
Fitbit Charge 2 Connected GPS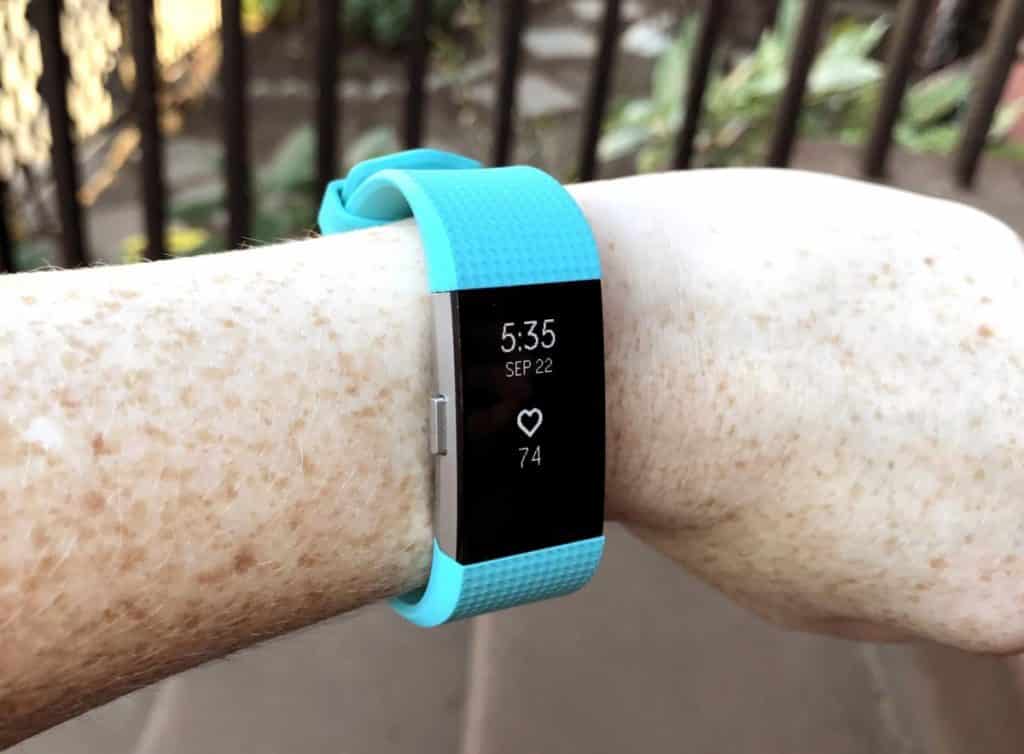 For the outdoor stuff like running the Fitbit Charge 2 has connected GPS, which means that it piggybacks off of your phone.
For your GPS data, you have to have your phone on you. It will give you the stats right on the screen, and for the most part, connected GPS is totally seamless. As long as your phone is nearby, you're good to go and it doesn't kill your phone's battery life.
I would still prefer though to have GPS directly on the device, but my only real complaint with connected GPS is that sometimes the data is a little slow to show up on the band.
I know the information it's collecting is correct. But at the beginning of a run, for example, it takes a few seconds for the device to show updated pace and distance information. But none of this really concerns me though. So attracts all of those outdoor workouts, but it also has a treadmill mode and an elliptical mode.
Read: Best Fitbit 2020: Top 4
But a, by default, your information with a treadmill mode will be off. So you just need to adjust your stride length information within the app for the best results. And rounding out the list here, the Charge 2 relays your smartphone. , but you have no music controls. If your phone is within Bluetooth range, it will alert you of and display on your wrist who is calling, which is pretty convenient.
And then also shows you a brief snippet of your text messages and calendar reminders; those three notifications only. And that's really it.
The Fitbit charge 2 is most popular fitness tracker out there. There's stuff that I really liked. There's stuff that I don't like, but I'd still give it a strong thumbs up.
I won't be using it as my daily driver, but my mom will be, this will actually be her device.
Buy Fitbit Charge 2 from Amazon
If you like this Fitbit Charge 3 review then lets us know in the comment section.