So are you better off going with the Apple Watch Series 3 or going all out and grab the series 4? Let's go ahead and find out in this in depth look between the two different Apple watches. So first thing first that stands out is obviously the display, the series 4 has a new 44 mm size option, and yes, you can still opt for a smaller size and that is the 40 mm size.
And then we have the 42 mm series 3, which you can also grab in the smaller size of 38 but both of these Apple watches are the large size options. So side to side, the display from the series 4 has a much better body to screen ratio, which makes viewing and reading your messages off your wrist a lot easier.
Check Out: Best Black Friday Tech Deals 2020

Key Differences: Apple watch series 3 VS 4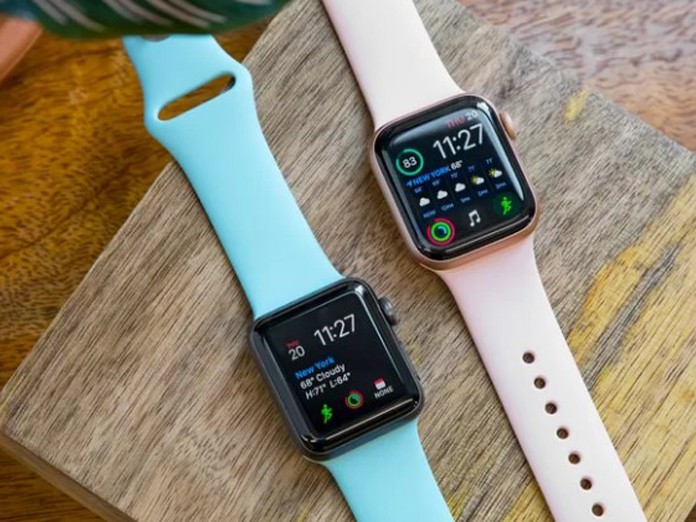 Apple watch Series 3 has internal storage of 6 GBs whereas Apple watch series 4 has 16 GBs of internal storage.
Apple Watch Series 4 can detect emergency falls and contact emergency services or numbers whereas Apple watch series 3 does not have this feature.
For daily usage, Apple watch series 4 is one second quicker than series 3
Apple watch series 4 has UV meter and Air quality meter which is absent in Apple watch 3.
Apple watch Series 4 is equipped with ECG while Series 3 does not
Get Apple Watch Series 4 from Amazon
And then if we placed both watches under direct sunlight. Those are still very visible. As Apple specify both series 4 and the series 3 are still 1000 NITS brightness. Just the only thing I want to mention is under normal usage, I do notice that on the series 4, colors tend to pop out a little bit more on its display.
So both watches are running the latest watch OS 5 and both offer a LTE version for an additional hundred dollars. So if you need a cellular connection, these two Apple watches have that option. Just remembered there's an always additional fee for your service cellular provider. If you don't opt for that option, you still have GPS to get you connected.
Check Out: Best Black Friday Tech Deals 2020
So it's perfect for outdoor runs. If you just want to run and leave your phone behind, you could do so. But if you're running with your watch, they both can simply connect to your AirPods, allow you to listen to music. And they both have internal storage, just a series 3 on the other hand, that one still has eight gigabytes of internal storage.
Apple watch series 4 is now equipped with 16 gigabytes of storage. This is great for storing your music library, your playlists, even photos. But I gotta be honest with you, 16 GBs is kinda overkill. It's cool. I'm not complaining, but the most I personally had ever used is close to 6 GBs.

It's still really doable. Both of these Apple watches still have the main common centers such accelerometer, gyroscope, and more. The only thing with the series 4 it has been enhanced, for instance, exclusively for the series 4. It's able to detect if you had a serious fall and will contact emergency dispatchers if you're unconscious and you're unable to move.
This is only something that's available on the series 4, thanks to this new enhanced hardware. It could quickly detect all these things. But when it comes to the watch OS experience, both are able to satisfy.
Under daily usage, expect both of them to easily last two days of battery life. And if whatever said reason you have to swim with your watch on, you'll be glad to know they're both still rated at 50 meters water resistant. But now when it comes to the performance speed aspect of things, the series 4 is equipped with Apple's S4 chip.
Read: Best Smartwatch in 2020: Top 10 Reviewed
Just turn on the two watches side by side, plug into a power bank that will automatically turn on both of these Apple watches as soon as you hit the power button. The series 4 is literally double its speed as it takes roughly around a minute to power up the Apple watch. While it takes two minutes to power up and fully boot up the series 3.
But when it comes to general use daily apps to open, both apple watches perform really great. The series 4 is always one or two seconds faster, but Series 3 is still respectfully quick, so it shouldn't really fully ruin the watch OS experience even opening up Instagram, for example.
Check Out: Best Black Friday Tech Deals 2020
But it still could do it just fine, but this is where S4 chip on the series 4 Apple watch really does outperform series 3 as it was quickly able to load up a webpage solely off of Wi-Fi.
The watch series 5, the series 4 and the series 3 did get some new watch faces, but it's only the series 4 got some really good exclusive ones to better fit that new edge to edge screen display like kaleidoscope and Infograph, just to name a few. And as of right now, these are the only ones that actually allow you to support a ton of different complications all in one Apple watch face.
To quickly note, it's only the series four that has the new air quality meter as well as the UV meter. The series 3, although it has the latest watch OS, this wasn't added to the series 3 in order to previous Apple watches. When it comes to this quickly switching watch faces, the series 3 tends to lag a little while the Apple watch series 4 is fluid.
Get Apple Watch Series 4 from Amazon
Fitness tracking: Apple watch series 3 VS 4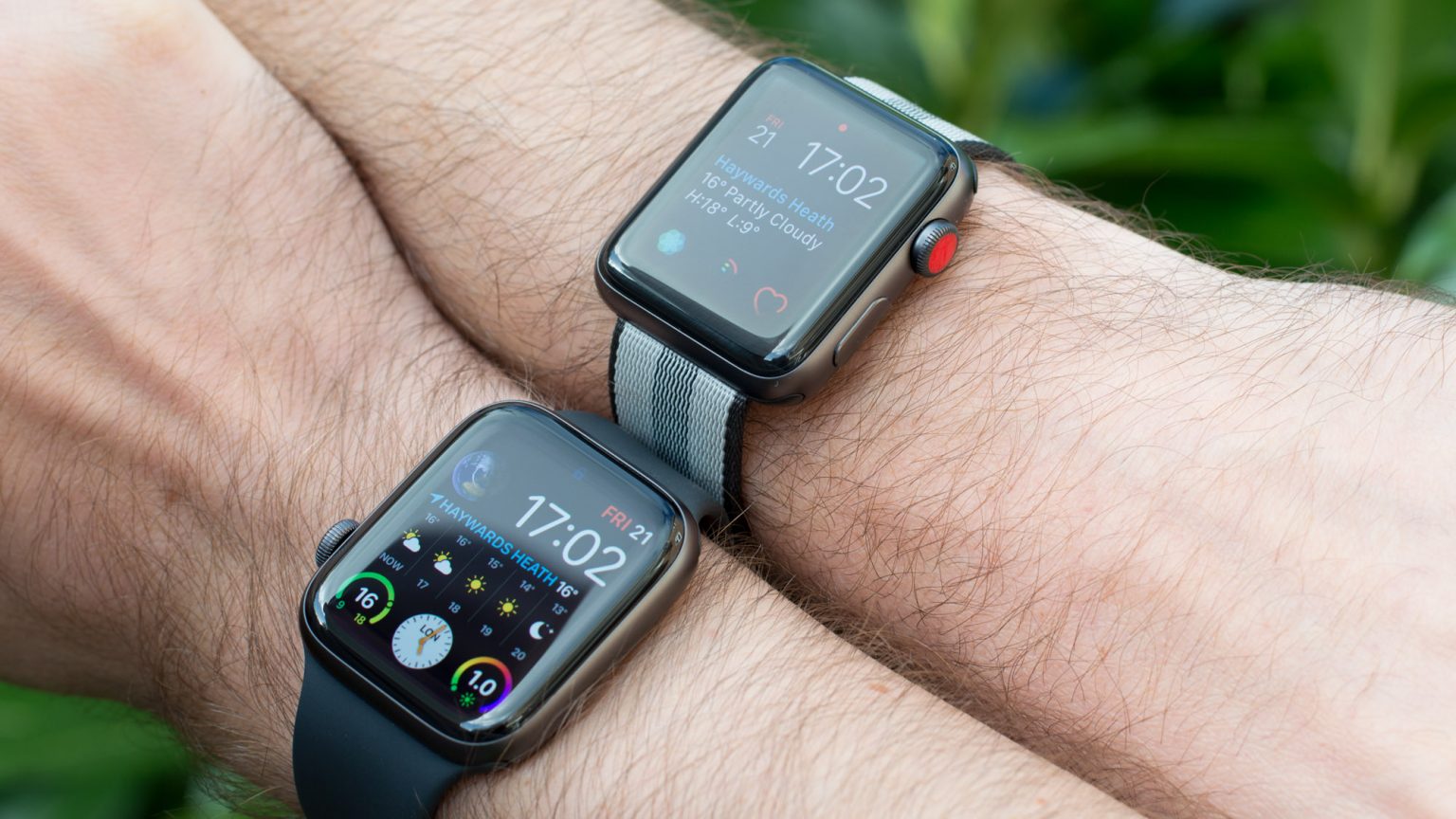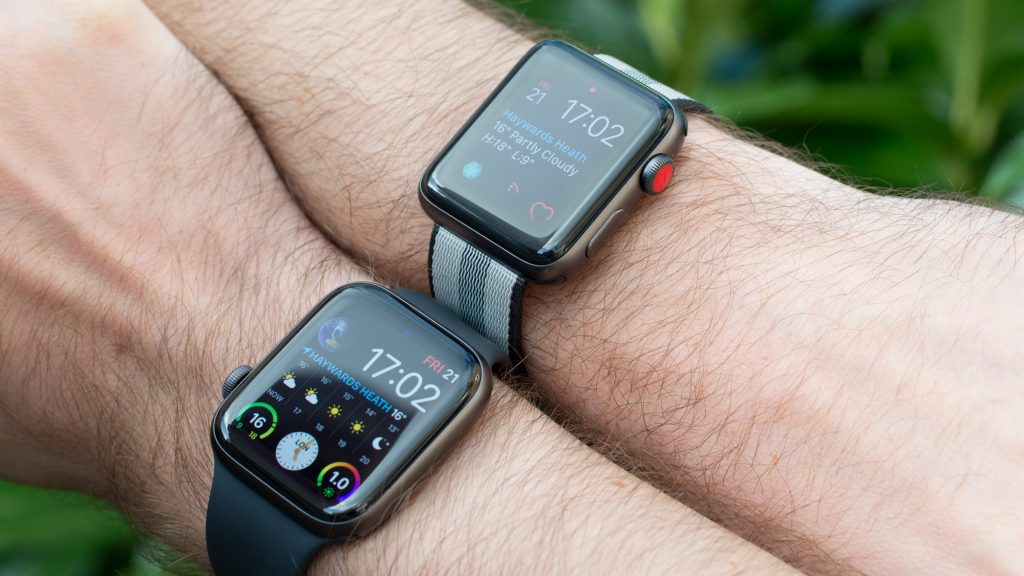 Both Apple watches still do an excellent job when it comes to fitness tracking. For the everyday stuff that the average user will ever need, both Apple watches do a really good job in keeping track of your steps.
Apple watch series 3 VS 4 will notify you if you've been sitting for too long and will also help encourage you to get off your butt to be more active. Both watches Apple will congratulate you whenever you complete your rings. And both are still equivalent as a heart rate monitoring system for a more reliable active calorie burn estimate from your daily run.
Read: 3 Most Durable Earbuds in 2020: Unbreakable and Toughest
Both Apple watches detect that your heart rate suddenly rapidly increases while you're just idle, the watch will notify you "Hey, you might be having some health problems and we'll keep that data store for you to review". And if you need to, you could still check your BPM on demand all off your wrist.
Check Out: Best Black Friday Tech Deals 2020
But it's only the series 4 that is equipped with the new ECG hardware. This is currently the only smart wearable that's equipped with ECG and is taking health monitoring to a whole new level. And ECG data can also be exported to a PDF to show to your doctor. So when it comes to the health side of things, for anybody experiencing health complications, Apple watch series 4 has that. So maybe the series 4 might be perfect for you.
Get Apple Watch Series 3 from Amazon
Design: Apple watch series 3 VS 4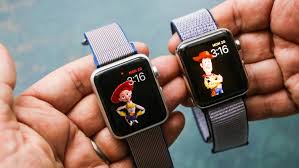 Besides, the larger screen and the smaller improvements internally, not much has really changed when it comes to the overall Apple watch design. If you minus the curve display, but it's really minor from a distance, it's not really that noticeable.
But when we look at the speaker, the speaker grill on the series 4 is larger than series 3. So when answering phone calls off your wrist, you're most likely to hear the person just fine on the series 4 but personally, under daily use, I never really answered my phone calls off my wrist. I always paired them up with AirPods. You can do the same thing on the series 3 so this isn't really a deal breaker, in my opinion.
Check Out: Best Black Friday Tech Deals 2020
You can quickly view your messages. You can set reminder. You can play games. You could connect both Apple watches independently to Wi-Fi while having a phone so you could stream your music or stream podcasts all off the Apple watch themselves. They have support for Bluetooth so you could pair them up with third party Bluetooth headphones or AirPods connect a lot easier.
Read: How To Get Rolex Watch Face For Android Wear?
In other words, for daily tasks, most of Apple watches can do a really good job, although the series 3 doesn't perform like the series 4 does. However, it doesn't ruin the whole watch OS experience. As I mentioned, it's respectfully quick and responsive. Just when compared against the series 4. It just has a one or two second delay.
Get Apple Watch Series 4 from Amazon
Verdict: Apple watch series 3 VS 4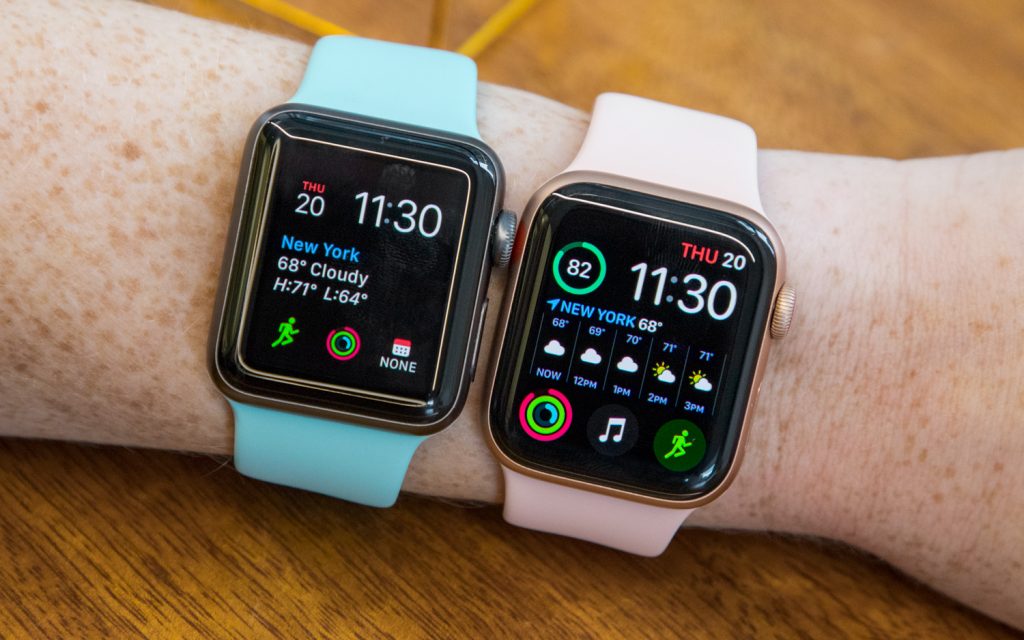 So my personal final verdict, I think the best bang for your buck if, especially if you're on a budget and all you really want is to be up to date with the latest OS and to be notified for any important message or phone calls you might be receiving.
Get Apple Watch Series 3 from Amazon
The series 3 has definitely a great value, especially now with all these sales going on. the series 4, however, if you want a bigger screen which does look a lot more pleasant, in my opinion, and it's more easy to view your images as well as read messages off your wrist, but the big selling point has to be the hardware that's inside it.

The ECG can definitely be a huge health advantage to somebody who is known to have health conditions. Health issues, such as fall detection is perfect for elderly people or somebody who has a history of injuring themselves. And this just gives them a peace of mind and can definitely become a huge lifesaver.
Get Apple Watch Series 4 from Amazon