We have evolved and developed a lot as a civilization. And one of our major advancement is in the field of healthcare. While most of the healthcare is behind the hospital doors, some things are as close to you as your hands. Fitness trackers are a great way to live a healthier life, track your fitness goals, lose weight, or just stay fit generally.
Fitbit fitness trackers are a popular choice among fitness freaks and health-conscious individuals. One of the things that make Fitbit a good brand is the convenience of customization. If you are not happy with your current Fitbit band or you are simply bored, you can choose one of the many Fitbit bands that are available in the market as Fitbit replacement bands. There are different Fitbit bands for different Fitbit products.
Read: Apple Watch Series 5 VS Fitbit Charge 4
In this review, we will list the 10 best Fitbit bands for popular Fitbit products such as Versa, Charge, Ionic, Flex, etc. Also, the options vary from person to person as everyone has their style and preferences. Whether you are looking for wide straps, narrow bands, colorful options, or neutral choices, we have them all in this guide for you.
Fitbit Bands Versa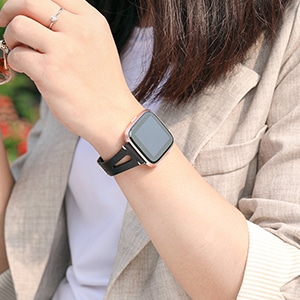 If you are looking for a reliable and high-quality band for your Fitbit versa, you would love the sleek finish of the WePro Leather Bands. The band has been made from premium material and features a classy opening design.
The WePro band does not just style well but also has a lot of functionality to it. This Fitbit band is extremely comfortable and breathable on your skin. Being made of high-quality leather, the band does not itch your skin or cause any discomfort.
To keep your Fitbit versa safe, the band has a buckle and pin design made of stainless steel. This style does not only make opening and closing easier but also keeps your fitness tracker secure. Moreover, the installation is pretty simple as the adapters are present on both sides of the watch. If you want to remove the tracker from the band, it takes just one click.
Possible, one of the most exciting things about this band is the range of color and style options available. With five design and five color options ranging from black to maroon, there is something for everyone. You can wear this band anywhere. While the sleek black color will get you compliments in business meetings, the more casual colors can be worn in parties.
People with bigger hands don't need to worry as the band is available in two sizes. The small size ranges from 5.5 inches to 7.1 inches while the large is suitable for 7.1 inches to 8.7 inches wrist size. The sizes can be adjusted by just pulling on the strap.
Features
Premium Build
Multiple Color and Design Options
Easy to install
Pin and buckle design
Get WePro Leather Bands Fitbit Versa,Versa 2 and Versa Lite Bands from StrapsCo
Fitbit Bands Versa Lite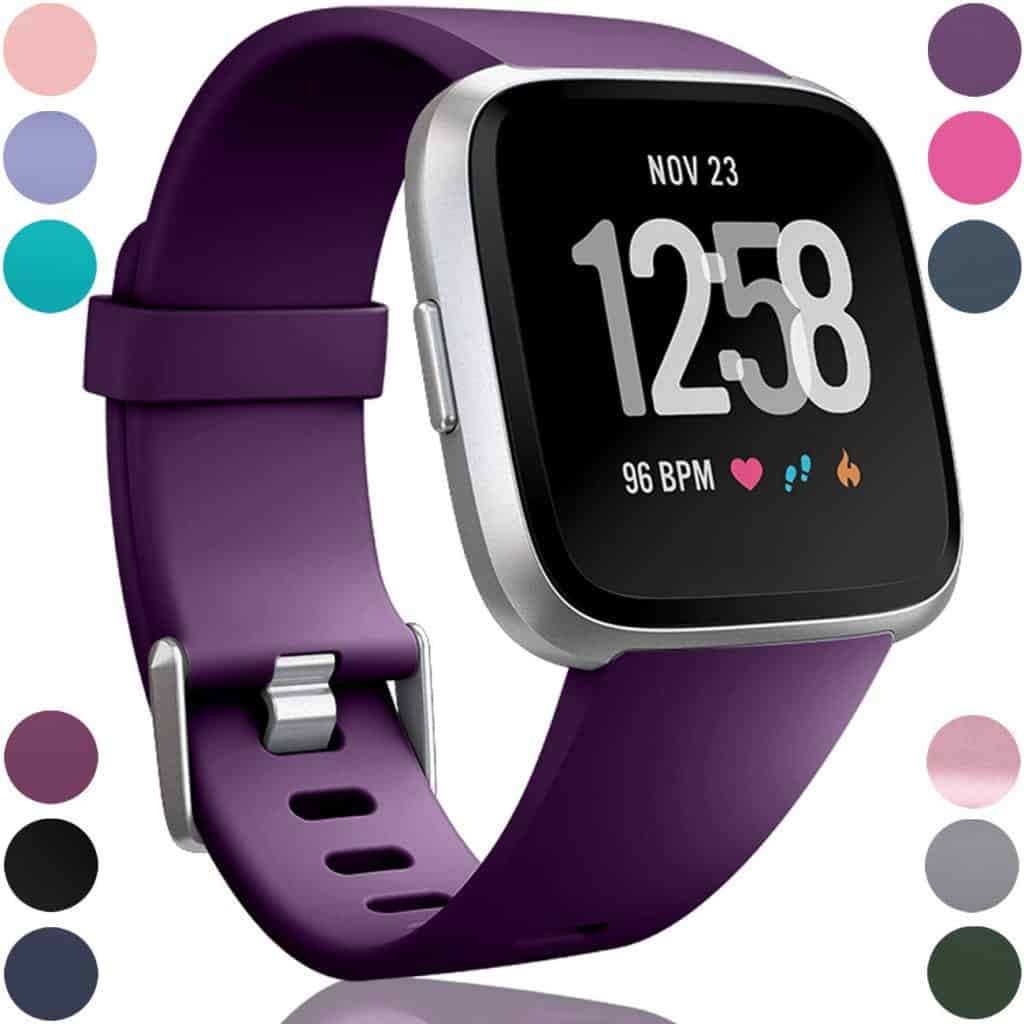 Just like the Fitbit Versa, the versa lite also became trendy among the users. The best Fitbit band for versa lite has to be the WePro Replacement Band which is available in plenty of colors. This band is suitable for people who like to add a little funk to their arm candy. The color options range from pink to purple, making this band a preferred option for women and adventurous men.
Not everyone likes to have a skinny wrist band on their wrist. This band is for people who prefer wider designs. It is made of durable and lightweight material so that it does not feel uncomfortable on your skin.
Furthermore, the sweat-resistant design allows you to wear the band on your runs or while working out. This band features a buckle and notch design, which is quite easy to work with.
The smaller of the two sizes is for wrist size 5.5 inches to 7.2 inches while the large size is for 7.2 inches to 8.7 inches wrist. Thanks to the buckle design, you can adjust the sizes as desired.
Features
Multiple color options
Two size options
Buckle and notch design
Sweat-resistant
Get WePro Leather Bands Fitbit Versa,Versa 2 and Versa Lite Bands from StrapsCo
Fitbit Bands Inspire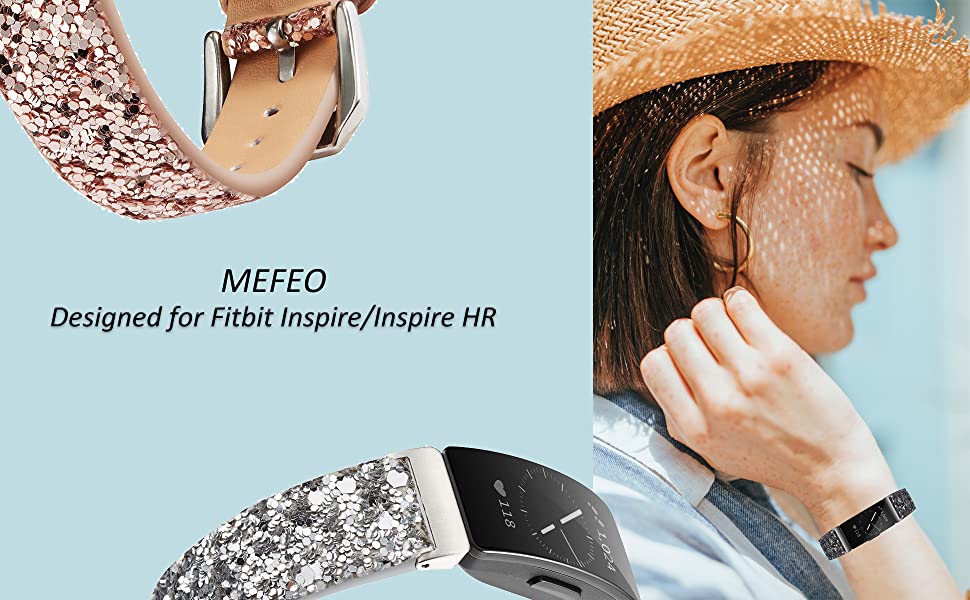 The Fitbit Inspire was much-loved by the users because they were swim-ready. You can take the tracker with you for a dip in the ocean or a jog in the park. Since it has replaceable bands, you can add a touch of class to your wrist with the MEFEO Fitbit Inspire band.
A lot of people do not want to buy cheap-looking, tacky bands and this band is just the best for them. It is available in neutral colors such as black, gray, white, brown, beige, etc. These colors go well with formal or business attire, making them a suitable option for working individuals.
The most striking feature of this band is the unique and elegant design that makes it stand out from the rest. It allows you to be fashionable while staying healthy and fit.
Made of genuine leather, this band is breathable on your skin. You can wear on an everyday basis and even to business meetings, nights out with friends or parties.
This band is available in two sizes: the small size is 5.8 inches to 7.6 inches while the large fits wrist sizes of 6.6 inches to 8.8 inches. Since it has a universal design, it can be worn by men and women of all ages.
Another notable feature of this Fitbit band is the convenience of adjustability. If the band does not fit you perfectly, you can adjust it to make it more comfortable on your wrist.
The company offers a one-year warranty on their bands. If you are not satisfied with the band or you receive a defective piece, you can get in touch with the very responsive customer support.
Features
One-year warranty
Unique and elegant design
Two size options
Neutral color options
Made of genuine leather
Get MEFEO Fitbit Inspire Band and Fitbit Inspire HR Bands from StrapsCo
Fitbit Bands Blaze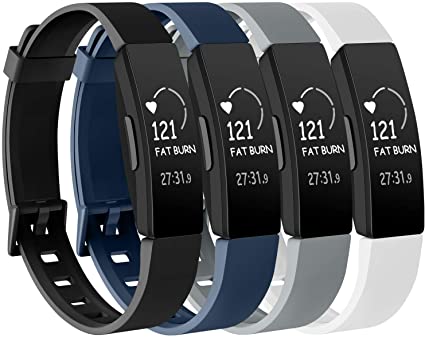 Fitbit blaze is one of the best products from the company as it comes with sleep tracking, heart rate monitor, exercise recognition, touchscreen display, and most importantly interchangeable straps. If you get bored with your old band, you can get the Vancle Replacement band as it is compatible with Fitbit blaze.
Vancle has kept a very Apple-style color range for their bands. Their bands are available in rose gold, black, slate, and gold. It is not just the color range that is splendid but also the bands' quality and builds.
The company makes its bands using the softest silicone so that it does not bother even sensitive skins. On top of that, the material used is eco-friendly and skin-safe. So, you can wear the band while exercising or even sleeping without any harm.
In addition to that, you get to choose from two size options. The smaller size is for wrists of 5.5 inches to 6.7 inches while the large option is suitable for wrist size 6.7 inches to 8.1 inches.
Read: Is Apple Airpods Pro Worth It in 2020?
You no longer have to be worried about your fitness tracker falling out of place during strenuous exercise. The Vancle Fitbit bands have a stainless steel buckle design that keeps the fitness tracker in its place.
Last but not least, the company offers a one-year warranty on their Fitbit bands. If there is anything wrong with your band, you can get a refund without return.
Features
One-year warranty
Stainless steel buckle design
Two size options
Four color options
Eco-friendly and sensitive skin-safe
Get Vancle Fitbit Blaze Bands from StrapsCo
Fitbit Charge 2 Bands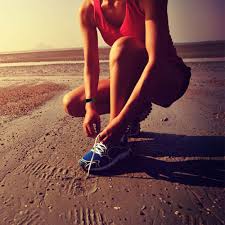 Fitbit Charge 2 is one of Fitbit basics that gained popularity, leading to the release of the whole Charge series. This tracker tracks your heart rate, reminds you to move, tracks exercises, and sends sleep reminders. Just like other Fitbit trackers, it also has replaceable bands and POY replacement bands are the best option.
These Fitbit bands are made of the softest material imaginable and fit well on your wrist. When you are out on a run, you would not want your wrists to get sweaty and damage the fitness tracker.
Thanks to POY bands' sweat-proof design, you can leave this worry behind. These bands are also waterproof so if you are sitting by the pool or jogging in the rain, you have nothing to fret about.
This band has a metal clasp design that allows the fitness tracker to be clasped in place. The installation is very simple and no tools are required for it. You can buy this band in one of the two sizes: small size for 5.5 inches to 6.7 inches and large size for 6.7 inches to 8.1 inches.
While most Fitbit bands come in neutral or earthy colors, these bands are available in almost every color. You can find anything from black to orange that matches your taste and style.
The company also offers after-sale service so if you have any queries, you can get in touch with them and they will solve your problem in 24 hours.
Features
Two Adjustable sizes
Soft material build
Metal clasp design
Easy to install
After-sale service
Plenty of color options
Get POY Fitbit Charge 2 Bands from StrapsCo
Fitbit Ionic Bands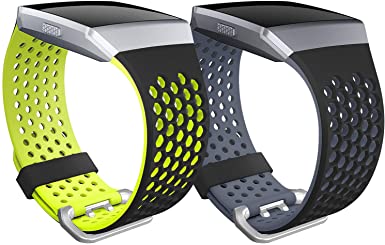 Fitbit Ionic tracker is truly ionic in its functionality and fitness options. It has built-in GPS and smart tracking for all your workouts. A refined tracker like that needs a band that matches it in terms of quality. This is why the SKYLET replacement bands are a great option.
This Fitbit band fits very well on your wrist and it comes with a detailed installation guide to make replacement easy for you. The company does not compromise on quality and the premium material build speaks for itself.
The band is made of silicone which is breathable and soft for everyone's skin. Even people with sensitive skin will feel comfortable in this wrist band as it has holes for breathability. The sweat-proof design only increases its appeal for a user.
Along with giving the band a cool design, the holes also make adjustability much easier. If you do not want to put the buckle in the traditional hole, you can slide it through any of the holes in the band to make it fit size.
The smaller size is suitable for wrist sizes of 5.5 inches to 6.7 inches while the larger size is best for people with a wrist size of 6.7 inches to 8.4 inches.
In addition to being stylish, a Fitbit band must also be secure as you would not want your tracker to come loose during a run or swim. This Skylet band comes with double protection. The rust-resistant aluminum buckle ensures that the band is fastened well on your wrist. Secondly, the silicone prevents the tracker from coming loose and falling during hiking or intense workouts.
This band is available in two-toned color options such as orange-gray, black-yellow, black-white, etc. It might not be the best addition to your office attire but it is pretty chic for parties and everyday wear. From flashing your arm candy on Instagram to getting compliments from your friends, this band can do a lot for you.
Features
Premium silicone material
Easy to install
Double protection
Aluminum buckle design
Two-tones color options
Get SKYLET Fitbit Ionic Bands from StrapsCo
Fitbit Flex 2 Bands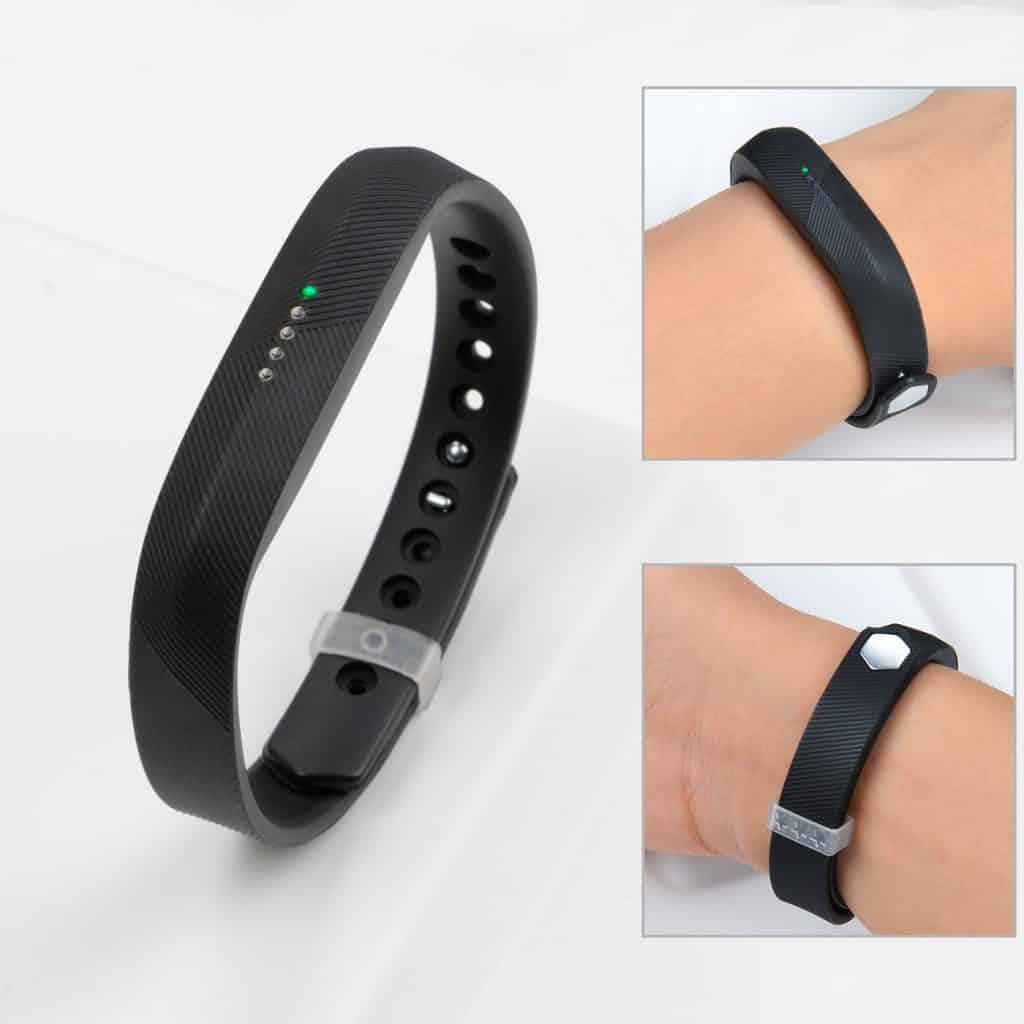 Fitbit Flex 2 lets you flex on your friends as it has all-day tracking for your steps and calories burnt. A fitness tracker that gives you a fitness overview of your whole day needs to be worn for the whole day. For that, you need a comfortable Fitbit band and what better option that the Leefox Replacement band.
This fitness band is 1.7 cm high and 5 cm wide. So, if you are into slimmer Fitbit bands, this would be an ideal option for your taste. The band has an anti-swing design which means that it would not swing in your wrist even when you are doing tough workouts or running.
The silicone fastener ring ensures that the band is secure in place and you can exercise freely. On top of that, the groove design offers extra stability and security.
Be assured that you will not be short on color options when you buy the Leefox replacement band. There are multi-color options that you can buy to customize your fitness tracker according to your taste and style. The band fits all wrist sizes i.e. 5.1 inches to 8.5 inches and you can adjust the size accordingly.
Owing to the fine craft, the band is easy to remove and install. Whether you want to buy it for yourself or a friend, you would be delighted to know that the company offers replacement without return.
Features
Anti-swing design
Double protection
Hypoallergenic
Silicone fastener ring
Get Leefox Fitbit Blaze 2 Bands from StrapsCo
Fitbit Charge 3 Bands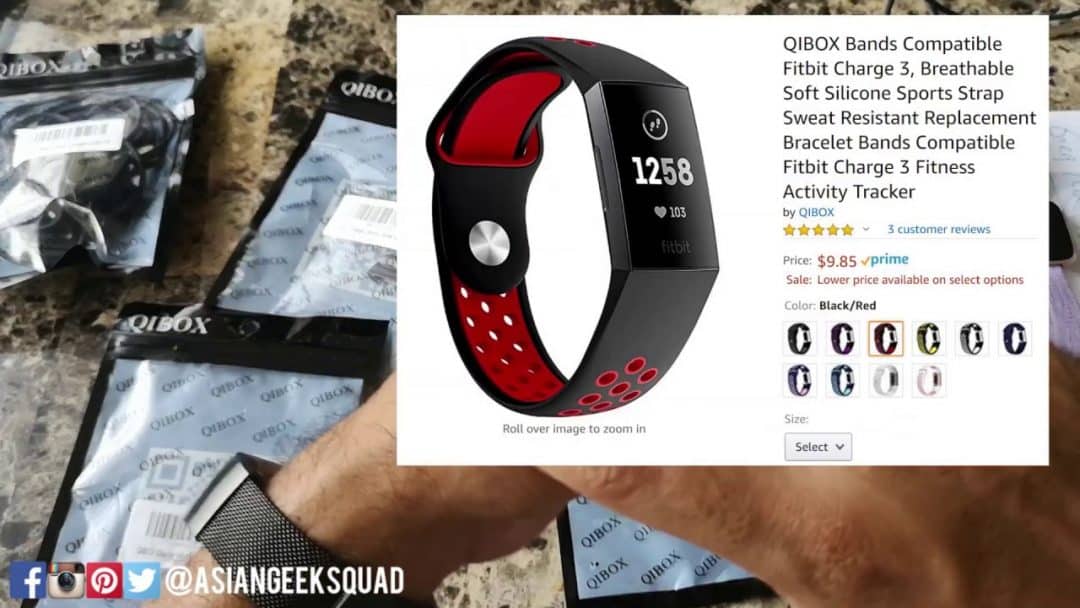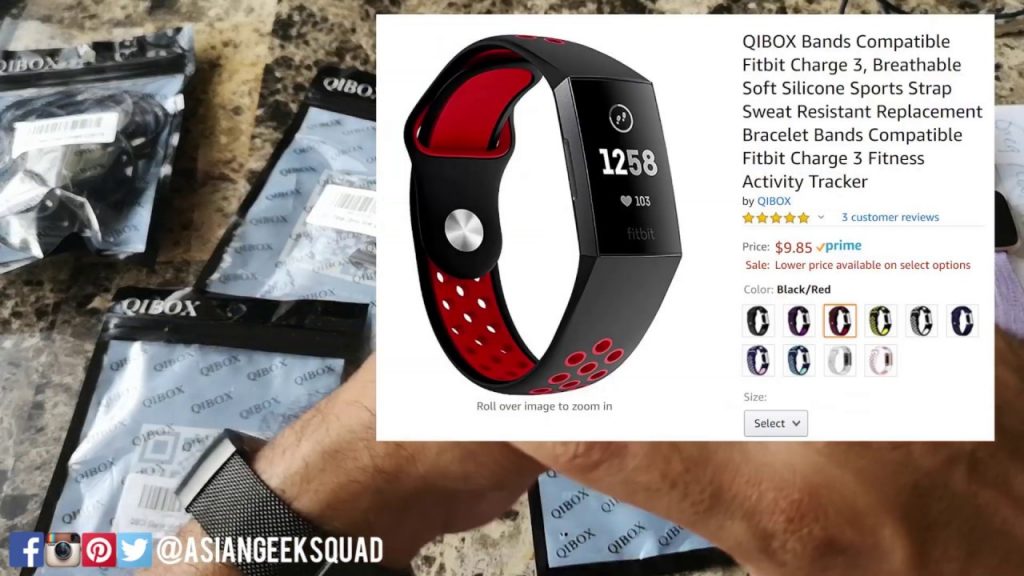 Just like Charge 2, Charge 3 also comes with a multitude of features such as heart rate monitoring, sleep tracking, water resistance, notifications, and 7-day battery life. If you are looking for a good Fitbit band for your Charge 3, look no further as Qibox Replacement bands are the best that you can get.
These bands have a fashionable design that sits well with most millennials of today. The two-toned color options make this band a popular choice among people who like to be fun and funky. You can buy the band in multiple colors such as gray-black, purple-black, yellow-black, pink-white, etc.
Read: Fitbit Charge 2 Review 2020: Best Heart Rate Monitor
Due to its hexagon perforation design, you can expect a high level of comfort and breathability from this Fitbit band. It is available in size small i.e. 5.7 to 7.5 inches and sizes large i.e. 7.1 inches to 8.3 inches.
You can adjust the sizes freely, according to your wrist. Even when you need to put the Charge 3 on charging, you do not have to take off the band. It makes life simpler, doesn't it?
Additionally, the band is made of soft and durable silicone material which does not harm sensitive skin and is very comfortable for long-term wear. This Fitbit band has pretty much everything that you would want in a reliable band for a fitness tracker.
Features
Two-toned color options
Hexagon perforation design
Silicone build
Two size options
Get Qibox Fitbit Charge 3 Bands from StrapsCo
Fitbit Charge 4 Bands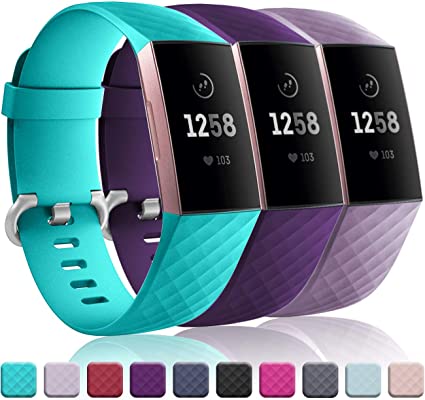 If you are planning to upgrade your charge 3 to Charge 4, you would also need to upgrade the Fitbit band. You should not compromise on the quality of the band since you are paying so much for the fitness tracker. Thus, the WePro waterproof bands are a great pick.
The main reason why WePro is such an awesome option is that the company has a reputation for providing quality products. This band is superior to many others in terms of quality, reliability, and functionality.
It features a waterproof and sweat-resistant design so you can wear it during a swim comfortably. Since it is made of elastomer material, it will not feel tight on your skin. The lightweight design makes this band suitable for men and women with irritable skin.
Just like many other WePro bands, this one also has a Buckle and notch design. The stainless steel buckle does not let the band slide from your wrist while the notch holds the tracker secure in place.
It will not be wrong to say that this band is the best for people who like to have a pop of color in their daily outfit. It is available in many showy and loud colors such as purple, teal, maroon, etc. If you like more muted colors, you can also find black and gray in the color options.
Of the two sizes, the small fits 5.5 inches to 7.1 inches wrist size while the large fits 7.1 inches to 8.7 inches wrist size.
Features
Waterproof design
Breathable and lightweight
Stainless steel buckle
Buckle and notch design
Multiple color options
Two adjustable sizes
Get WePro Waterproof Fitbit Charge 4 Bands from StrapsCo
Fitbit Charge 4 and Fitbit Charge 3 Bands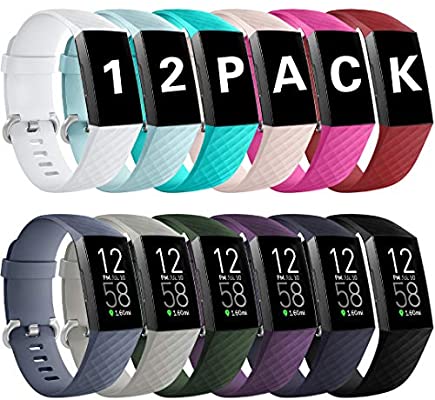 Most people, even after upgrading to Charge 4, keep their Charge 3 as it is pretty much the same except a few features. If you have both the fitness trackers and you are looking for a band that goes with both of them, the Ouwegaga replacement bands are a reliable pick.
This band comes in two size options. The small size fits wrist sizes ranging from 5.5 inches to 7.1 inches while the large size fits 7.1 inches to 8.7 inches wrist size. You can adjust the size to make it best-fitting for your wrist.
No matter how stylish or cool a band looks, if it has a poor build, it is practically useless. This Fitbit band is made of premium quality material. Since the charge 3 and 4 are swim-ready, it is only understandable that their replacement bands should be water-resistant. These bands are water and sweat-resistant, allowing you to do strenuous exercises, hike, and swim with no worry.
As there are adapters on both sides of the band, the installation of the fitness tracker becomes much easier. The buckle and notch design offers dual protection. While the aluminum buckle is easy to resize and secure, the notch ensures that the band does not fall off your wrist.
Admit it, some days you are just not in the mood for black. If you have those days, then you would appreciate the color options offered by Ouwegaga. You can get this band in many colors including yellow, blue, magenta, pink, teal and many more.
Features
Multi-color options
Two adjustable sizes
Water-resistant
Upgraded adapters
Get Fitbit Charge 4 and Fitbit Charge 3 Bands from StrapsCo
Final Words
When you are buying Fitbit bands, you must keep quality into consideration. You might be able to save a few bucks by buying a cheaper option but you will end up losing a lot of money if the band comes lose during exercise and your fitness tracker gets damaged. This is why you should keep your options open and choose the best band for your Fitbit fitness tracker.
In this guide, we have included different Fitbit bands for different Fitbit products. You can choose the best one according to your taste, the model of your Fitbit tracker, and your style. Hopefully, this guide would have helped you in making a better decision about the right Fitbit band for your needs. Let us know which band you liked the most and why.
Author's Bio
Quratulain has been working as a freelance content writer and virtual assistant for three years. She can write in multiple niches and on a wide range of topics as long as she is caffeinated.
Quratulain Rizwan
Content Writer
Annierizwan00@gmail.com