Isn't it that sometimes you seriously crave a bigger screen?
From your Smartphone to Laptop and from Laptop to the TV, I realized this hard way in Corona lockdown that the fun of watching the Netflix shows on TV is matchless.
We are so easily bored with a particular screen type and that is why we so often keep switching between the Smartphone and Laptop until you try the TV and then there is no going back.
However, in my case, the problem was raised when I watched my favorite shows and funny videos at a little greater volume, and my homies were disturbed.
Of course, I had my Bluetooth headphones but did Tthe TV itself supported this route?
It seemed not to be.
I kind of grind quite hard to get it done the best way possible and easiest as well and meanwhile all this, I learned the alternatives too that I am going to share here.
However, most of the time, your TV is legit capable of Bluetooth connection but you don't figure it out easily of which you can know more about below.
Get Apple Airpods From Amazon (30% Off)
5 Ways to Connect your Wireless Headphones to the TV without Bluetooth Support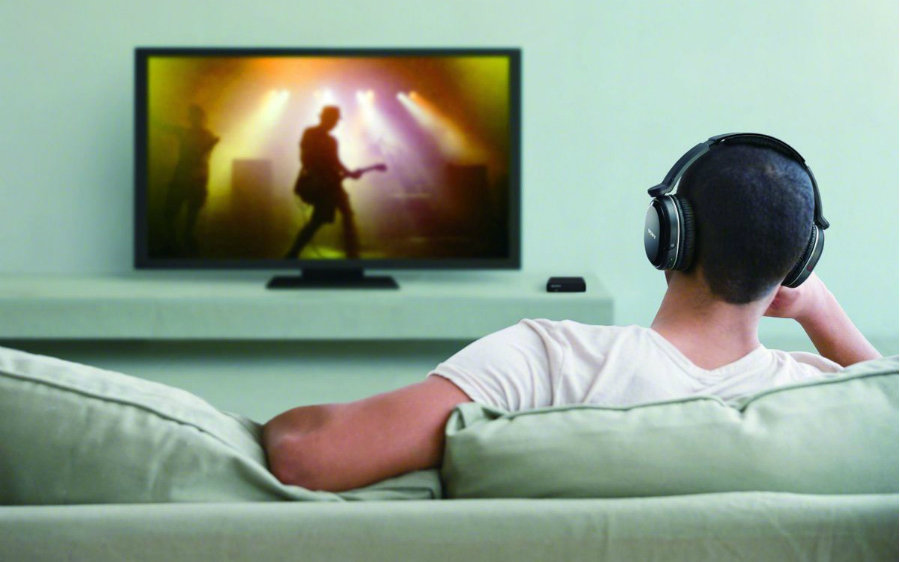 Bluetooth Audio Transmitter
So the Bluetooth audio transmitters are tiny jacks that work as a medium between your wireless headphones and TV to pass on the audio in the form of signals, in your ears. It can work effectively in the absence of your TV's Bluetooth support without making you feel it did not exist in the first place, yes, that smooth.
Your TV would have a 3.5mm jack plug-in option where you have to insert it and turn ON the pairing mode of your wireless headphones.
Later on, secure a connection between two devices and you are good to go for watching Netflix and listening to music.
However, it's a chargeable device so you have to take care of its charging sessions before and after putting it into use.
Read: 6 Best VR Headset for iPhone 7 Plus
The best part is, it's easy to find and inexpensive to buy.
Before going out to purchase it, I would suggest you check it at home around your techy treasure and in the wire-packed drawers, I hope you find one there lying carelessly because I did.
If you don't, it's okay, these are too cheap to get one easily if you are not going to use it for a long time. In another case, add a few more bucks and get yourself a quality two-way and low latency Bluetooth audio transmitter. At this point, a good suggestion is the Indigo Bluetooth transmitter because it serves the purpose.
Though these audio output adapters can deal with the range of about 30 feet only but can maintain the quality you seek.
Another good and reliable suggestion is Avantree Audiokast Plus which is also a low-latency option but with a greater battery power which means you can enjoy more without fretting over the low battery.
But if your TV is of the extra old model, it may allow you the option of only optical or RCA jack instead of the modern 3.5 mm jack so investigate better before investing right.
2- Dedicated wireless headphones
Dedicated wireless headphones also called RF (Radio Frequency) wireless headphones are also a great option to make up for the deficiency of TV's built-in Bluetooth support.
To define it's working mechanism, Rf wireless headphones have a transmitter enabled into it which attracts the sound signals from other devices and makes it audible in the headset.
Unlike Bluetooth audio transmitters, dedicated headphones provide 10x more coverage as up to 300 feet which is a major gain as well as a drawback.
Therefore, it's benefiting in the sense that since the coverage is quite massive, you don't need to sit right in front of the TV to ensure the optimal quality. You can go about the other room and move in the living room freely until and unless there is no other electronic device operating in the zone.
Read: 10 Best Baby Mobiles for Development
I had my electric treadmill in my room turned ON and I noticed a huge difference in the sound quality going negative.
But there is one thing I noticed, after removing the treadmill from that area, the audio was submitted effortlessly and I observed it to be amazingly more effective than the other ways I had tried out.
Although the investment is also so minor, yes, more extensive than the Bluetooth audio transmitter but once bought, it goes a long way.
All you have to do is to connect the wireless headphones with the audio output jack of your TV and bingo, just enjoy.
3- Gaming Consoles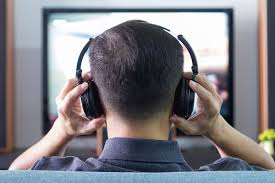 Half of the problem is straight away solved if you have any external device already connected with your TV. It can be any of the gaming consoles such as the famous Xbox or Playstation. Therefore, no problem even if you have an Amazon fire stick or Chromecast, it will serve the same.
These devices high-time have a Bluetooth option, especially the gaming boxes but if Amazon or Chromecast does not stand to provide the independent Bluetooth support, they will still be able to allow you to connect your wireless headset with the TV through an immediate shortcut.
For this, you will have to study the relevant manual page of your external device.
On the other hand, if you are using a smart remote for your TV, it probably can also have the option to connect with the headphones wirelessly which can act as an efficient shortcut I just mentioned.
4- Infrared wireless headphones
Infrared wireless headphones are the safest alternative to the RF wireless headphones for two reasons:
• These are cheaper than RF headphones.
• These are way better in conserving the sound quality than RF headphones because these are not easily interrupted by the presence of any other electric device in the surroundings.
But it does not end here, though these headphones have their kind of red flag insecurity, that is, there should be no other electrical distortion straight between your headset and TV, no issues if it is anywhere nearby.
As for the pricing priorities, if you tend to find good RF wireless headphones under $80, you can find the Infrared ones easily anywhere under $50.
In case you are low on budget and sit quietly while watching the TV without messing with the peace of people around you, get yourself some quality-enriched Infrared headphones otherwise the option of RF headphones always exists.
However, make sure to get comfortable headphones that are packed with the latest features so you make them for a long time.
In case your TV does not support the infrared headphones, you will have to spend a little extra for the Infrared audio transmitter which will help in passing on the signals.
5- Media Streaming
This is another reliable yet easiest way to kick-starting your favorite watching and listening on the TV through a variety of TV boxes such as Android and Apple boxes.
Read: 10 Best Smartwatch for Teens In 2020
The media streamers are already advanced enough to support Bluetooth which means if you connect your wireless headphones with this streamer, there is no need to look for Bluetooth support on your TV.
However, this shortcut also acts as a modern audio transmitter, cutting the need for a Bluetooth audio transmitter.
For the process of Bluetooth connection with Android and Apple TV boxes, follow this guideline:
Apple TV
• Ready your good quality wireless headphones.
• Bring them into the pairing mode.
• Go to Settings on your Apple TV.
• Select there, Remotes and Devices.
• Later, click on the open Bluetooth option.
• Look for your headphone's name in the list of available devices for the connection.
• There you go for a secure connection.
Android TV
• Check for it's connecting capability at first.
• Then, bring your Bluetooth headphones into pairing mode.
• Go to Settings and open Bluetooth.
• Look for your headphones name in the list and then select it.
• There you go for a secure connection.
Other than that, if you are using a smart remote control for your TV such as Roku, you can still enable the wireless connection through it, and either through its online App.
If you go this way, invest in real quality bass headphones so the listening fun must be felt deep down. As per our honest suggestions, click here to check the best 10 bass headphones reviewed carefully.
How to determine if your TV is capable of Bluetooth support?
If you can't find an evident Bluetooth option on your TV, search on it's manual card.
However, if you still can't, look upon the internet on the brand's official website where you can mention the TV's code of model to know if it's smart enough to support Bluetooth.
You can know the answer if you have a Samsung TV but I believe other brands do also have a method to let you know.
They say if the TV has a smart remote control, the chances are greater that you can connect the headphones wirelessly through it and expect other great things too.
Conclusion
No matter which option you decide to select and go after, make sure to make every purchase a quality purchase so you don't need to invest again and waste for nothing
It's that simple though. If you have one of the shortcuts readily available to you already, don't go for the alternative unnecessarily unless there is a serious need for the replacement. Keep enjoying it.