Let's admit it; not everyone can afford watch bands from the Apple store, so we decided to put together a list of the best 3rd party Apple watch bands. In this guide, we mention bands of different styles, falling in different budget ranges. Thus, you'll surely find an option that goes well with your style and budget.
Fullife Bling Band
POWER PRIMACY Bands
Sunnywoo Sport Band
Women Scrunchie Bands
OULUCCI Stainless Steel Band
BRG Leather Bands
NUKELOLO Sport Band
STIROLL Slim Leather Bands
EXCHAR Sport Band
Wearlizer Women's Floral Compatible with Apple Watch Band
Fullife Bling Band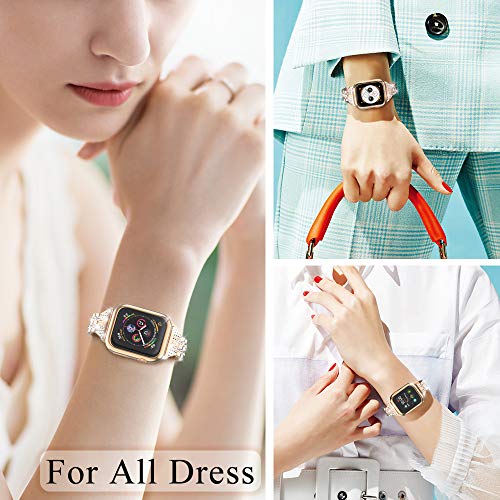 Starting the list with a bling, this Fullife band is compatible with Apple watches in the 38mm and 40mm series. If you want to dazzle with your arm candy, this is the ideal band for you. 168 cubic zirconia make up the band's width, allowing you to take the center stage wherever you go.
Read: Best Bands for Space Grey Apple Watch
Boasting a stylish contemporary look, this band will add a dash of bling to your outfit. It is made of stainless steel with a sleek finish. You can get it in different colors including rose gold and black.
Adjustability is no longer an issue, as this band comes with a link remover. You can remove up to six links to make the band more suitable for your wrist size. Additionally, the manufacturers offer an 18-month warranty, so you can get a replacement or full return.
POWER PRIMACY Bands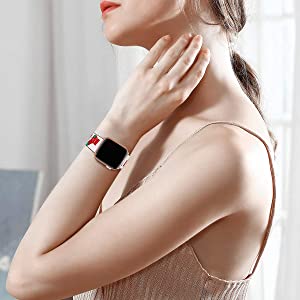 Perfectly fitting all Apple watches, the band brings a certain sophistication to whatever you wear. Moreover, the company has used genuine leather of top-quality to make this band.
Along with being a true image of superior craftsmanship, the band is extremely comfortable. No matter how much your hand moves during work or exercising, the band won't slip off.
Additionally, it is very breathable and does not retain the odor from sweat, keeping your arms smelling fresh. Made for ease, the connecter keeps the watch dial secure and well-fit in place. With 44 color options, you'd be spoilt for choice when selecting just one.
Sunnywoo Sport Band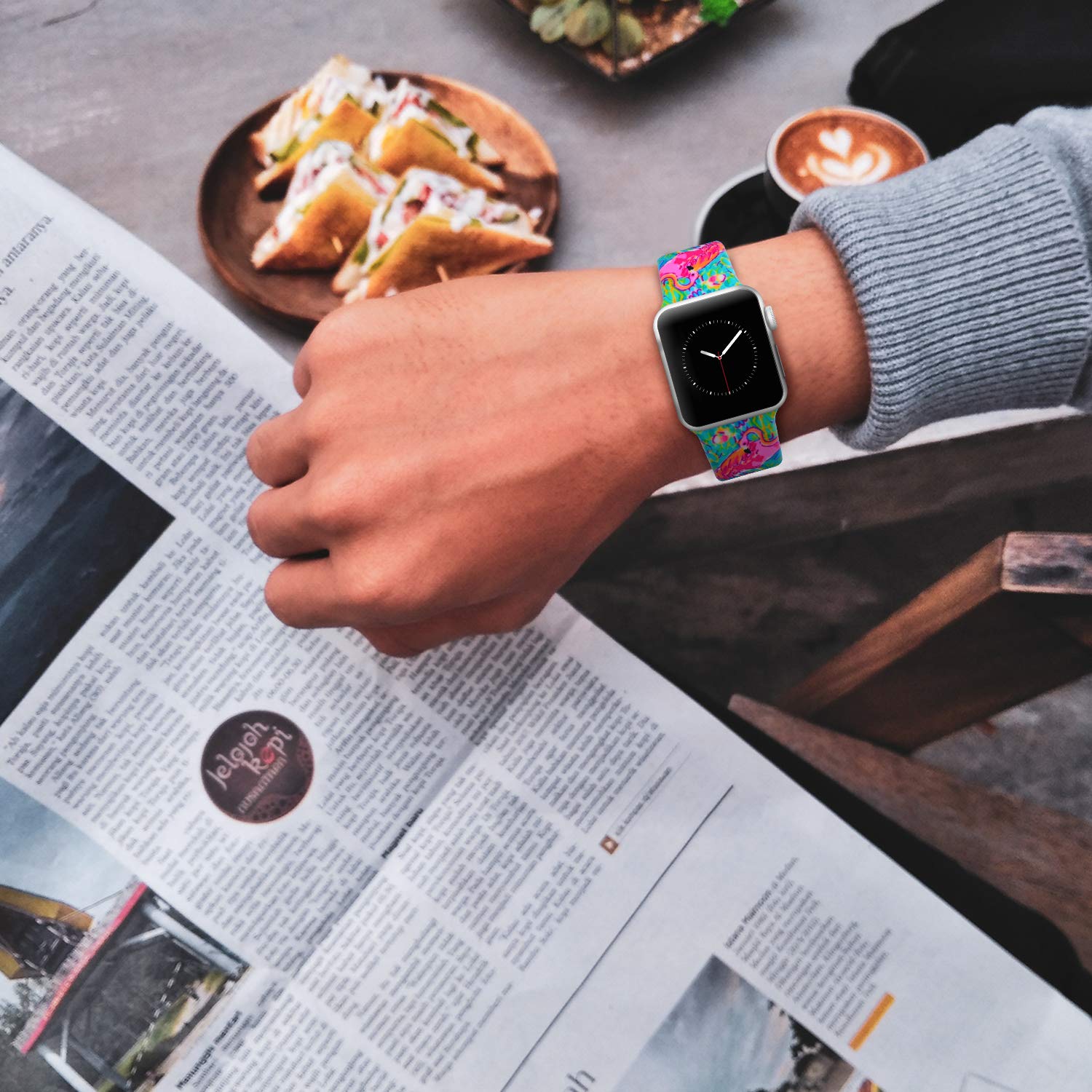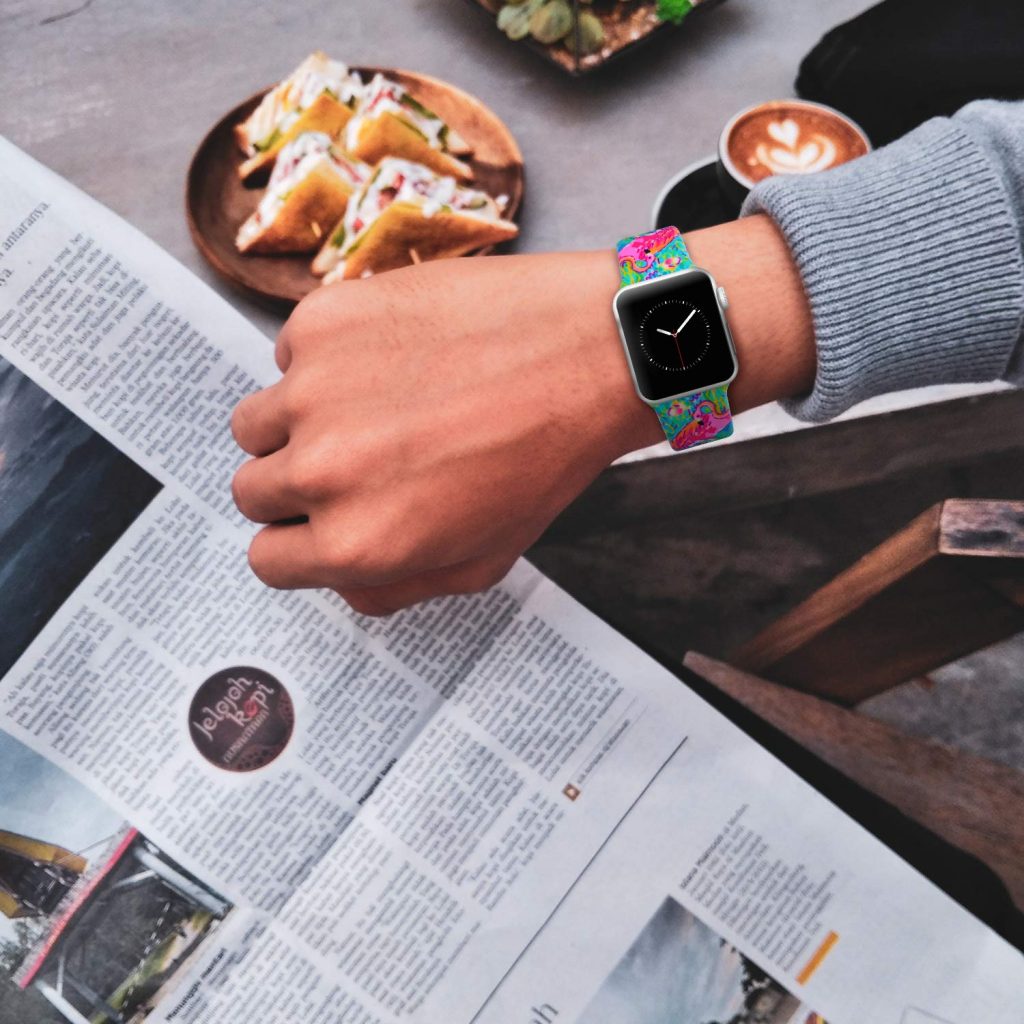 If you like patterned watch bands, you'd fall in love with this one from Sunnywoo. Having a silicone finish, this floral printed watch band is suitable for Apple watches of Series 1-4.
The company uses the latest 3D printing technology to create patterns like hearts, polka dots, leopard, etc. Thus, the printing won't fade away or get damaged with excessive use.
Although marketed at women, the band is equally appealing for men as it can be easily adjusted according to the wrist size. Thanks to the holes, the band offers plenty of breathability so you won't feel irritated wearing the watch for too long.
Plus, the Sunnywoo sports band is easy to install and remove. All you have to do is follow the simple instructions on the manual and the dial will fit perfectly. Moreover, the lugs on either sides of the wristbands keep the dial secure in place.
Women Scrunchie Bands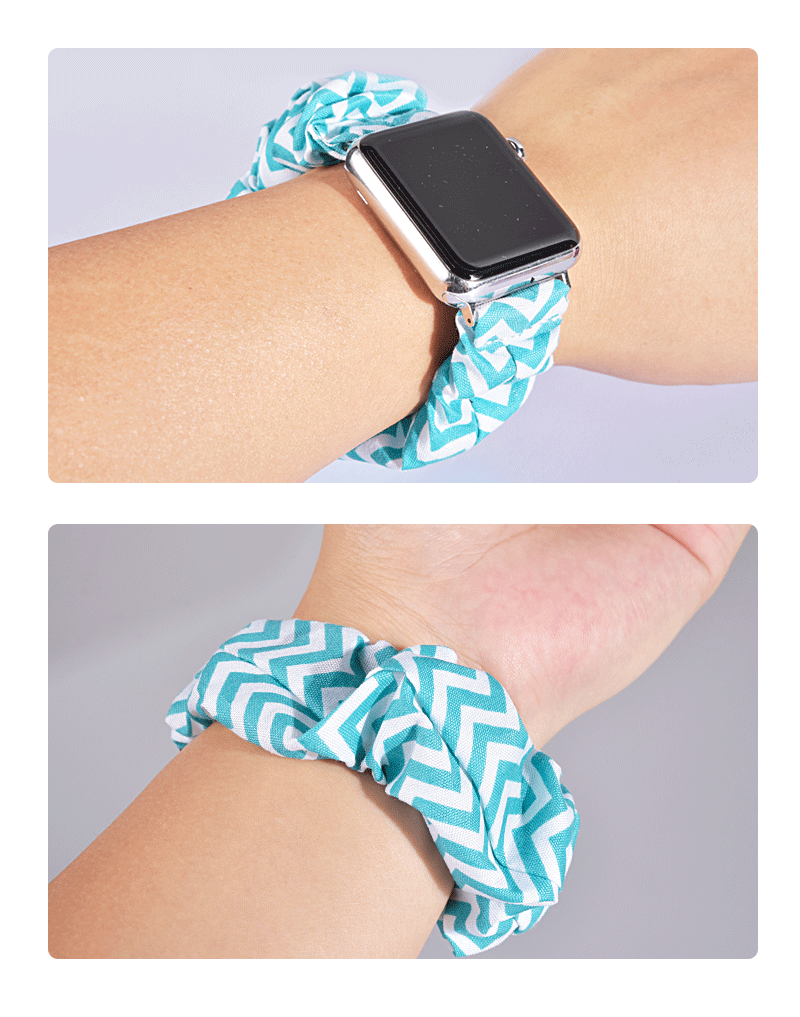 Compatible with up to Series 5 Apple watches, this is one of the best 3rd party Apple watch bands for women. It features an adorable scrunchy design, which isn't only unique but also very attractive.
In total, there are 15 style options for you to choose from, including flamingo, floral, and dog paw patterns. While the chic appearance will get you compliments from everyone, the elastic release means that you'll stay comfortable as ever.
Moreover, the band is made of high-quality fabric. Thus, it does not irritate your skin, and is durable enough to last for months to come. If the band gets dirty in the rain or during use, you can wash it, making it as good as new.
Lastly, it is backed by a 12-month warranty. You can get a hassle-free replacement in case there is a defect or you're not satisfied by the band's quality.
OULUCCI Stainless Steel Band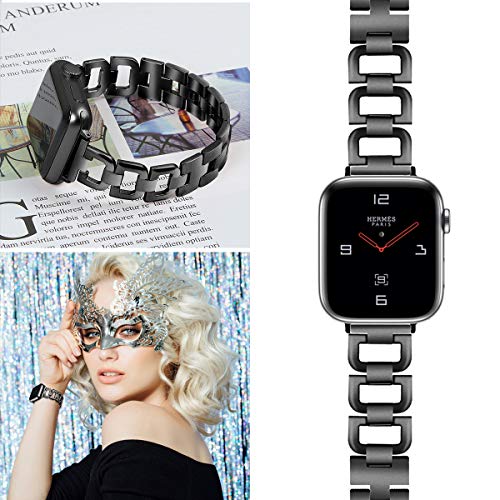 This stainless steel band can fit wrist sizes from 5.5 inches to 8 inches, thus, suitable for men and women both. Don't be fooled by its low price, as the band is made of premium stainless steel which won't rust ever after long-term use.
Additionally, the steel finish keeps you safe from skin irritation and allergies. Plus, the elegant D-pattern design makes it suitable for work and every day wear.
Read: Best Wireless Earbuds For TV In 2020
Luckily, no tools are needed to open the watch and resize it to fit your wrist. You can easily resize the band by opening the clasp links with your finger.
In case you're not completely satisfied with the band or have any other issue, you can get a replacement or refund for 12 months after purchase.
BRG Leather Bands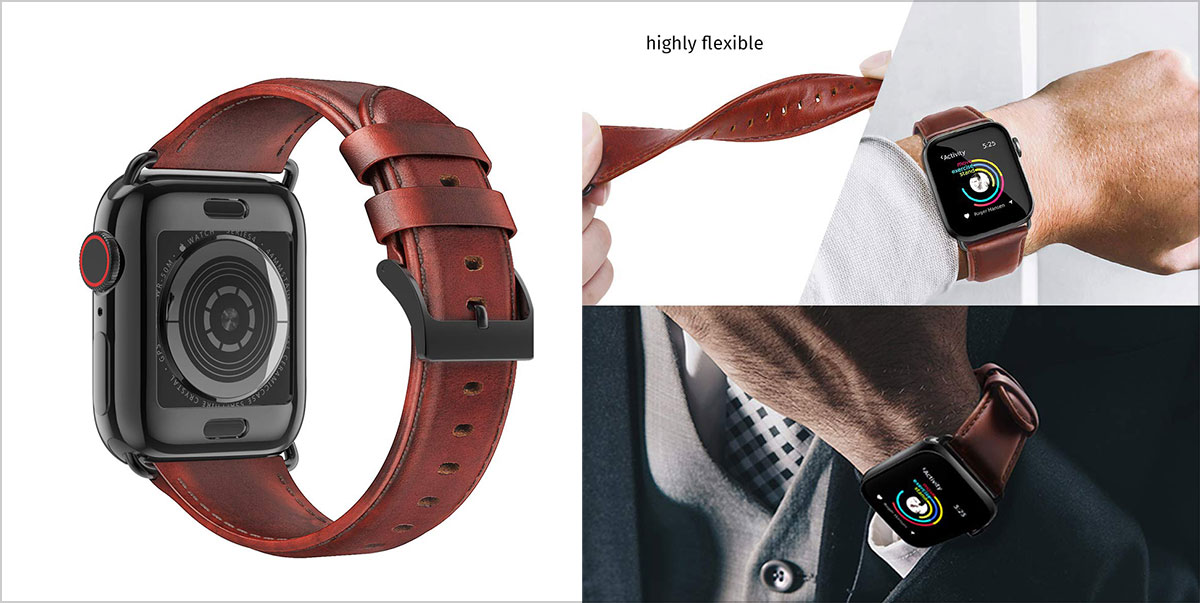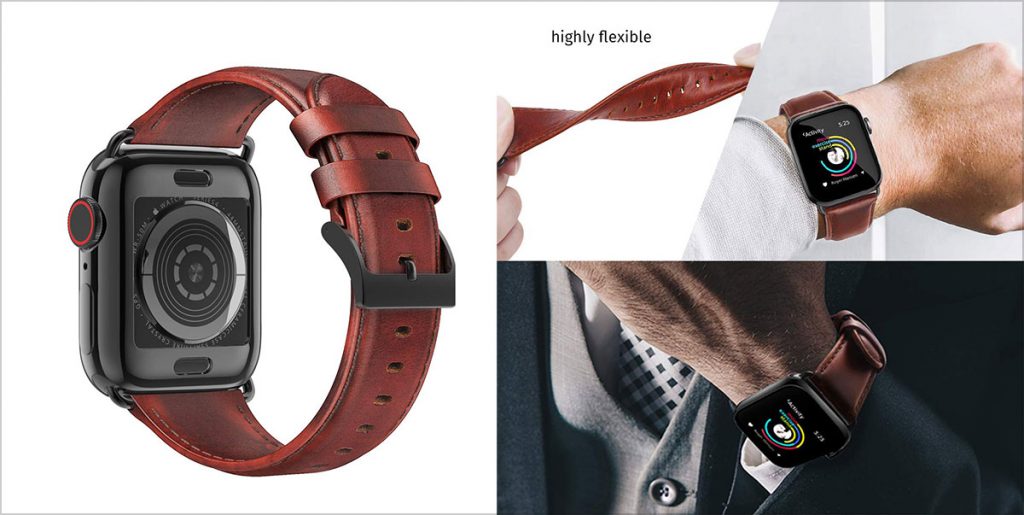 If you wear this band to work, no one would be able to guess that you've bought it for such a decent price. Made of top-notch leather, this band looks like something you'd get from a high-end store.
The leather used for making it comes from the top layer of cowhide, so the band feels soft and comfortable on your skin. Additionally, it has been designed by experts, so there is no compromise on quality.
Fitting a wrist size of up to 7.9 inches, the watch is compatible with Apple series 1-5. So, you can conveniently attach it to any Apple watch. Despite being made of leather, the watch does not have a smell, nor does it retain sweat odor.
NUKELOLO Sport Band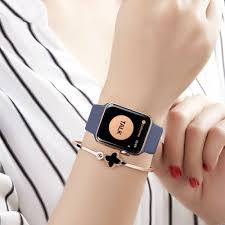 Quite understandably, not everyone wants a professional-looking watch band. If you want to sport a more relaxed and funkier look, this is the right band for you.
It fits all Apple watch models including the Series 4 and 5. On top of that, it's easy to install and uninstall. You merely have to slide the connectors into the watch dial and it will easily fit in place.
When it comes to color options, there are more than 25 choices for you to consider, so you're bound to find your favorite color. Since the band is so economically-priced, you can even buy multiple colors to match different outfits.
Moreover, high-quality silicone is used in making the band. Therefore, it won't irritate your skin even if you wear a watch the whole day.
STIROLL Slim Leather Bands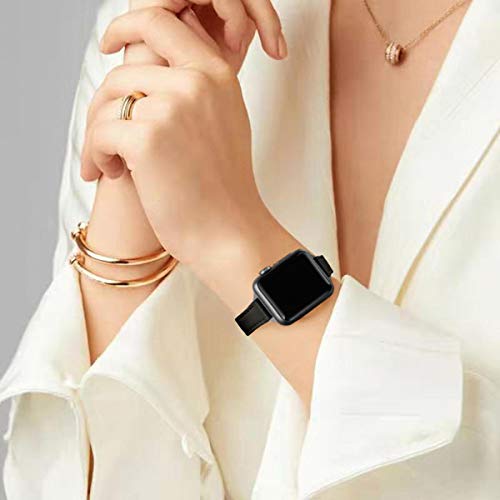 A bit different from most other bands on our list, this one has a thin and sleek design. Featuring a streamlined finish, this watch band is made of top-grade leather. It has a non-slip and durable finish for your ultimate comfort.
The company has integrated a newly-designed adapter in the band that allows you to easily install your Apple watch in seconds. Along with being easy to work with, the band is also quite firm on your wrists.
Additionally, it offers extreme breathability, allowing you to wear your watch for the whole work day without any discomfort. The box contains a band and a scratch-resistant case for it.
EXCHAR Sport Band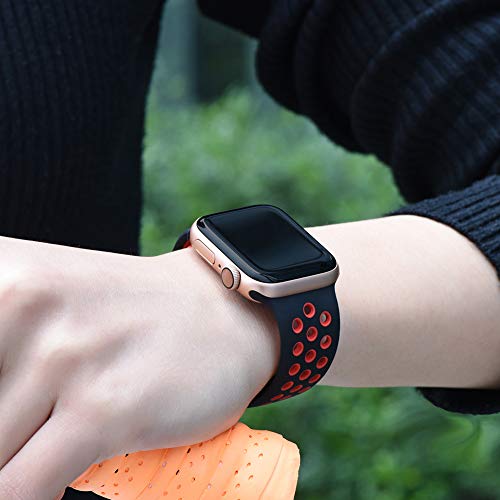 You wouldn't want to lose you expensive Apple watch while working out, would you? If you're looking for a band that keeps the watch firmly connected in place, this Exchar sports band is a great pick. It is compatible with Apple watches of up to Series 4.
Since it is made of premium silicone, it will keep your wrists comfortable even with long-term wear. Sweating is inevitable during workout and that's why the manufacturers have maximized breathability in this design. As a result, you won't feel caged by the watch nor will you get any allergies.
Read: Powerbeats 3 vs. Airpods: Which You Should Buy?
Additionally, the band has a stainless steel buckle which does not rust and keeps your skin safe from irritation. As there are many color options, anyone can find the perfect choice for themselves.
If you face any quality issues, you can get a refund or replacement in 360 days following the purchase.
Wearlizer Women's Floral Compatible with Apple Watch Band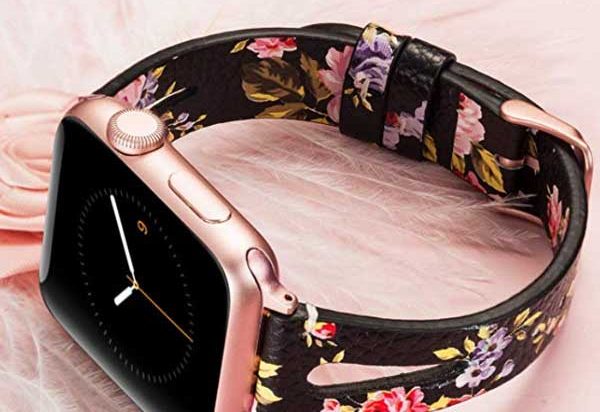 Since Apple watches are so sleek and simple, you can either keep the simplicity by adding a monotonous band or spice it up by attaching a patterned one. Wearlizer has options for people with both kinds of style needs.
This band is available in simple colors and floral patterns, so you can choose the style that suits your aesthetic needs. Made of premium leather, the band is built to last the test of time.
Not only does it feel rich but also keeps you comfortable. Despite being simple, the band is quite elegant, so you can wear it to a special occasion and get plenty of compliments.
Also, it comes with a 12-month warranty. If you're not happy with the purchase, simply return it or get a replacement.
Conclusion
With this, we have come to the end of our best 3rd party Apple watch bands review. We discussed all kinds of bands from sporty and professional to chic and girly.
If you do not want to spend too much money at the Apple store or want more style and color choices, we hope that this review helped you expand your options. Let us know what kind of band you like and if you wear it for professional or everyday use.