Fitbit had released its smartwatch Fitbit Ionic in September 2017, even though the company has made workout watches before, this is the first watch that it's running on its own operating system. Fitbit Ionic can run apps, can make payments. Basically it acts like a smartwatch and it has a claim of five days of battery life on a single charge.
Bad Feature of Fitbit Ionic
Fitbit Ionic has got a pretty angular design with hard edges and a big bezel. It's supposed to have a spherical display. It's described as that, but it looks pretty flat to me. Fitbit said the design of this was partly inspired by Space.
I get where they're going with this, but personally I didn't really love the design and this is one of the areas where this really differs from the Apple watch, and I think Apple has done a pretty nice job of designing a somewhat elegant looking smartwatch, and this doesn't feel that way despite how unattractive I found it.
Read: Amazon Echo Buds Review: Are They Worth It?
There are a couple of things worth noting about the builds of it fit that used a process with the Ionic called Nano-Moulding to fuse metal and plastic into one continuous part, which is a process that's used a lot in mobile phones but not too often in wearables.
This is supposed to improve antenna performance and therefore improve accuracy, especially when it comes to things like GPS. It has a new heart rate sensor module. You can see the patterns are different on the underside, when you compare it to the blaze, which was the previous fitness watch from Fitbit, and it has 2.5 gigabytes of internal storage for apps in music.
Get Fitbit Ionic from Amazon
Good Features in Fitbit Ionic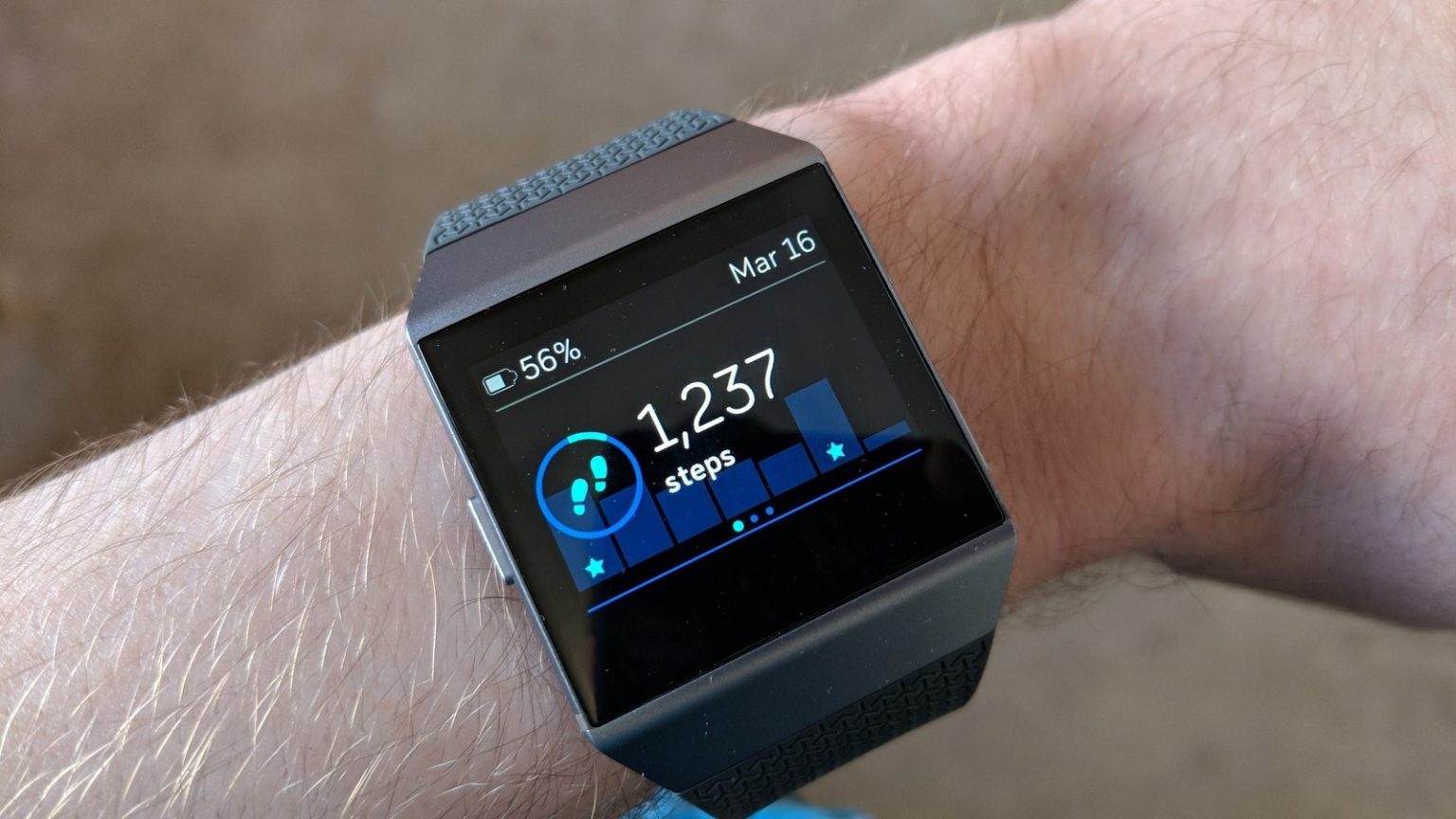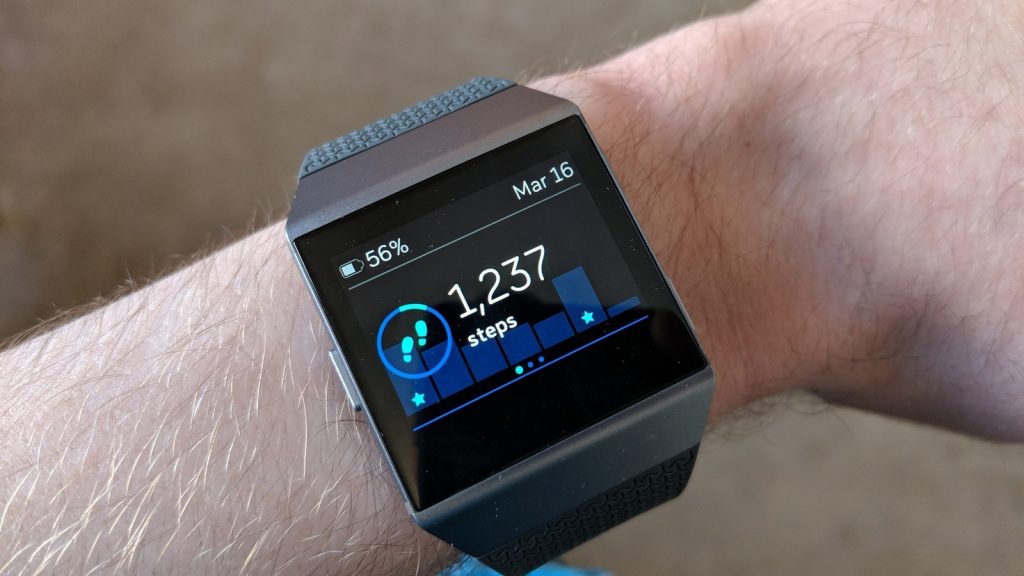 Let's talk about how well it works. Fitbit Ionic is a lot of the same fitness stuff that other Fitbit's do, but it's the smartwatch stuff that puts it into another category. It's running Fitbit OS which is Fitbit's own operating system. This means the Fitbit Ionic can run third party apps, and it's launching with a few specific partner apps like Strava, Starbucks and Pandora.
The idea is really that any developer can build a Fitbit app now if they want to. The Fitbit smartwatch also has payments now, so you can tap to pay at pretty much any NFC equipped payment terminal.
Design of Fitbit Ionic
Of course, one of the most important elements of the overall usability of a smartwatch is how well its interface is. I have to say, I found the Fitbit ionic to be pretty intuitive. I didn't even need a tutorial when I first put it on.
You swipe from left to right to see battery life. You swipe from right to left to see things like, your exercise at a glance, your apps, your music, your wallet, alarms, weather, things like that.
You use two buttons on the right hand side to start and stop workouts. The only thing that didn't feel quite as intuitive was swiping up for notifications, which goes against pretty much every touchscreen interface I've used before, but even that I got used to quickly. Speaking of notifications, that's definitely another downside to this Fitbit smartwatch.
Read: Does Apple Watch Work With Android?
They don't really act all that differently from other Fitbit's before it. You can see notifications. You can get them for both iOS and Android phones. And you can swipe them away or you can opt to clear all of them if you want, but because there's no speaker and no microphone built in to the Fitbit Ionic, there's no way to respond to things like messages.
And there are no shortcuts to respond to anything either. So that was one of the dumber aspects of Fitbit smartwatch.
Get Fitbit Ionic from Amazon
Fitness Tracking Of Fitbit Ionic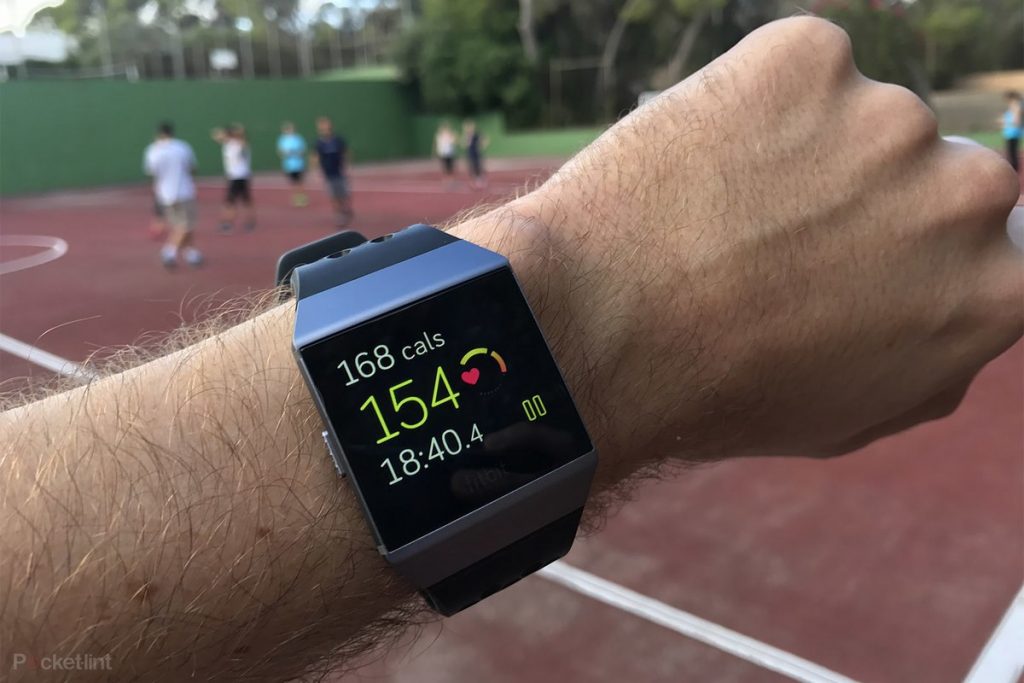 If you've ever used a Fitbit before, a lot of the fitness tracking features on this watch are going to feel familiar. Fitbit Ionic tracks your steps, your calories burned, your stairs climbed, your sleep.
Fitbit smartwatch also tracks your heart rate. It does that thing where it auto detects whatever exercise you've started doing. So even if you didn't manually start an exercise, the Fitbit should probably pick up on what it was, and it'll categorize it as that exercise.
Fitbit rolled out a whole bunch of new sleep tracking features. They're getting really granular with how you're sleeping, but these are some of the new things.
First, there is the heart rate sensor. Fitbit claims. This is the most advanced ever in a Fitbit. In fact, the Fitbit Ionic has something called a relative SPO2 sensor that measures your oxygen saturation in your blood, but that sensor isn't really being used for anything just yet knowing heart rate sensing from the wrist can always be a little bit of a crap shot.
I have tested it during a couple of workouts so far. Well, comparing it to the reading, coming from a chest strap, which tends to be more accurate and sometimes I did notice discrepancies between what the Fitbit was saying and what the chest strap was telling me. But in general, I think you have to test these things over a long period of time.
You have to get a lot of data, should probably be doing it in some type of official lab in order to really say how well it's performing. Fitbit is also saying that GPS is more accurate because of the way the watch is built. In my experience so far, distances on familiar routes were in line with what I normally see.
There's also a new run detect feature, which not only automatically records that you're running, but records more specific details, like your distance and your pace, your splits, your elevation, your heart rate, all just when you start running.
Get Fitbit Ionic from Amazon
Fitbit Ionic VS Apple Watch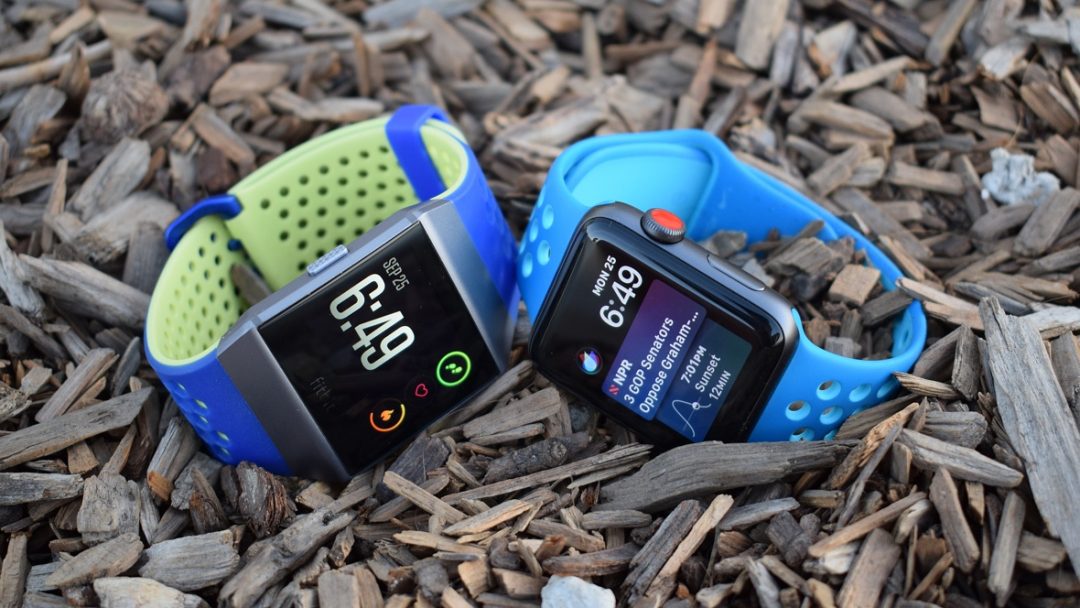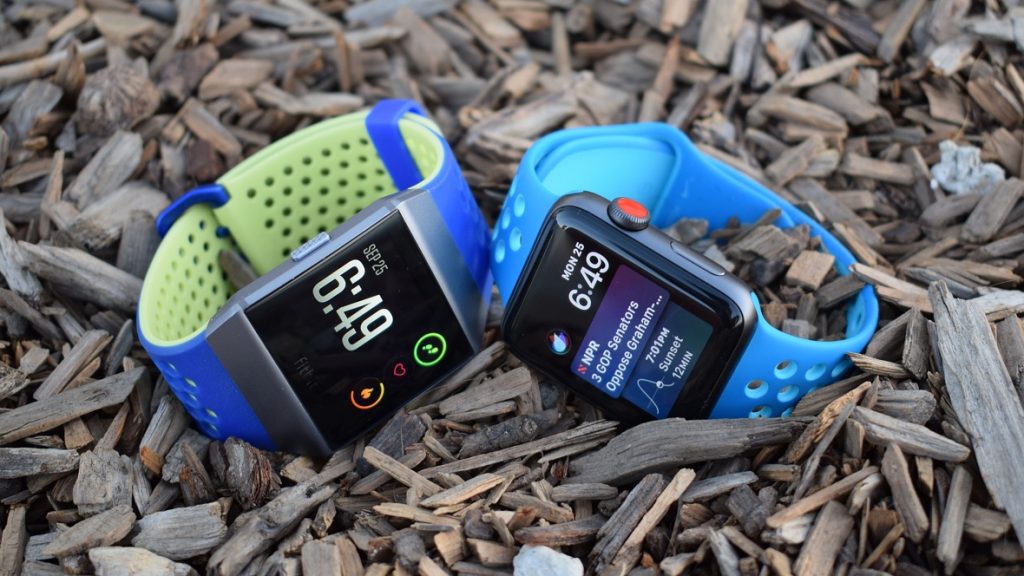 Now, if you look at Fitbit Ionic and you were to compare it to the Apple watch, which is a pretty good fitness tracker, you'll notice a lot of the things are the same.
Both Fitbit Ionic and Apple watch have GPS, they're waterproof. You can swim with them. They track elevation, they track very specific exercise sessions, and they aim to show you all of this information in a separate mobile app.
The best feature of the Fitbit ionic is its battery life. It claims up to five days of battery life on a single charge with this Fitbit, and that's certainly not the case with Apple watch, which usually lasts about a day to a day and a half.
In my experience, I put Fitbit Ionic on fully charged on a Wednesday afternoon, and by the following Monday morning I still had about 25% battery life left. But yeah, I got nearly five days out of it, which is pretty impressive.
Of course, if you are using GPS a lot, or you have the display always on, which I didn't, you can expect battery life to diminish.
Read: Best Smartwatch in 2020: Top 10 Reviewed
If you have GPS on constantly, you can get about 10 hours of it, but otherwise it's reasonable to expect about four to five days of battery life with this Fitbit smartwatch.
So where does that leave us? I'll be honest, I didn't have super high expectations for the Fitbit ionic when I first heard about it. And that's partly because it's so late to the smartwatch game and partly because I heard there were some production issues leading up to the launch of the watch.
But now that I have it and I've been using it, I've been pleasantly surprised by how well it works. But I still have two misgivings about this watch. The first is it's looks, I just don't think it's designed as elegantly as other smartwatches.
And the second part is smartwatch features. A lot of people get smartwatches these days because they want notifications on their wrist that they can look at, respond to, interact with in some way, send shortcut responses to seek calendar appointments, whatever it might be.
And the Fitbit Ionic just doesn't do that. It does show you notifications, but you're kind of limited in what you can do aside from that. So I think that's one of its biggest downsides really.
I think this is a fitness watch first that happens to have some smartwatch features. And not a smartwatch that doubles as a fitness watch, which is what the Apple watch has managed to do.
So I think that if you're someone who really wants notifications in an interactive way from your wrist, you're going to want to look at an Android wear watch or an Apple watch because you're going to want something that integrates better with your phone and actually let you do stuff from your wrist.
But if you're looking at something that's really focused on fitness, does some smartwatch stuff, run some apps, and by the way, you happen to really like Fitbits. Fitbit is actually a good choice.
Get Fitbit Ionic from Amazon